How a simple makeover can make your hearth sizzle
THE DAYS ARE getting shorter and the leaves will soon be turning. Over the next few weeks we shift our attention, little by little, away from our backyards and porches toward the dens and family rooms. Wouldn't it be nice to come home to a welcoming hearth just waiting there to greet us?
Since the early days of human history, we have loved to gather around a fire—for protection, warmth and a place to cook food. Thankfully, we live with a few more conveniences these days, but perhaps unsurprisingly, a hearth fire still draws us in.
In addition to creating an architectural focal point, a fireplace adds warmth and a cosy ambiance to a space.
When those flames dance to life there's a soothing energy in the room that simply wasn't there before. Sound magical? It sure feels magical when it's below freezing and there is a power outage, right?
Fireplace makeover
Have a peek at the 'back in the day' photo of the Mills' family room (inset image above). It's not really that far back, nonetheless, the room didn't feel quite right for the homeowner, Susan Mills. Faithful readers may remember Susan as my inimitable interior decorating partner; her kitchen remodel was featured in the May/June 2015 issue ("New Look, for Less," page 57). For her fireplace update, Susan wanted to bring in some modern elements, add more storage and make the fireplace more of a focal point for the room.
The 'before' shot shows her room in a warm beige colour scheme with pops of yellow and red. The TV was in the pine armoire in the corner. It was too big and heavy for the room. The traditional fireplace had a raised hearth clad in a greenish tile. Pretty, but not really Susan's style.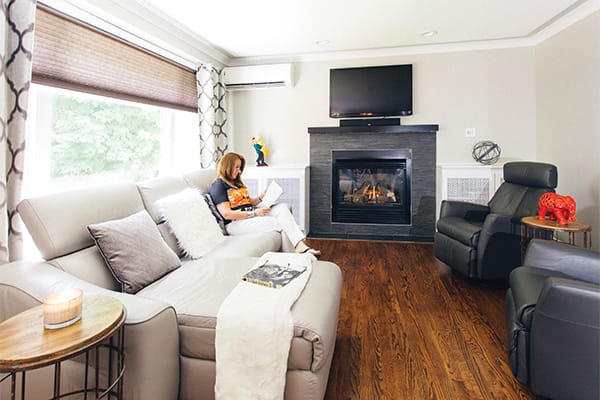 In the 'after' shot the room has a cool new look with its hot new fireplace. Well, it looks new anyway.
In fact, the fireplace insert was the only element that stayed the same. The large white mantle, green tile and raised hearth were all removed. Built-in storage cabinets were added to hold the electronic components out of sight; the custom screens on the cabinets allow the remote controls to work even when the doors are closed.
Texture and colour
Susan chose a deep charcoal tile for the floor in front of the fireplace where the raised hearth once sat, and complemented that with stacked slate tile on the fireplace surround. These tiny tile slivers are an important part of the design as they vary just a bit in depth, adding a nice textural dimension to contrast with the sleeker elements, like that custom floating mantle, to give the room more visual interest and depth. See the photo on page 81 for a closer view of the screen and fireplace surround.
The TV is mounted above the fireplace, and the sleek (but comfy) leather furniture is arranged around it. The chairs can swivel toward the fireplace or the conversation. So versatile!
Do you notice that this room lacks much in the way of colour? That was purposeful. The Mills family use this room to kick back and relax together.
A monochromatic colour scheme sets the stage for a calm space that is less stimulating to the eyes. (Monochromatic means one colour; or in this case, various shades of one colour.) A couple of bright pieces have been thrown in here and there for a hint of personality, but even the cushions and art are minimal.
In part because the scheme is subdued, the Mills family can maximize their enjoyment of gathering around their beautiful new fireplace to spend time together, especially with cooler months fast approaching.
Tips for a fabulous fireplace
If you are thinking about updating a hearth in your home here are a few things to consider:
MAINTENANCE
Be sure to make any required repairs to your fireplace. This is the time for a good cleaning if you have a wood burning fireplace. Some people might opt to convert to gas or propane insert at this point in the process.
INSPIRATION
There is nothing like a great inspiration photo to get the creative process started. Once you can picture what you want your space to look like, deconstruct it a bit.
DESIGN
Pick a style and stick to it. Traditional? Modern? Classic? Transitional? Eclectic? Rustic? Contemporary?
Choose a colour scheme. Set it in stone, and fabric and walls too. The colour scheme you choose should make you happy and fit with the overall design style.
Sort and select. Decide what will be replaced and what can stay, based on your chosen style and colour scheme.

PLAN
Hire a pro. Unless you are going with simple refacing, or you are qualified to do the work yourself, you should hire a professional for this project.
Select your finishes. The fun stuff. Once you have the design finalized you can choose your finishes: things like stone, tile, paint and furniture. Get advice from a professional on what materials are appropriate for use around the heat of the fire.
GET 'ER DONE
Hold onto your hats and brace for the ride while the reno is happening. Assume that there will be a bit of upheaval. It's all part of the process.
GATHER AROUND
Arrange your furniture in a way that focuses on the fireplace. You did just spend all this time making it beautiful, after all.
Kimberley Eddy owns Evolve Interior Decorating. Find her online at evolve.vpweb.ca