Add spring and summer cheer to your property with these easy-to-please perennials
The last time I was in St. John's, NL, I visited Memorial University of Newfoundland (MUN) Botanical Garden. It was early summer, and of the many gardens that delighted me, the one that thrilled me the most was a lightly shaded area simply awash in Japanese primula, also known as candelabra primula. They were blooming in vibrant shades of pink, orange, gold, red, rose and pure white, with contrasting "eyes"—and I was smitten. Even though I had several species of primulas in my gardens already, I knew I had to learn more about these diverse and marvellous plants.
There are indigenous species in most parts of the world, including Atlantic Canada. The genus name Primula is derived from the Latin primus, meaning "first"—probably because some are among the first to bloom in spring. There are several common names, often referring to a particular species, such as oxlip and cowslip, and of course the popular name primrose. I tend to refer to all of them as primulas, with the exception of one species, auricula.
The allure of auriculas
Several species have a rather exalted spot in horticultural history—one of the most famous is Primula auricula. Very much like tulips, the species and cultivars we see today are dramatically different from their original forms; generations of plant seekers and horticulturists both professional and amateur have tinkered with the plants, breeding for different flower colours and forms.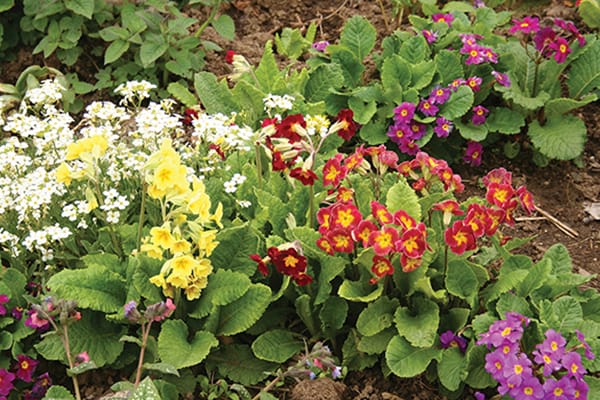 My own curiosity about auriculas was sparked some years ago when I learned that the species had possibly been brought to what is now Great Britain by Huguenot settlers, fleeing religious persecution in their native France. Since my family name is of Huguenot origin, I was intrigued by this: I grow the species as a nod to my ancestors.
Historically, auriculas were much prized and even coveted by florists—a term formerly used to denote collectors and breeders of plants, not those who arrange and sell them—to the point that enthusiasts would spend untold amounts of money on unusual forms, and display them in carefully created "theatres," or special stands. These stands are still used by people today, but they aren't merely to show off the plants—they may also provide good air circulation and partial sun, ideal growing conditions for auriculas.
Over the past few years, I've experimented with a number of different primula species and cultivars, but it was last September that my fascination with the species kicked into overdrive. Primula expert Pam Eveleigh, of Calgary, gave workshops and talks to both the Nova Scotia Rock Gardening Club and the Atlantic Rhododendron and Horticultural Society. Pam hosts the website Primula World, and if you've heard her speak on primulas for even a few minutes, you've probably become deeply fascinated, too!
Pam told us that there are more than 450 species of primulas throughout the world, some very easy to grow, others demanding more care and specialized treatment. Since she brought plants and seed to share with those of us taking her propagation workshop, I now have little pots of primula seeds going through cold treatment in the potting shed, waiting for spring when they can begin life anew.
Where to plant primulas
Jane Blackburn appreciates the fascination with primulas—she operates a specialty nursery, Woodlands and Meadows Perennial Nursery and Gardens, just outside Truro, NS.
"Primulas herald spring, especially the oxlips (P. elatior), one of the first perennials to bloom in my garden," she says. "Some spread out but are not invasive; they bloom at different times, from early spring to mid summer, depending on the species."
If you're planning to grow primulas, the first thing to determine is where to plant them. Primulas tend to be happiest in partial shade, where they are protected from the worst heat of the sun. But there are exceptions to everything. At MUN Botanical Garden, horticulturist Todd Boland says primroses often perform best in Newfoundland if exposed to full sun—especially true of the alpine types.
They do well in woodland gardens, or planted under deciduous shrubs that will help to keep their roots cool and their foliage fresh. Jane says that if the soil is too dry, or the plants are in hot sun later in the season, their foliage will disappear, but it usually begins to regrow as the temperatures cool down in late summer. Planting under large shade trees such as maples is not recommended, as the vigorous tree roots will outcompete the primulas for needed moisture and soil nutrients.
This leads to the second consider-ation: good, moist soil. Most primulas require moist soil but also good drainage, with the exceptions of P. japonica and P. denticulata, two species quite tolerant of wet areas. It's always a good idea to add compost when preparing a new bed—you can never have too much compost in a garden. Jane points out that compost loosens clay soil, making nutrients more accessible to plants; it allows for better drainage but also good water-retention properties. Sandy soil benefits from compost because it binds the soil particles together, helping it to hold nutrients and moisture.
Care and troubleshooting
Primulas have a few pests and diseases that are problematic. The most significant pests are vine weevils and slugs; both are controlled by hand picking. Mice will sometimes eat the plant crowns in winter, and will go after seedpods in late summer. If foliage gets tattered-looking late in the season, remove the old leaves—this is especially recommended if you are dividing plants to propagate them. Regular deadheading is advised as well.
The major fungal diseases are grey mould and botrytis, both of which can be controlled with good cultivation practices—good air circulation around plants (avoid overcrowding) and soil that is moist but has good drainage (avoid cold, waterlogged soil) will go a long way to prevent fungal problems. Deer are usually not a problem, but I stress usually—deer don't read, and the only plants they definitely won't try eating are made of plastic!
Todd Boland at MUN Botanical Garden says the cycle of alternate freezing and thawing in winter can be a significant problem for primulas, especially where there's not a consistent cover of insulating snow. Couple this with heavy rains in spring, and plant roots may become exposed. One way to prevent this is to cover plants with evergreen boughs—but only when the ground is frozen. If roots are exposed in spring, gently press them back into the soil, and top dress with… you guessed it, mulch. In fact, it's good practice to top dress with mulch in spring, anyway.
11 praiseworthy primula species
There are hundreds of species of primulas, some available only from collectors or plant society seed swaps. However, a number of species are reasonably common at nurseries throughout the region—and Jane Blackburn recommends a handful of them as relatively foolproof. (These species are indicated with an asterisk.)
Primula auricula Sometimes called bear's ears, this is a fascinating group of plants, which has led plant breeders to come up with a huge number of variations in flower colour and form. Some of the loveliest have a contrasting colour limning their petals, such as 'Gold Lace.' Often you'll find unnamed varieties for sale at garden centres, and these are less expensive than named forms. There are also many double-flowered forms available.
P. capitata This Asiatic species has striking flowerheads of purple-blue flowers, held on long stems above grey-green foliage. It has a long period of bloom, often reblooming in late autumn. The named variety 'Noverna Deep Blue' tends to be readily available.
*P. denticulata The drumstick primrose—so called because its flowers cluster in round heads similar to a drumstick tip—has flowers in shades of white, purple, red or pink, and is especially tolerant of wet soil.
*P. elatior Commonly called oxlip, this species is easy to grow from seed, and looks lovely when planted en masse.
P. frondosa A dainty choice for an alpine planting or trough garden, this little plant is especially shade tolerant. Its foliage is covered with the white down known to primula enthusiasts as "farina."
P. japonica The candelabra primula is still one of my favourite species, with its tall stems and whorls of florets in a rainbow of shades. Hummingbirds are fond of its flowers, and it tolerates wet conditions. When happy, it will often self-seed.
P. X polyanthus A group of hybrids created from crossing several species, including cowslip and English primrose, resulting in a rainbow of flower colours. You'll often see the Pacific Giant series available, with flowers in almost every shade but true blue and black.
*P. sieboldii This woodland primula, often called the snowflake primrose, is a native of Japan, and works beautifully in a woodland garden with good drainage. Flowers are white to shades of pink and purple, some with very fancy petal edges.
*P. veris Commonly called the English cowslip, it's delightfully delicate looking, but a sturdy species. The nodding flowers on its long stems are usually yellow; there are occasionally red and orange forms found.
P. vialii A most unusual species, sometimes called the Chinese pagoda or red-hot poker primrose. Its purple-pink flowers appear on spikes; the unopened flower buds are a deep red, giving the plant its common name. It needs excellent drainage, but is worth pampering a little for those striking flowers.
*P. vulgaris Another plant boasting the common name of English primrose, and a very early bloomer. This species has been hybridized to produce many striking colours and forms, often with double flowers; the flowers are a soft yellow in its native original form.