How to make the most of your deck
A FEW YEARS ago I spent some time in Warsaw with my husband, Steve. It was seasonably chilly, yet the most striking thing we noticed was how weather had not dimmed the locals' enjoyment of dining al fresco one bit. The restaurants still had outdoor seating set up, but each chair had a warm blanket draped over the back. People bundled under the blankets and ate, drank and enjoyed themselves.
Sure, you're saying, the extensive vodka menus weren't hurting their perception of the cold. True enough, but it still gave us real pause for wondering if Canadians really deserve their reputation as hardy folk who are unperturbed by being outdoors in all weather. Here in Atlantic Canada, the deck and patios of local restaurants roll back inside at the first nip in the air. We retreat to the warm interiors without a thought to toughing it out. If Warsaw taught us anything outside of a new appreciation for perogies, it's that perhaps we should embrace being outdoors even when the nights are cool.
And perhaps we are. More and more Canadians are following the trend for bigger outdoor entertaining spaces that can be used for an extended season. This seems only right—your deck is an extension of your home and deserves the same consideration that you give your interior spaces. The more thought you put in to how a space will be used, and how you will design and decorate it, the more likely you will enjoy using that space once you have completed it. So, let's look at some of the design and décor elements that can elevate your deck to a space where you relish spending your time.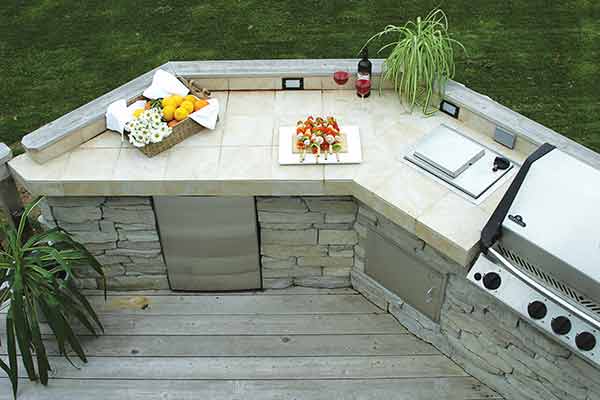 Outdoor kitchens—beyond the barbecue cart
With the trend for larger and more elaborate decks showing no sign of abating, it's only natural that people are making good use of the space. Multi-level decks are very popular and easily allow for a variety of separate spaces, including the outdoor kitchen. Grilling and smoking have never been more popular, and outdoor kitchens stoke this enthusiasm. I'm not going to stick my toe into the charcoal versus gas debate here—and by that I mean I'm not willing to read angry letters from grill-heads around Atlantic Canada whom I have offended one way or the other.
Whichever option you choose, there are a vast range of styles and prices. A budget outdoor kitchen, DIY-style, doesn't have to cost a fortune. If your indoor kitchen connects to your deck, you could consider just adding a small prep space near the grill. Add to this a few welcoming touches like an ice bucket or cooler for drinks and some seating and you've got the basics. On the other end of the spectrum are custom-built kitchens that can feature not only high-end grills, but also custom features such as sinks, fridges, weatherproof cabinetry, and even wine coolers. These are the stuff of barbecue fantasy. No matter which way you go, taking the time to create an enjoyable cooking space outdoors will only enhance the time you spend out there.
Outdoor furniture
Outdoor furniture has come a long way since the days of aluminum chairs with plastic straps. As much fun as these were, leaving stripes on the back of your thighs and collapsing unexpectedly on your Uncle John after he'd had a few on a hot summer day, our choices are now almost as varied in style and price as indoor furniture. Hardware stores, from smaller local shops to large box stores, carry a wide range of outdoor furniture options. Higher end options are also available from specialty retailers and online. The first purchase for many is a dining table of some sort and chairs. However, with the expansion of deck spaces, lounge sets that allow for relaxed entertaining away from the dinner table are also popular. As with any furniture, I advise you to first think of your general decorating urges before purchasing. Are you the type of person who loves to decorate and intends to replace the furniture every few years, or are you looking for investment pieces? In both cases, I recommend buying the best you can afford, but perhaps in different ways.
For the home decorator who likes to change things out every few years, feel free to go with the latest trends and styles without worrying if they will look dated in a few years. Also, stop worrying about those funny, nervous noises your partner makes when he sees you dragging the old outdoor furniture around and muttering about how ugly it is. He's not the boss of you, is he? If you're inclined to keep your furniture for long periods then certainly spend what you can for good quality, but don't put aside good looks entirely. With so many options now available, there is no need to stick to the tried and true brown faux-rattan furniture we've so often purchased. Look online for outdoor furniture with classic, clean lines and durable construction. Materials can range from teak and cedar, to cement, aluminum and composites. Talk to your retailers about the options available and do some scouting online before making a decision. And don't forget to think about covers and off-season storage for any furniture you are considering. Even a mild winter in the Maritimes can reduce the lifespan of most outdoor furniture.
And, of course, if you are building or renovating your deck, that's the time to think about built-in features such as seating. Most deck construction companies can accommodate this, and have a variety of plans and images from which you can draw a bit of inspiration. If you are considering this, put some time in up front to also consider how the entire deck space will be used, and how any built-in seating will fit in with this. If you are creating a lounge space, consider having some of the seating built in. The same goes with the kitchen area if you typically have people hanging out with you while you grill. Built-in seating also has the obvious benefit of not needing to be covered or stored.
Heating and fire
While it was enjoyable enough to brave the Warsaw chill with a blanket and a shot of (really very good) vodka, I would not have turned my nose up at a heater. In truth, as I'm the sort of Canadian who endures winter with a dogged sense of misery and no appreciation for the concept of a winter wonderland, I'd probably have dragged my whole body, table and chair over to a heater had it been available. Luckily, there are a wide variety of outdoor heaters available to help us enjoy an extended season of outdoor evenings. Electric, propane and natural gas are all options, and heaters can be installed free-standing, hanging or mounted. Options are available for different environments and to cover a variety of square footage, but while there are models from basic to high end, outdoor heaters aren't really something you'll install for the visual wow factor. People appreciate their functionality over their appearance, especially on a chilly night, so your money is best spent here focused on function.
Outdoor fireplaces, however, are as much about form as they are function. Nothing quite has the power of an open flame to draw humans around in a circle, and no propane heater can really compete with a hearth. While fire pits and chimineas still hold a place in our hearts, the scale and beauty of a full outdoor fireplace has them becoming more popular each year. And with many people installing gas lines directly to their outdoor kitchens, installing an outdoor gas fireplace is often factored into the build, and beautiful lounge areas can be built around them.
Lighting
Outdoor lighting addresses three issues: functionality, safety and beauty.
Functionally, you need light if you are to continue grilling, entertaining and generally carousing after dark. While candlelight or the flickers from your fireplace provide lovely ambiance, the value of proper lighting becomes clear the third time you trip over a chair, spilling your drink on a guest. I'm just speculating on what could happen, of course, but crikey Sandra, I told you I would pay for the dry cleaning; just give me a receipt. This also covers the safety aspect rather handily, I think.
Functionality and safety do not, however, negate beauty. If that were true, then my mother was lying to me when she said I still looked pretty in grade eight with my braces and headgear.
Outdoor lighting can serve its purpose while still being gorgeous. It can be built in to your construction everywhere from rails and post caps to floorboards and stairs, or can be strung. String lights need not be the cheesy patio lights of our adolescence. Everyone from your local hardware shop to the big online retailers sells a wide range of styles from faux-paper lanterns to Edison barn lights. They can be strung on rails and balusters, or if you have an overhead feature like a pergola, this can be used to beautiful advantage with string lights. Don't forget to consider what your lighting will look like when the sun is up as well. Twinkly lights look pretty in the dark, but when morning rolls around, 15 metres of rope light snarled around your rails isn't the look you wanted.
Finally, take a page from the Europeans and bring out the blankets—a beautiful and practical way to keep warm in the evenings and let your guests know you're a host who cares, and a great excuse to add a few more beautiful accessories to your outdoor space. And you'll never catch me complaining about that.
Cheryl Cook owns SeeSea Interiors. Find her online at seeseainteriors.com.