We gardeners have all kinds of delightful local nurseries, plants and products to choose from
Gardening is one of those hobbies or obsessions (depending on your degree of enthusiasm) where you can be local quite literally from the ground up. We're blessed with numerous local companies providing us with seeds and plants, soils and fertilizers, potting supplies, containers, and other necessities for gardening that are produced–or grown–right here. Here's just a sampling to look for.
Harbour Breezes Daylilies and Japanese Irises, Salmon River Bridge, Nova Scotia
Daylily enthusiast Allan Banks launched Harbour Breezes as a business in 2006. To bring in extra income while developing the nursery, he began doing landscaping and gardening maintenance for others, and then he fell in love with beautiful but hard-to-find Japanese irises, too. Today, Allan's hilly property, looking out at Jeddore Harbour on the Eastern Shore, boasts hundreds of different daylily cultivars, and dozens of Japanese irises, for sale throughout the growing season. Allan continues to do gardening maintenance and landscaping on as many as 30 local properties each season, assisted by several seasonal employees he hires locally. His partner, Shane Doucette, also works in lawn care and garden maintenance, and helps out at the nursery during major events, but the nursery is Allan's passion.
There are challenges to running a specialty nursery. It's crucial to be versatile, physically capable of doing the work (Allan runs up and down those hilly paths many times during a day) but also to be able to keep the books, manage a website and maintain a social media presence, and stay current with technology. "You have to have public speaking skills and be able to relate to a diverse customer base as well as to staff," Allan says. He wants to keep the business going as long as possible although he does dream about what a less-hectic schedule might look like, so he could concentrate on his second love of choral music, as both a singer and choral conductor. He is hopeful that one of the young people who work for him will take an interest in a more fulltime role in the business. Time will tell.
Allan tried his hand at hybridizing daylilies a few years ago, and now has registered more than 30 new cultivars with the American Hemerocallis Society. He says, "even though there are more than 80,000 registered varieties, hybridizers are continually working on improvements." He develops hardy plants suited to our climate, many with unique flower colourings. Each registered variety is named by the hybridizer, and many of Allan's are named after local area landmarks, or local gardening personalities. Among his varieties are 'Lloyd's Hillendale Sunrise' (for Truro nurseryman Lloyd Mapplebeck), 'Robert W. H. Baldwin' (for Falmouth nurseryman and perennial Saltscapes Expo exhibitor Rob Baldwin), and 'Jodi DeLong.' (Yes, really!) He's still finalizing his 2017 offerings as of mid-January, but you can bet they'll be beautiful and well-suited to our gardens.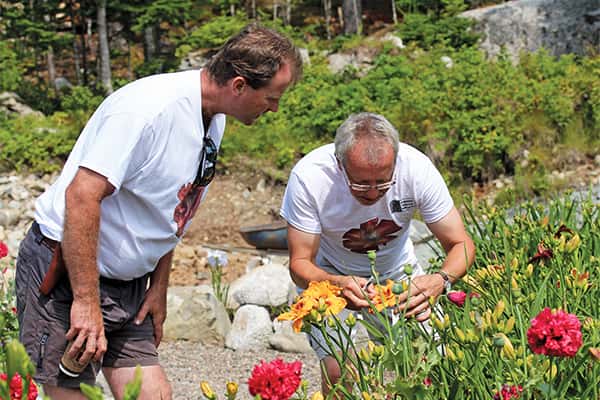 Wrightman Alpines, St. Andrews, New Brunswick
East Coast gardeners who love alpine plants used to have limited local options for getting unusual species for their gardens. They could grow their own from seed and do plant exchanges with other enthusiasts, or they could order from Wrightman Alpines in southwest Ontario. Imagine the excitement when Harvey and Irene Wrightman and their daughter Esther and her family moved their operation lock, stock and barrel to St. Andrews, New Brunswick in 2014, after nearly 30 years in Ontario.
Harvey always had a soft spot for the East Coast, so when life changes made them look at relocating the nursery, the Wrightmans picked southwestern New Brunswick, because it's close to the US border where half of their mail-order business comes from, and boasts a climate that is highly suited to alpine plants, which have particular growing needs in order to thrive. The nursery lists more than 650 plants in the catalogue, but offerings vary year to year, as the Wrightmans have a stock of some 2,000 different species in their garden. Esther explains that they are a mail-order business and don't operate as a garden centre, "but we always welcome people dropping in when we are home—just give a call or email if you're in the area!" The Wrightmans attend several speciality sales, including the Rare and Unusual Plant Sale in Annapolis Royal each May, a specialty sale at Stonecrop Gardens in New York, and others if time allows.
Moving from an established local customer base was a challenge, but Esther says it was quickly replaced with the hungry garden appetites of Atlantic gardeners. She says, "We love the people. There is just this indescrible warmth and openness in all of Atlantic Canada. I know it's a cliché and you've all heard it before—but it's really true."
In December of 2016, the horticultural world and the Wrightman family were deeply shaken at the passing of Harvey Wrightman from cancer, at only 67 years of age. Esther, who has worked with her parents since she was 18 and the business was only part-time (Harvey formerly worked as a stonemason as well as a plantsman), is continuing with her father's lifework. She misses her father every day—and she always refers to him as Harvey—but says, "The plants keep me close to him, and even though I wish he could have stayed longer, I'm glad I could be that close with him for all these years. I only wish he could have lived long enough to see next spring's bloom."
The N.Viropotter, Dundas, Prince Edward Island
Gardeners love to be economical as well as ecologically aware. If you're a gardener who starts your own seeds indoors during the winter and early spring, you may recycle containers to use as seed starters: egg and milk cartons, takeout coffee cups, paper towel rolls, and so on. But the N.Viropotter, a handy and beautifully crafted little tool from Dundas, PEI, can help you create your own biodegradable pots out of newspaper.
The N.Viropotter is a small wooden tool, handmade with local hardwood from Royalty Hardwoods in Pooles Corner, PEI. It's deliciously easy to use it to make seedling pots with newspaper, which can be transplanted directly into the ground once the seedlings are big enough. While there are several similar pot-makers on the market, I personally find this one to be the easiest to use; as a bonus, it comes in two different sizes and is thing of beauty, too.
The N.Viropotter is patented and marketed through Atlantic Innovative Enterprises Ltd., a small local business. Carla Morgan is the director of the business, and is very enthusiastic about the truly local aspects of their product.
"Everything about our product is local—from the hardwood to the branding design and the packaging," Carla says. To get you started, each N.Viropotter comes with an instruction sheet—already formed into a pot! You simply unfold and use the sheet as your template for cutting strips of newsprint, and can make a dozen seedling pots in a matter of minutes. The smaller size of the potmaker is ideal for a couple of seedlings, while the larger model is great for transplanting houseplant cuttings or planting bulbs. For fancy seedling pots, you can use old calendar pages, pages of photos from magazines, or any other type of recyclable paper, too! The N.Viropotter is available online at the company website, and from local businesses including Seafoam Lavender and Bloom Greenhouse and Garden Centre.
The Seed Company by E. W. Gaze, St. John's, Newfoundland and Labrador
There's a charming, historic company in an equally charming, historic building on Buchanan Street in St. John's, NL. Founded in 1925 by Ernest. W. Gaze, it was formerly known as Gaze Seeds and has operated continuously, with some seasonal closures, since that time. In 1970, the business moved from Water Street around the corner to its current address, and over the years changed hands but never its dedication to gardeners. In 2014, Peter Byrne, a great grandson of the original owner, brought the company back into the family, and rebranded it as The Seed Company by E. W. Gaze. As Jackson McLean, the assistant manager (and the helpful 'chat' person on the company website) explains, "Many people still refer to it as Gaze Seeds (us included, on occasion) and we're fine with that. We like blending the old with the new."
With the huge growth in recent years in 'backyard farming,' Jackson says the company has gained many customers who grow their own foods, and the seed catalogue reflects that interest. One very popular item offered (beyond seeds) is the "Click and Grow Smart Garden," a small semi-hydroponic system for growing fresh herbs yearround on your kitchen counter.
Seeds are sourced from all around the world, with care taken to select varieties that can stand up to a capricious Newfoundland climate. Jackson is excited that they've also started to carry locally-grown seeds, from seed-saving Newfoundland farmers and gardeners. The company puts a major focus on local products, and has connected with dozens of crafters and suppliers to add to the shop's inventory of items, including kelp fertilizer, driftwood birdhouses, soaps, and other useful and lovely garden-themed gift items.
Like any business, the Seed Company has endured some challenges over the years, most recently including dealing with nearby construction of a new hotel, and, most exasperatingly, battling the ongoing rumour that they closed down years ago. Jackson says they still get people who say, "I haven't been to Gaze Seeds in years! I thought they shut down?" Through very active social media, including a dedicated Facebook group, "Backyard Vegetable Farmers NL," they've been steadily growing more fans, more business, and are well poised to celebrate their centennial in a few short years.