Enjoying your backyard as a summery haven for wine time (and other delights)
To the inevitable surety of death and taxes we could add, a prolonged and wet spring season on the east coast that makes the summer season that much sweeter.
This year, why not take advantage of the beautiful summer season that tends to stretch out into October by creating a backyard retreat of the sort you've always dreamed—a little something beyond your dining and cooking areas. Let's look at a few ideas.
Creating a space, al fresco
Your retreat need not be confined to your patio or deck (though we'll get to those in a minute). If you have a yard, consider using this as an extension to your deck or patio. And if you have no deck or patio, and no plans or budget to add one, then let's just focus on using what you have.
This project, like any other, will benefit from a bit of advance work. Survey the space you have. How big is it? What part is useable? What is your budget? Do you have the DIY skills you'll need for this? Good planning is the universe's way of keeping you from drinking angry glasses of wine at the end of the day. Wine should be a happy occasion, so take a few hours to map out what you want to use that space for, what you'll need to accomplish that, and how much you have to spend on this. Head to Pinterest and gather up some inspiration images that will help guide you. And yes, Pinterest time is definitely wine time. Go on, treat yourself.
Don't be shy about using up some of your lawn space to create a retreat. A well-manicured, empty lawn might have been something to brag about in the 1950s, but we've gone beyond that. Imagine using some of that square footage to create a space to dine, to read, or to simply socialise with friends.
If you have a source of natural shade, such as a tree, this is a nice spot to plan around. If the ground isn't level enough for seating, you may need to do a bit of work. Contact a local landscaper for ideas and options, or check out DIY ideas for this. A simple bed of pea gravel may be all you need to define an area and provide steady footing.
Once you have mapped out the area, decide how you want to use it. Dining in the shade of a tree is not just for the Europeans—there's nothing stopping us from enjoying this during good weather. A simple table and chair arrangement can be enhanced with some beautiful outdoor fabrics, and a bit of overhead lighting, strung in the tree. You can run a cord to an outlet, or consider the many solar options now available. Add some outdoor candles and a few potted plants around the perimeter.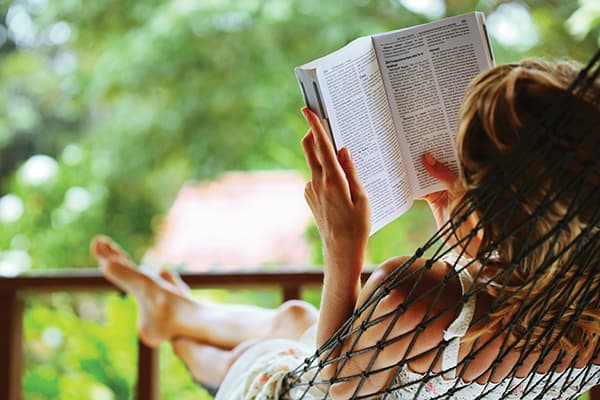 Socializing spaces
If you already have your dining area sorted elsewhere, then consider creating a space for socializing. If your zoning allows a fire pit, you can choose from the many wood or gas options available. For seating around this, you can go for a matched set from your local patio and leisure shop, or go for a more bohemian look—drag out your old wicker furniture, or head out to the local yard sales and find some. With a quick clean and a bit of colourful spray paint, you're on your way.
Consider adding a hammock to the area, and don't forget a few small tables for guests' drinks or snacks. String some lighting, light some candles, and use vibrant fabrics in bold, mixed patterns. Items that can be left out in all-summer weather can be supplemented for an evening with less durable items such as poufs and ottomans, mosquito netting, and small area rugs that invite people to stretch out on the ground.
If your plans for lighting are scuppered by the lack of a natural overhang such as a tree, there are dozens of easy DIY ideas online for simple pole structures that you can use to string lights over a tree or seating area.
Creating your retreat on an already existing base, such as your deck or patio, does mean you don't have to plan out a stable base, but you will still benefit from a bit of advance work on this.
Again, take in the space available for use; seek out a bit of visual inspiration for the style and type of result you want, and work out the skills and the budget that will be needed to accomplish the results you want.
Hanging gardens for deck or patio
There are a variety of unique features you can add to a deck or patio in addition to just your cooking and dining space. If you want to create a space for seating (think reading nook or lounging area) then bringing greenery into the space adds a lush feel. A hanging garden is simple to accomplish if you have a built-in overhang such as a pergola, but you can also consider deck rails, fencing and any existing wall/fence hangers for this use. You can use the hanging baskets sold with plants at the garden centre as they are, or get creative and DIY something different.
Spray-paint the standard containers that come with hanging plants, or metal or plastic buckets can be used (It's recommended that you drill holes in the bottom of these to allow for drainage). Some other planter ideas include steel cage baskets, old windows with small planters attached to them, or even an old birdcage.
If you don't have a pergola, consider a wall garden. The internet is rife with plans for making vertical gardens from all types of materials including piping, wood scraps and even old pallets, but you can also purchase portable vertical gardens, or have them built in to any construction or renovation plans for your existing deck or patio. If this is part of your plan, consider a variety of materials that could be used for this, from wood to composites to concrete.
To finish off your space, bring in a bit of comfy seating. If this is simply a space for you to read and relax, consider an oversized chair or hang a hammock. If it's more of a cocktail hour area, then create a centre space, with seating around it.
If zoning allows, this is a natural spot for a tabletop gas fire. Other lighting is also a big consideration in the atmosphere for the space after dark. Along with stringing electric or solar lights, consider hanging candles in mason jars to create DIY hurricane lights.
A final touch is to have a portable bar cart at the ready for this area, to keep snacks and refreshments at hand.
Whether you are dining in your back yard or creating a cozy space for you and your friends on your deck, always remember that the most important consideration for any project like this is who you invite to share it with you. (My hours are flexible, and I always bring a quality bottle of wine.)
See you in the shade!
Cheryl Cook, is the owner of SeeSea Interiors