From ultra traditional to uber modern, there's a fireplace to suit your style
With their energies and resources directed toward closing a successful restaurant in Edmonton and returning to Nova Scotia to start a vineyard, 
Peter and Sara Jackson had no plans to renovate the century farmhouse they purchased in Aylesford, NS. Their plans changed after the first winter—starting with the dated, brick fireplace in the living room.
"Nothing about it was right," recalls Peter. "Previous owners had added a huge, wood-burning insert that stuck into the room. The hearth was too small, the mantle was too shallow and the venting wasn't to code. We could never have used it safely."
The first step in transforming the old fireplace was a cosmetic intervention that involved little more than painting the tired, red brick a rich, sage green and replacing the insert with an electric log set. "We knew it was only a temporary solution," says Sara, "but it warmed the living room enough that we could sit there comfortably on a cool evening."
Unfortunately, the electric heat didn't do much to take the chill from the home's second storey, and the rooms above and beyond the living room remained exceptionally cold. After enduring frigid floorboards for two years, the Jacksons purchased a high efficiency wood-burning insert, extended the hearth to meet the building code, repainted the brick, replaced the tile surround, and added a new mantle.
"Wood made sense because we had an existing masonry chimney," says Peter, "and living in the country we have a ready source of good firewood. Our only regret is selecting a model based on the size of our living room.
In retrospect, we should have chosen 
a larger unit with a system capable of either containing heat in the living room or dispersing it to other parts 
of the house."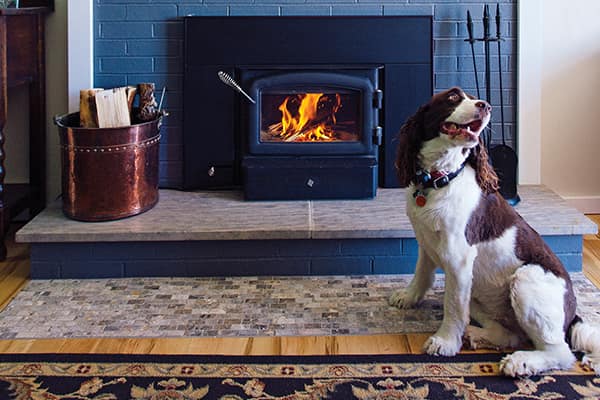 A range of choices
With fireplace choices ranging from wood, pellet and electric to propane and natural gas, deciding on an appropriate type comes down to the need for heat, the source preferred, and a style that goes well with the house.
"The strongest market in Atlantic Canada is for wood and propane," says Donnie Hill, a fireplace specialist in Halifax, NS. "The costs are comparable, but they meet very different needs."
According to Hill, wood provides 
the most heat as well as the farthest-reaching heat. "A gas fireplace is more convenient," he says, "but it's basically a space heater that you turn on for a few hours to take the chill off a single room. It's not something you'd use to heat an entire house."
For home heating rather than ambiance, Pat Bourque, a fireplace retailer in Moncton, NB, recommends wood and pellet stoves and inserts, noting the ability of pellet stoves to give varying degrees of heat. "New models have a thermometer so it makes it easy to regulate the temperature," he says, "and like modern wood-burning units, they can be ducted to other parts of the house."
This year, Bourque anticipates a 
rise in the sale of propane fireplaces and inserts once homeowners become aware of the dramatic decrease in the cost of propane. "In New Brunswick the price is down by about half," he says, "to about 40 cents a litre from 
90 cents last year at this time."
Electricity prices haven't dropped, but Bourque still sees a strong market for electric fireplaces. "They've come 
a long way in the past decade," he says, "and they're very versatile."
Not only are electric units as easy 
to install as a floor lamp, but they also add a focal point to a room without the mess and cost of construction. Earlier models often failed to simulate actual flames, but newer ones are capable of anything from traditional fire play to pulsing blue crystals and multi-hued vapour that rises from beach rocks.
Anyone who has ever lived in a drafty, old farmhouse during an Atlantic Canada winter will recognize that the Jacksons' fireplace required major surgery. In newer houses with better insulation and more reliable heating systems, it's sometimes possible to rehabilitate a fireplace with nothing more than a facelift.
When rejuvenating the component parts of a fireplace—the mantle, hearth and facing—it's important to consider scale and aesthetics. If the mantle is disproportionately small, the options for replacing it include everything from a new mantle crafted specifically for your home to a vintage model from 
an architectural salvage shop.
Although still renowned as the heart of the home, the modern fireplace has seen some stiff competition lately from large screen TVs and open-concept kitchens with attention-seeking range hoods. The trend today is modern and minimal, with traditional mantle and hearth designs less in demand than contemporary slots for log storage, concrete hearths with built-in benches, and televisions stacked above the fireplace to create an area of focus.
With winter in the wings, and memories of last year's formidable snowfall, there's no better time than now to revitalize a dated fireplace.
And with looks ranging from ultra traditional to uber modern, there's a cost-effective heat source to complement any home decor. The only proviso is to consider safety before appearance, and if disinclined to read the National Building Code yourself, to make it a point to consult someone who has.
Add impact by:
Flanking the fireplace with built-in shelves and cabinets
Painting the brick a contemporary colour
Recovering the face of the fireplace with a non-combustible material such as brick, stone and tile
Replacing tired andirons (metal or ceramic devices that hold up the firewood so that air can circulate around it) with contemporary, non-combustible decorations
Embellishing an existing mantle by adding decorative moulding, brackets, and a new stone top or solid surface
Dividing the living room and dining room or the master bedroom and ensuite bathroom with a see-through, two-sided fireplace
Safety first
Prior to any renovations that include changes to fireplaces, check for fire safety issues, including clearances required from combustibles, and appropriate materials for mantles, hearths, and fireplace faces (the area beside and above the fireplace opening).