Make it work first; then make it your own personal workspace
"Form ever follows function." This famous quote from the American architect Louis Sullivan has been, like many emphatic statements, hotly debated over time. But when considering a home office or study space, I'm with Louis. Without good function, the form of your work or study space won't matter much. If you are planning an office or study area in your home, the question of function cannot (and should not) be avoided, which is not to say that form isn't important. There's no reason you can't create a space that is as easy on the eye as it is functional. But if you let form lead, you'll end up with one of those gorgeous home offices I often see featured in magazines and websites. You know the one: a beautiful, Louis XIV desk, a modern chair to offset the look, a picture window overlooking a pastoral setting, and a chandelier to light your work. This is fantastic, if your job happens to be flipping through coffee table books and gazing out over the landscape all day while sipping tisane and contemplating what all the ordinary people do. But most of us have actual work to accomplish, and the needs of these tasks are what should drive the design of your space, with beauty and picture windows to follow.
What space is available for your office or study area? Can you spare an entire room, or is a nook all you have? If you can choose your space, which of these would better suit your needs? If you are working from home and need to keep an eye on kids, consider a central command post in the kitchen or living area. But if you need to close the doors on all distractions, human and otherwise, and work in solitude, then an enclosed space might work better. My sister runs a successful marketing business from her home, and the closed door on her office is no small part of that success. Well, that and a campaign of threats and financial incentives offered to her children to leave her alone. We all do what we must to get by.
What area of the house would work best for your needs? If you have south or east facing windows, you may find the sunlight works against you, heating up the office and making the placement of the computer monitor problematic. Think about how important things like windows and doors are to you. Is a view more important to you than the ability to close the door and have privacy?
Next, consider the layout of the space itself. How can you make the available area the most functional it can be? Start by considering basic furniture placement. Your desk should be placed so you can easily sit at it, and move to and from it. If it is situated in a closed space such as a room, you should aim for a chair clearance of about 30 inches between desk and wall. A swivel chair will make this easier as well.
Next, plan and lay out any storage or organization that will be in the space, such as shelves and file cabinets. Don't underestimate what you will need for this; think of things such books, papers that need storing, office supplies and the like. If you have a few books and items, but don't have room for a bookcase, go vertical. Wall shelving and storage is a great way to make the most of limited space.
Now, let's move on to the nuts and bolts; or rather, the stuff that will require you to work with the nuts and bolts: your office furnishings and fixtures.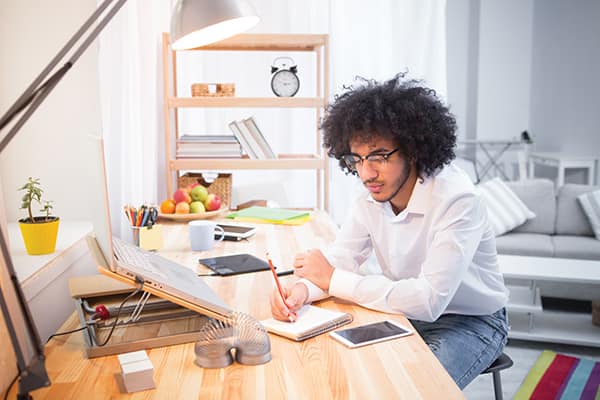 Your desk needs to suit your tasks. If your work is primarily digital, and doesn't require you to do any work by hand, you can get away with a smaller desk. If you often have papers spread out or need to write or draw, then this should be factored into the size of the desk you require. If you have an L- or U-shaped desk in mind, it will need to fit the space you have available. Look for options such as built-in file cabinets and drawers, and cable management trays on the desk that will help you keep things neat and organized.
If you prefer not to sit all day, a standing desk is a great option. A permanent standing desk leaves you with little flexibility, but consider some of the many sit/stand desks now available. You can spend thousands on one that goes up or down with the touch of a button, or check out box furniture stores such as Ikea who have some basic models that can be hand cranked up and down.
Speaking of sitting, your chair is one of the most important furnishings in your office or study space. This is one of the areas where I recommend a bit of research and a decent allocation of funds from your budget. Having a chair that is comfortable and ergonomically sound will help you avoid common injuries and strains that come with office work. A good office chair should offer swivel and tilt, adjustable seat height and depth, adjustable armrest height, and good padding on both the seats and arms. Look for an adjustable back rest and some lumbar support—and even adjustability for this. Since this chair will be going in your home where you have likely installed nice flooring, consider using a chair mat underneath it to protect your floors. You can also find non-marking casters that you can swap out for the standard casters on your chair, and indoor/outdoor rugs (with little to no pile so your chair can roll over it) that are a stylish way to protect flooring.
There are a variety of alternatives to a traditional chair that you can try out. Balance balls, either alone or with a stand or chair the ball rests in, "wobble chairs" and even kneeling chairs are all used to either replace, or more often, alternate with a traditional chair. In my home office, I switch between a regular office chair and a large balance ball, that offers a bit of engagement for my core muscles during a day of sitting, but also a chance to bounce along to my favourite music.
Another crucial element to your office or study area—and one that is often overlooked—is lighting. Your lighting should enhance the work you need to do, but it can also be beautiful. As with any space, layered lighting is the key to functionality, so we don't want just a single light fixture on the ceiling. That said, your space will need ambient lighting, usually provided by that overhead light or a lamp that casts light upward. Recessed lights are fine, but if you have a single fixture, take a minute to think not only about its function but about its form. A pendant or semi-flush fixture with a diffuser (a panel of frosted glass or plexi to soften the harsh glare of the bulbs) will not only offer light, but style to your space. Similarly, your task lighting, such as desk lamps, not only helps you work better, but offers a means to let your personality into the space.
If you have windows in your study or work space, they can be both a blessing and a curse. The eye loves natural light, and this extra source of illumination means less effort achieving sufficient light for working. But placing computer monitors can be tricky when there is a window. Sure, we all dream of sitting at a window, overlooking our chic New York City neighbourhood and tapping away at our laptop, while somehow earning enough from a wee newspaper column to live in said chic New York City neighbourhood, la Carrie Bradshaw in Sex and the City (and if you don't get this reference, feel free to join my husband over on THAT side of the line I have drawn in the sand). Facing a window while using your computer means the glare from behind your screen can make it difficult to see, and cause eye strain. If your back is to the window, you may find the glare on your monitor makes work impossible. Shading the window is one fix, but one that means you lose most of the benefits of having a window in your office. Placing the monitor at a right angle to the window often does the trick, so this is something you'll need to give a bit of thought to when arranging your desk.
After you have the basics planned, you can turn your eye to personalizing your space a bit. As with any space, take the time to consider a colour palette for the whole space (not just paint on the walls) and use this to guide your choices. A simple 60-30-10 rule will help you with your palette. For a four-colour palette, it goes like this: Colour number one is 60 per cent of what you see in the room, usually the wall color. Colours two and three can be 30 per cent of what you see, usually colours in your furnishings, fixtures and big décor like window and flooring options. Colour four will be about 10 per cent of what you see in the room and is usually a bold hue used to create colour pops around the room. Most paint stores now have great online tools that will help you choose a colour palette. And, of course, you can always hire a decorator who does colour consults to get some expert input on this.
Finally, look to the empty wall space and shelf or desk space in your room, to think about other décor elements such as wall hanging, window décor or small objects you want to display.
These are the final elements that will create a space that is not only highly useful, but shows a glimpse of the personality who toils within, whether a marketing professional, a home-business entrepreneur, or a student cramming for finals.
Cheryl Cook is owner of SeeSea Interiors in Halifax.