Turning your little-used basement into a rental unit can help with the bills, but make sure you know what you're getting into
Ever seen those home renovation shows that turn a dingy basement into a bright, beautiful—and, more importantly, income-generating—rental suite?
While it may seem a great way for first-time home buyers to offset a steep mortgage that might otherwise be completely out of reach, people in the housing industry say caution should be the watchword before jumping in with both feet.
"Yes, having a basement apartment could certainly help to pay the mortgage, and that would be a good benefit, but generally unless you want to get into the property business, most people see the idea of a rental unit as a really big headache," says Susan Eldridge, a Dartmouth, NS-based real estate agent with Avalon Realty.
Being a landlord isn't for everyone. Some, Eldridge says, are uncomfortable with the idea of having strangers living on their property—especially if the homeowners have children—while others feel wary of having to deal with landlord-tenant issues.
But even for those keen to enter the property business, or simply looking to generate some rental income from a basement apartment, one of the biggest issues Eldridge sees in her property market is illegal suites—apartments in areas zoned as single-family dwellings.
"Zoning is really, really important when it comes to having an apartment. If I'm representing a buyer for a house that has an apartment in it, I want to know that an occupancy permit has been granted by the city and I want to get a copy of that occupancy permit as a condition of sale. There are a lot of illegal suites. If it's a "granny" or an in-law suite that may be fine, but you can't rent that out as a separate space."
The bottom line? If you want to have an income suite in the basement but live in a house that is zoned as a single-family dwelling, you have to go through the process of having the property re-zoned to allow for a second suite or an apartment, a process much more involved than just signing a piece of paper.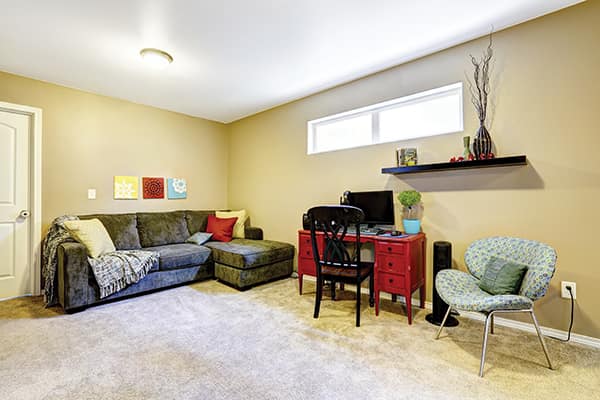 "To convert it you have to follow the building code," says Dan Monk, owner of Monk Renovations in Bedford, NS.
There has to be fire separation between the living units, for example—a significant cost as combined air systems are not allowed under the code—to prevent fire traveling easily from one unit into another. Fire-rated walls and ceilings are also mandatory, and egress windows, or properly-sized windows, to allow for emergency exit.
"Those are part of the national building code and they can amount to a fair bit of cost. It is totally do-able, but it is an investment," Monk says. 
For most people, the decision of whether or not to do the necessary upgrades to create a basement suite comes down to crunching the numbers to determine whether a $30,000-plus renovation makes financial sense. "Will I get my money back, that's usually what people are thinking about," Monk says, especially if the homeowner is more interested in short-term financial gain—to help offset a first mortgage, for instance, or to help defray house maintenance costs for older homeowners.
Interest in basement suites is on the rise. Monk says his company frequently gets calls from people asking for a quote on a basement renovation, with the goal of creating a rental apartment. "People watch a television program and think it's going to be easy. They are entertaining shows but they don't reflect the reality of everything involved to make it legal."
If a homeowner decides to rent a basement unit that is not legally compliant they are taking a big gamble, Monk cautions. "I know people take this risk all the time but it is a huge risk. Just imagine it, you've got a university or college student—a young person—living in your basement. The house burns down and the person dies. Their parents or loved ones are going to sue you for everything you're worth."
For people who are building their own homes, thinking ahead for future needs and roughing in things such as plumbing and separate electric service for a prospective basement unit makes a lot of sense as it allows for more flexibility in the future, says Ryan McNeil, president and owner of Stonewater Homes in Fall River, NS.
"It gets the heavy lifting done ahead of time. It's a lot easier than trying to incorporate it after the fact," he says.
"If you live in an area with the right zoning and want to supplement your income to help pay the mortgage, it would make your house much more affordable. Or if, down the road, there's an opportunity for your parents to move in, you've got a fully compliant suite that can accommodate them. I think it's a great idea."
Tips to consider when creating a basement suite
Hire a pro — they know the rules and can guide you so you don't run into snags.
Plan the layout carefully — make the most of the available space and natural light, make detailed notes and think about everything that will eventually go into the new living space.
Lighting — recessed lighting, track lighting, pendant lights: in a basement suite creative lighting—and lots of it—allows more options to brighten the space.
Materials and finishes — look for paint and cabinets in light or neutral tones to brighten the space.