Avoiding the Midsummer Blahs
Tired of midsummer meltdowns? Here's how to have a brimming, colourful border, from spring till frost.
Early summer, and the garden is in full, voluptuous glory, with most perennials at the peak of their bloom. You've got drifts of campanulas, and tall, quivering stalks of delphinium; your border is ablaze with poppies, coreopsis, penstemons, Jacob's ladder, Maltese cross, peonies…
And then suddenly, it's over. A few stragglers flower here and there, but it's slim pickings: Your formerly brilliant border is now a sea of green, punctuated with stalks of spent flowers that are not yet seed heads. What to do?
This is where we gardeners get really creative. Well, we're a creative lot anyway, but there are times when a little extra ingenuity is called for. Getting a full season of colour requires some planning—and the right care.
Here are a few tips for avoiding the midsummer blahs.
1. Off With Their Heads 
Deadhead your perennials right after they flower. Plants put up flowers in order to set seed and make sure they can pass along their genetic code for future generations. If you lop off the flowers before seed formation begins the plant says to itself, "Hey! I'm going to die with no children! Better put up some more flower stalks."
OK, I haven't really heard them say that. But you get the idea. Once the main flush of bloom is over, cut back perennials such as bellflowers, coreopsis and dianthus, and they'll reward you with another flush of flowers. It's sometimes hard to do the first time (and seems counterintuitive), but generally if you cut plants back hard, two-thirds to three-quarters of their height, they'll come back with a flourish of enthusiasm.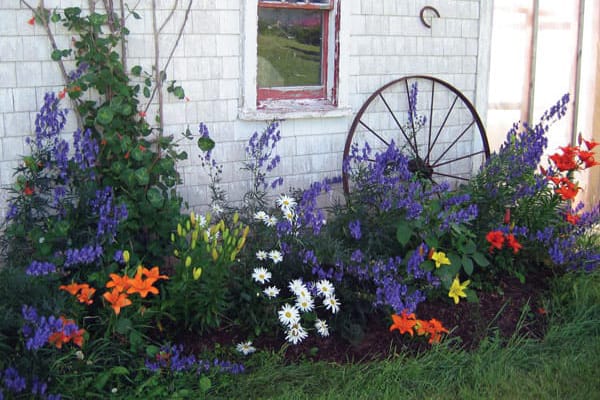 2. Up The Ante With Annuals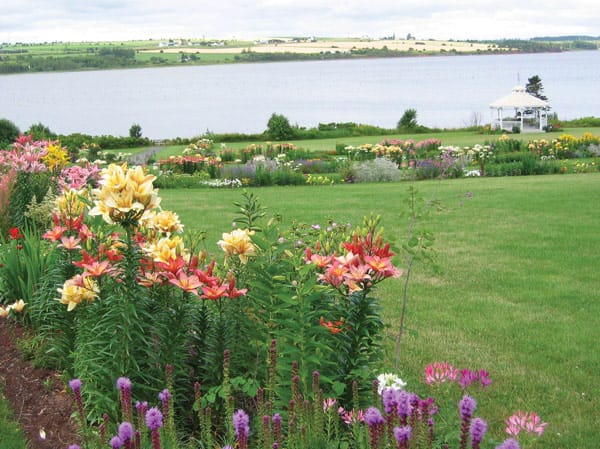 Annuals had a bit of a bad rep at one time because there were only a handful of choices, and they were overused as to become cliché. But today's gardener has a dazzling, dizzying choice, with unique plants coming from all over the world. You can grow your own from seeds, which increases your options for interesting and uncommon varieties, or you can purchase transplants. Either way, annuals provide great bursts of colour to tuck into a garden spot where the perennial bloom wanes early. Consider planting some in unique containers that can be moved around the garden for instant colour and character when needed. Hot picks include nigella, heliotrope, cerinthe, and Livingstone daisy or ice plant.
3. Sub With Flowering Shrubs
Shrubs are marvellous, especially those that have a long bloom period or will rebloom. Some have such splendidly coloured foliage—think of golden elder, purple ninebark or variegated dogwood—that it doesn't matter to me if they ever flower. And consider the marvels of wormwood (Artemisia absinthium). "There's nothing like grey in the garden against the green," says Jane Blackburn, owner of Woodlands and Meadows Perennials in Truro, NS. "Wormwood may be cut back to the ground to rejuvenate it when it flowers, because the flowers are very insignificant." As a bonus, wormwood has a uniquely pungent, clean scent, and it works very well in fresh or dried floral arrangements.
I'm also partial to lilacs for spring, roses for summer and hydrangeas into fall. Last year I was at the Royal Botanical Gardens in Hamilton, ON, when the lilacs (more than 800 species and cultivars) were in full bloom, and I became besotted with a creamy yellow lilac called 'Primrose'—it's going in the garden this year. Roses, I could talk about for days, and of course we have great choices in hardy, long-blooming roses that don't require cosseting. In hydrangeas, there's an exciting new variety called 'Endless Summer' that blooms its pretty little head off on both old and new wood, all season long. As a bonus, it's hardy to zone 4—perfect for so many gardeners who can't usually grow hydrangeas.
4. Buy into bulbs
One of the most valuable gardening tips I've ever learned was from Carol Cowan, the former director of the Netherlands Bulb Information Centre in Toronto. I was lamenting the work required to grow dahlias, gladiolus and other tender summer bulbs. Carol, in her direct way, pointed out that every year I spend significant amounts of disposable income (or grocery money) on buying annuals, putting them tenderly into the ground and looking after them for a few months, then relinquishing them to the compost heap at the first sign of frost. "If you're busy, or don't have the room, why not treat your summer bulbs as annuals and just leave them when they're done?" Since many summer bulbs flower late in the season, they're perfect partners to complement an early perennial bloomfest.
5. Have Fun With Foliage
Remember, there's more to a painterly landscape than flowers. Select plants with interesting foliage colours and textures. Hostas are a perennial favourite, and there's one (or a dozen) for every gardener's taste. Variegated foliage plants also work well in partly shaded areas, and always add visual interest. Heucheras, or coral bells, are coming in more glorious colour combinations all the time, and those that flower are an added bonus. And I've become besotted with perennial grasses, which look good all year long.
If you want a truly dramatic foliage plant, try 'Red Selection' ornamental rhubarb (Rheum palmatum var. tanguticum 'Red Selection'). This plant has presence! Hardy to zone 4, it boasts leaves up to three feet long, red clusters of flowers on eight- to 10-foot stalks, and gorgeous burgundy-red foliage that fades to green as the season progresses. Lloyd Mapplebeck, a horticulture professor at the Nova Scotia Agricultural College and operator of Hillendale Perennials in Truro, considers this to be one of his favourite plants—although like many of us, he finds it hard to narrow down to fewer than, say, 500 or so.
6. Invest in Everbloomers
Look for long-season or everblooming perennials, workhorse plants that bloom more or less continuously throughout the growing season. It's true that some of our most showy perennials—like the puffy peonies and the dramatic delphiniums, not to mention the flamenco dancing Oriental poppies—put on a performance for a couple of weeks and then are gone. But there are all kinds of belles that just bloom themselves into exhaustion.
To rejuvenate them cut them back severely partway through the season, which will encourage them to put on a more vigorous show and will also tidy up that sometimes annoying tendency to flop midseason. Some of the everbloomers include cranesbill geraniums 'Johnson's Blue' and 'Ann Folkard', threadleaf coreopsis, many of the bellflowers (Campanula species), salvia and widows tears (Tradescantia).
7. Plan Your Perennials
Choose early, mid and late season perennials. With a little planning and forethought, you can arrange your beds and borders so there truly is a staggered bloom period—always lots going on—as opposed to a flurry all at once and then drought.
One of my beefs with some gardening books and magazines is that you'll see designs for planting a bed of mixed perennials, and the flowers will all be in bloom at once. Peonies and asters aren't likely to be blooming at the same time, for example. At least not in our erratic climate.
Perennial Favourites
Here's a choice selection of early, mid and late blooming perennials, according to gardeners from around the region.
Early Birds (May to June)
Alpine and Icelandic Poppy - Generally the earliest perennial, other than Hepatica nobilis, to flower.
Anchusa- Has deep-blue flowers that look like excited forget-me-nots.
Basket of Gold (Aurinia saxatilis 'Citrina') - New varieties have softer coloured blooms than the old, acid-yellow type.
Bishop's Cap (Epimedium) - A dainty, ground-hugging plant with unique flowers, resembling its namesake.
Columbine -There are columbines for every taste, from the native Aquilegia canadensis to unique cultivars with huge, dramatic blooms.
Creeping or Moss Phlox - A wonderful spring bloomer that lasts and lasts, blanketing the ground with blooms in shades of rose, lavender, magenta or white.
Irises, including Bearded and Siberian Siberian - Will bloom first followed by bearded in most gardens.
Lady's Mantle (Alchemilla) - This charmer has soft, lime-coloured leaves and long-lasting flowers.
Primulas- One of my favourites is the Siebold primrose, although it does go dormant in summer heat.
Woodland Perennials - Solomon's seal, (Polygonatum), trillium, rosy twisted-stalk, (Streptopus roseus) and bloodroot (Sanguinaria).
Note:many native woodland plants are endangered—they shouldn't be dug up from the wild.
Midseason Stars (June to mid August)

Asiatic, Oriental and Trumpet Lilies  - They'll multiply year after year; Orientals are the fragrant ones.
Blue Star (Amsonia) - An underused perennial with starry blue flowers; very easy to grow though slow to start in
the spring.
Delphinium - Nothing quite says cottage garden like these tall beauties, best staked for protection against the wind.
Gas Plant (Dictamnus) - Slow to establish, but has stalks of fragrant flowers that are worth the wait.
Jacob's Ladder (Polemonium) - Dainty clusters of blue or white flowers on interesting foliage; will sometimes rebloom after cutting back.
Maltese Cross (Lychnis) - Besides the white and red varieties of this old favourite, try rose campion (L. coronaria), which has stunning fuchsia flowers and silvery-grey foliage. It tends to flower and die but it self seeds. White and blushed varieties are also available.
Rudbeckia - Tough and long blooming, with new varieties all the time.
Late Bloomers (August to October)

Asters - There are earlier asters, such as the alpine varieties, but my fondness is for the hot pink and deep purple types that erupt into bloom in late summer, a nice contrast to russet, orange, gold and red.
Blazing Star (Liatris) - Not to be confused with purple loosestrife, which it slightly resembles, liatris comes in purple, white or pink and starts blooming from the top of the flower spike rather than from the bottom.
Globe Thistle (Echinops) - Marvellous works of floral architecture, with tight balls of steely-blue or mauve flowers that are much loved by bees.
Red-hot Poker (Kniphofia) - Comes in shades of yellow, red and orange.
Helenium - No one should call this sneezeweed, given it doesn't cause allergies. What it does do is provide tall clumps of long lasting, daisy-like flowers in autumn shades, perfect for cutting or just enjoying in the garden.
Monkshood (Aconitum) - The earliest is the yellow monkshood, while those in shades of blue, purple and "red" (actually coral) bloom mid to late summer.
Rosy Butterfly Weed (Asclepias) - Even when not in flower, this attractive plant looks great; in late fall it has interesting seedpods that release silken, fly-away seeds.