The Joys of Container Planting
You only need a little time, a little space and some imagination.
Are you longing to have a garden at your summer retreat but don't have a lot of space? Looking for ways to provide bursts of floral colour when perennials are fading and annuals aren't yet blooming? Do you want a few fresh tomatoes and herbs, but not the trouble of maintaining an entire garden when you're not there every day? The simplest solution is to try your hand at container gardening.
Container gardening can mean anything from an artistic bonsai planting or a colourful collection of small cacti planted together for indoor enjoyment to any number of elaborate outdoor plantings. This type of gardening is popular because it is portable, changeable, and limited only by available space and your imagination. With a few amendments, it is also an ideal option for exercising your green thumb while you're enjoying a weekend at your home away from home.
Choosing a Container
With a few caveats, what you use for a container is limited only by its portability and your imagination. I've seen old workboots holding a dazzling display of annuals, graniteware-roasting pans planted with tomatoes, wooden apple boxes holding numerous pots of herbs and flowers, and wooden barrels flowing with strawberry plants.
e have an antique wheelbarrow with removable wooden sides that I fill with large containers of joyous annuals each summer. When our metal mailbox finally became too dilapidated to serve duty on our rural postal route, I warned my long-suffering spouse not to dare throw it out. This year, it will be fastened on the side of the barn with a cascade of trailing plants tumbling from it.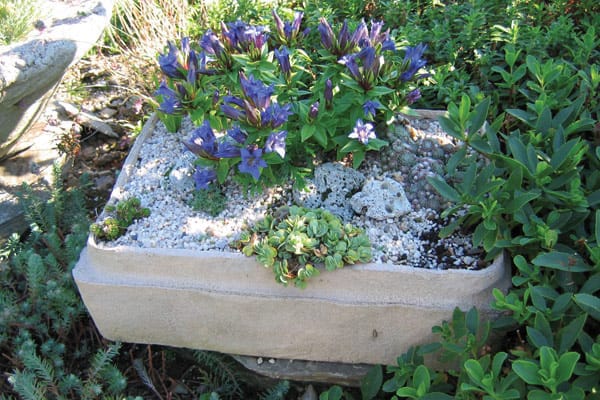 While almost anything can be used as a plant container, from an old workboot to a hollowed out tree stump to an elegant pottery urn, careful planning will ensure success with your planting. Terra cotta planters look terrific, but can be heavy, are breakable, and must be emptied out or moved indoors for winter. In addition, terra cotta pots breathe unless they are glazed, and will require more watering than containers made from non-porous materials. Cheap plastic pots often become brittle and break due to weakening from exposure to sunlight, but often the solution is to place these pots inside other heavier, more attractive containers. Dark-coloured pots absorb more heat than lighter shades, and can again require more watering.
The Right Soil Mixture
Potting medium is also important, and most container gardening enthusiasts don't recommend digging soil from the garden to use for your potted plants. It's better to use a prepared, sterile medium designed for container gardening. Some of these mixes come with organic or chemical fertilizers included, or with moisture retaining polymers that help reduce watering needs. A rule of thumb is that a container planting should have at least eight inches of soil to support multiple plants. Mulching the soil after you complete planting helps to reduce watering needs and keeps roots cool.
Selecting Your Plants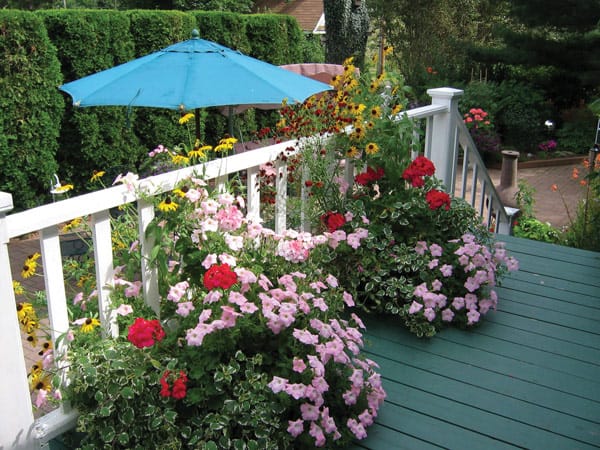 Once you've decided on containers and prepared your soil mix, the fun really begins: selecting the plants. Of course where your planters are going to be situated will affect your choices of plants. Is the site sunny and hot, or cool and shady? Many herbs thrive in hot conditions, providing that they have adequate water and good drainage. Rock garden plants such as Sedum 'Autumn Joy' also thrive in container plantings in sunny areas, as do most vegetables and countless annuals. A shadier, cooler location invites plantings of annuals that prefer less heat, including the lovely trailing and upright forms of lobelia, salad greens, foliage beauties such as coleus, as well as some of those old faithful annuals like tuberous begonias and impatiens. The joy of container gardening is the portability; you can move pots around to suit yourself. If a planting isn't getting enough light you can move it for a few days to a sunnier location.
As clichéd as some gardeners may think they are, I love the riotous burst of colour that zonal geraniums bring, and have to have a few of them included in at least a couple of containers each summer. But I also crave fascinating colour combinations and interesting annuals, whether new hybrids and cultivars like some of the trademarked verbena, and Million Bells calibrachoa, or old heritage varieties of annuals such as heliotrope (cherry pie plant) or blue anagallis. Because I enjoy attracting hummingbirds and butterflies to our gardens, there are always a few pots featuring nicotiana, fuchsias, and other nectar rich species. Because I never met a blue flowering plant I didn't love, cascades of lobelia tumble from many of our container plantings.
The main thing to remember is that your garden—whether a full fledged dug out of the earth planting or a collection of containers—is your garden and you can plant whatever you want in it. There are very few plants that can't be adapted to container growing, provided you have a large enough container and the growing conditions required to keep the plant happy.
It's a good idea to put perennials in one planting, and single season plants in another. Annuals tend to grow very quickly and can easily overwhelm slower growing plants like perennials. Additionally, when the outdoor growing season is finished, you can bring the perennial containers indoors or let them go dormant in a cool location such as a cellar or other non-freezing location.
Going Vertical
Don't forget the option of growing upwards. A number of vining, trailing or climbing plants do very well in containers, including nasturtiums, pole beans, dwarf varieties of morning glories, ivies and climbing rosebushes.
Keeping your containers happy
Once you've committed to growing container gardens, in order to keep them looking good you have to keep them happy. The most important key to happiness is making sure they have adequate water. If you're away during the week and only at your cottage on weekends, you'll need to plan for a way of making sure your potted babies don't dry out. The larger the pot, the less frequently you should need to water, and grouping a number of pots together can help to keep them from drying out quickly, as well as make a more effective looking planting. However, overwatering can kill your container grown plants just as effectively as underwatering. No matter what you choose to use for a pot, make sure it has drainage holes at the bottom.
Container plants need to be fed just like any other garden plants. Again, new potting mixes on the market are available with time-released fertilizer capsules mixed right into the soil, enough to provide your annuals with nutrients throughout their growing season. I prefer to give organic feed to our plants, and tend to use a foliar seaweed fertilizer or else seaweed meal applied every two to three weeks. Deadheading the spent blooms from your container plantings also helps to ensure a full season's performance of flowers.
When fall comes, you have several options. You can either bring your containers home, still filled with plants, give the plants a good pruning and prepare to over- winter them indoors, or else surrender soil and plants to your compost heap. It's a good idea to wash your containers out with a mixture of warm water, soap and a little bleach to disinfect them, dry them thoroughly and then stack them away in a basement or garage until next spring.
Beyond the Begonias, Past the Petunias
Everyone has his or her own gardening style and preferences, which is part of the pleasure of gardening. Some people are perfectly happy to plant the same annuals year after year, while others like to experiment with new species and varieties, new colour combinations, and new containers to plant in.
Not all of the plants suggested below are new varieties; some are actually old-fashioned plants that are enjoying a well-deserved renaissance. Why not try a few for yourself and see how they make you feel?
Flowering Plants

Anagallis:For those besotted with blue flowers, look no further than anagallis, or blue pimpernel. This annual has a sprawling, lax growth habit, and its flowers close up in cloudy weather, adding to its charm.
Brachyscome:The Swan River Daisy is an enthusiastic container plant that blooms and blooms, in shades of blues, purples, as well as white and yellow.
Cerinthe:A striking annual with nodding, bell-like flowers that seem to change colour. This is a favourite with me because it's so different and subtle, compared to many annuals.
Chrysanthemums: Container plantings aren't just for high summer. A planter filled with fall flowering mums, whether all in one colour or in a mixed variety of tones, is especially striking when set off with ornamental grasses to give some height and structure to the container.
Heliotrope: Whether you call this by its scientific name or by its common name of cherry pie, if you've ever smelled its sweet fragrance you'll want to plant some where you can appreciate it.
Lantana: About the only drawback to this interesting annual is the smell of the foliage and flowers, which is somewhat strong and unpleasant. The flowers appear in clusters, with the younger blossoms often being a different colour from older blooms, giving a striking appearance when used in a container planting.
Nigella: One of my favourite annuals, it's a star of planters and beds with its lacy foliage, star-shaped flowers in jewel tones, and remarkable, spiky seed heads. For a truly unique variety, look for N. orientalis 'Transformer' featuring yellow flowers and tall, spiky stamens.
Nicotiana: Flowering tobaccos are especially beloved by hummingbirds, and if you grow the old- fashioned varieties, you'll be rewarded by the wonderful scent in your containers as well as performances from hummers.
Osteospermum: Also known as African daisy, these delightful plants are prolific bloomers, quite heat tolerant and available in a wide range of colours from whites and creams to purples and oranges. Some have spoon-shaped petals, which add further interest to a planting.
Foliage Plants

Coleus(Solenostemon hybrids): It's quite gratifying to see the shade-tolerant coleus enjoying such a surge in popularity. The only drawback is that there are so many new hybrids on the market each year, it's hard to recommend a few. The best suggestion is to find plants that appeal to your container colour scheme, and go with them. Many of the newer varieties are also quite heat tolerant and can take more sunlight without fading their brilliant colours.
Euphorbia species:Those of us who grow perennial euphorbia know that they tend to be prolific spreaders, so it's easy to dig up a chunk to plant in a container for a striking foliage contrast. Try the purple foliaged E. dulcis 'Chameleon,' E. griffithii 'Fireglow' which has stunning coppery orange flowers and bracts, or E. cyparissias, with its shimmery lime green colour.
Sweet Potato vine (Ipomoea): These trailing plants are grown for their foliage, which can be variegated, brilliant lime green, and even near-black. A new variety this year is 'Sweet Caroline Red,' lighter in colour than the deep 'Blackie,' and with a compact growth habit.
Purple Majesty Ornamental Millet(Pennesetum glaucum): If you're looking for a real showstopper for big container plantings, consider this annual grass. With deep purple foliage and seed heads, it's a dramatic plant that also provides food for our feathered friends.