Homeowners are installing wind turbines as an additional source of energy, and some are even using wind - and solar - to go off the grid.
There's seldom a lack of wind for the 10 kW Bergey windmill that Paul Donovan installed a few years ago on his property in Lower Canard, in Nova Scotia's Annapolis Valley. He put the small turbine up to provide heating for his family's pool, but it often generates enough energy to fulfill the home's requirements. Paul has strong feelings about wind power's worth. "Using wind power is a rational way to put energy in a house since it's there for the taking, and since oil is a limited resource."
Paul hopes to see the day when every residence has a small windmill generating household power requirements, as prices for small units continue to drop. His windmill and tower cost about $40,000 including installation and connection to the power grid, but the television producer did it on principle, rather than for economy. He likens wind turbine development to the way cars have evolved over the century or so we've been using them. "We're in the pre-Model T stage of home wind turbine development," he says, but as demand grows for wind power, we are seeing newer turbines that are more efficient and economical, designed with the homeowner in mind. 
As Atlantic Canadians become more familiar with wind turbines and the benefits of wind energy, this form of energy production will likely become as common as cordwood. Whether local county bylaws will evolve to accept residential wind turbines is harder to say.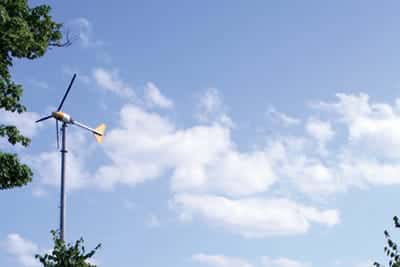 Just how does a wind turbine generate energy? The blades are mounted on a rotor, and when the wind blows, the rotor spins, turning a generator to create electricity. The same basic technology is used in large-scale wind farms, where a number of massive turbines are erected in one area, generating electricity to be fed into the main electrical grid of a province. Smaller stand-alone turbines are used to generate power for communications purposes or for water pumping, or to power a home or farm.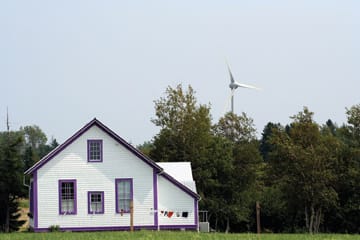 For homeowners who want green energy, the best option is a hybrid system, combining a turbine with photovoltaic panels and a bank of batteries. If the wind is not blowing, the solar panels can generate energy, and if it's cloudy and windy, the wind does the work. In the event of a cloudy, calm day, the battery banks normally provide power for several days. However, some homeowners opt for a fossil-fuel powered generator as a backup against discharged batteries. 
Stephen Howard operates Renewable Lifestyles in Summerside, PEI,  offering a number of wind turbine models, as well as other sustainable energy options, including solar panels. He says many people are looking to be more green in their energy consumption, or to get right off the grid. "In some cases, rural customers are far enough off the road that they'd have to pay thousands for the power company to run poles and lines into their new home," he says. "So instead of that, they opt for a green alternative." Hybrid systems are popular, although in the case of a cottage owner who may only spend a few weeks at a summer property, Stephen recommends just solar panels, because of the lower upfront cost and lower maintenance requirements.  
Stephen is currently installing a hybrid system at a new home construction in nearby Cardigan. Dianne and Terry Brennan lived in PEI during the 1970s, worked in Ontario, and have now retired and returned to the Island. Having been without power for 17 days during the great ice storm of 1998, they made energy self-sufficiency a high priority. "We decided to go completely off-grid with this home," Terry says. "We wanted to be greener consumers and we didn't want to have to rely on power companies." Another factor was location: the Brennans have a 68-acre property, and their home is 1,200 feet from the road, making installation of electrical poles and lines costly. "We figured our money could be better spent on being off-grid."
The Brennans have a masonry stove for heating their home, a range, water heater, and clothes dryer fired by propane, and the hybrid system for power generation. Their wind turbine, a Bergey XL1, sits atop a 60-foot tower and works in tandem with a solar panel array. Together the two sources charge a bank of six batteries, which are good for several days' use with no charging, and there's also a backup propane generator.
Every homeowner's situation is different, but there are steps that everyone ought to take before investing in a wind turbine system. Simon Melrose has been living off-grid for five years, although he just added a wind turbine to his solar panel array a year ago. A former boatbuilder and lifelong sailor who works for a company providing weather forecasting and other services to the marine offshore, Simon and his wife live in Musquodoboit Harbour, NS, in a house they designed themselves. "Our 840 watts of solar panels and the 1 kW Bergey turbine provide all we need for electricity," says Simon.
A longtime proponent of green energy, he stresses that before you purchase a wind turbine or solar array, research and planning are crucial. "Start with how much you can cut back on consumption," he says. The average Canadian house uses 30 kWh per day; the Melrose house uses one tenth of that. A masonry stove provides heat and some hot water; appliances are propane where possible, and the hybrid power array provides plenty of energy for such items as the refrigerator, UV water treatment system, television, and three computers.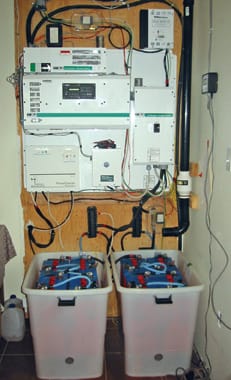 Municipal regulations vary as to height and distance restrictions for turbine installation, so it's critical to check on zone requirements before investing in a system. The physics of wind energy means that the higher a tower, the better the turbine will operate, due to less overall turbulence. Manufacturers usually recommend a tower be at least 30 feet taller than other structures or trees. If your municipality won't allow towers taller than 60 feet, for instance, and you have 50-foot-tall trees nearby, you would be wasting money to purchase a turbine.  
Some homeowners may have concerns about noise from the turbines or potential bird kills. Simon tested his unit's noise level recently with a very sophisticated monitor, and found it was quieter than the ambient noise of wind rustling through trees. Talking to neighbours beforehand, explaining the turbine's operation and safety, goes a long way in keeping people happy. As for stories of turbines killing significant numbers of birds, this is an eco-myth that has been debunked by a number of scientific authorities.
Although a dizzying number of small turbines are on the market - Canadian Tire, for example, carries several models under $3,000 - Simon reminds consumers that they will get what they pay for. "A wind turbine is also an active system - we installed and service ours by ourselves, but a homeowner must realize that they will need to occasionally service the turbine or hire someone to do so. But don't listen to those who say you can just 'put a windmill on your roof.' The better quality product you purchase, the less chance of problems down the road."
And that ain't just blowin' in the wind.