There's just something about stone-whether it's its strength, its earthy colours, its range of textures, or its incredible versatility, or a combination of all the above-that makes it such a sought-after material in home construction and décor.
Stonemasons can turn your home's fine details into a solid yet personal investment.
There's just something about stone-whether it's its strength, its earthy colours, its range of textures, or its incredible versatility, or a combination of all the above-that makes it such a sought-after material in home construction and décor.
Stone can be used as a major feature or a fine detail in an overall home design. No matter where you decide to place stone in or on your house-from marble countertops in a kitchen to keystones and sills around a window, a finial topping a window dormer, or the gable end of a house-a stonemason with an artistic eye can help personalize it.
"A fireplace I once carved had three wheat staffs up one side," says Heather Lawson, a stonemason and owner of Raspberry Bay Stone in Bass River, NS. "It was a very personal piece, the wheat represented the couple's three children. But it was also discreet and would not adversely affect the resale value of their home."
Heather says it's easy to get caught up in her clients' enthusiasm about their projects.
"I get excited when people get excited about their project. I do not go looking for work; it finds me. I'm always amazed at the variety of work I get to do, and the interesting people and organizations behind each project."
An entryway with a stone lintel and threshold makes a powerful statement about a home but could easily appear austere unless softened under the mason's chisel.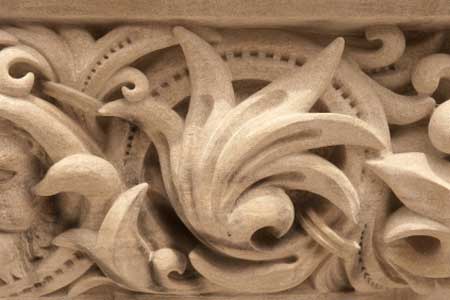 "I did a three tiered threshold for one client and carved a bunch of crows on it, and I recently completed a commission carving five Indiana limestone columns, and a pair of seven foot gateposts; they had four panels each," Heather says.
Though she says it's incredibly satisfying to create a design and complete a piece out of stone, she also has a deep appreciation and respect for stone in its natural state.
"I work with a lot of aged stone; it has a patina and a shape to it… it has a life, a memory," she explains. "I go to the quarry and often see the perfect stone. I take it home but don't touch it because it is perfect as it is."
Heather also indulges her artistic nature by spending time every year sculpting whimsical figures for garden grottos. Her fountains are very popular for both indoor and outdoor use.
"They are mostly about movement rather than sound; water spiraling around and down, before being pumped back up," she explains. Some are carved faces. In the future she intends to push her love of sculpture to a new dimension.
"I hope to be working on a seven foot square block. I want to carve it from the inside. The idea is to leave the stone intact so that you have to enter it to be able to see the work."
Robert Morrison was one of Heather's teachers. The passionate and talented mason first came to Nova Scotia in 1986 with the South Western Stone Cleaning and Restoration Company Ltd. to work on Province House. When the two-year restoration job was complete, Robert, through a company called Masontech, continued to add his vision and expertise to the restoration of Government House, the Art Gallery of Nova Scotia, the Bank of Nova Scotia, Christ Church Cathedral in Fredericton, and the Ontario legislature. When the demand for construction and restoration work began to ease, Robert decided to establish his own company in Nova Scotia-Architectural Stoneworks, which now specializes in custom stonework for homes and businesses.
"It was a lifestyle choice," he says, "I tried it in Toronto, but I couldn't live there, it was too hectic."
He sources raw materials "from anywhere in the world there is something of interest." For example, carving pieces from Vermont marble, Indiana limestone and others, which joins Nova Scotia's famous Wallace sandstone in his carving workshop in Halifax.
"Every stone has its own characteristic," he explains. "I made a contemporary dining table for a couple; they had faux finish on the walls and I carved the base for their table from Egyptian Solaro marble, which complemented the décor beautifully," he says. As its name suggests, Egyptian Solaro appears to glow with inner sunlight.
When beginning a commission Robert draws several custom designs on the computer for the client to choose from. He says the use of software and technology in such an ancient art has added benefits.
"I can tell my client to within a few pounds, what the item will weigh, so that if there are structural or engineering issues in the building, they can be dealt with," he says. "And it allows for infinite changes prior to their final approval of a design."
In 2005, Robert designed stone details for, and built, the largest "finished" stone house on the East Coast. The residence in Bedford is a mix of classic Mediterranean and contemporary styles.
Early stonework in Nova Scotia
Until the early 1800s, most homes and business establishments in Halifax were built of wood. Even the Citadel, the military heart of the settlement, was just a sturdy wooden hill fort. There were a few notable exceptions: Governor Wentworth's Government House was built from Wallace sandstone from Cumberland County, and some well-to-do citizens had immediately taken advantage, building stately homes from the stone brought to Halifax by the shipload from the demolition of Fortress of Louisbourg after 1758. But generally, wood was the material used.
With the rumours of what would be known as the War of 1812 becoming louder, however, the economic health of Nova Scotia was in the forefront of many leading citizens' minds. The Napoleonic Wars were finally winding down-these had brought great prosperity to the city and the imminence of another did nothing to stop the flow of money from wealthy men's pockets. Anticipation was palpable and Halifax began building for longevity, from stone.
In addition to Province House, stonemasons were busy on Admiralty House on Gottingen Street; the cornerstone for Saint Mary's University was laid; and with Dalhousie insisting on the establishment of a non-denominational college, a Georgian style building was being erected at the north end of the Grand Parade.
A decade later, as the post war boom faded into memory and private building slowed, the long held dream of Governor John Wentworth saw the seeds of fruition and ground was broken on the Shubenacadie Canal.
Across the province labourers dug and tunnelled and stonemasons cut and shaped the very heart of the land, to make the connecting waterway a reality. Eventually the chief engineer, Francis Hall, could write the shareholders: "800 tons of granite stone have been removed from the quarry to Dartmouth Lake. A commodious line of road is now completed from the head of Dartmouth Lake parallel with the Canal. By this road the Lock Stone will be conveyed."
When work on the new stone Citadel began in earnest, Hall found himself in dire straights as money ran tight and more prominent, better paying construction drew his prime workers away with their chisels and hammers.
Hall eventually convinced his backers to hire a ship to go and fetch some masons who had agreed to come from Scotland where they had just finished work on the Clyde Canal east of Glasgow. In September 1827 his log notes: "Forty Four masons and stonecutters, and 240 tons of free stone have been received by the (brig) Corsair and mercator from Greenock." He was back in business.
Unfortunately, progress would prove difficult to maintain and funds eventually dried up. Some of the masons found work finishing up the Citadel, while others drifted away to work on the Rideau Canal in Ontario and the Delaware and Hudson River Canal in New York.
Canada's first woman stonemason
It was 1985, and Halifax's public buildings were in sore need of restoration. A shortage of stonemasons in Nova Scotia meant that some of the 180-year-old great stone edifices had sat untouched far too long. Unable to fill the need locally, the province undertook an overseas search for qualified workers, and in 1986, South Western Stone Cleaning and Restoration Company Ltd. in Bristol, England, answered the call. They sent a team of masons to Nova Scotia and set up Canstone, a company dedicated to educating local recruits in the trade. The Provincial legislature became their training ground.
Heather Lawson had been drawn to the trade from her youth. When the Canstone opportunity presented itself, she was ready, and became one of the apprentices.
"The cutting was sort of like assembly line work," says Heather. "You stood at your bench and they brought the stone, you cut it, and they brought you another…it was many hours of hard, repetitive work." But it was work she loved. She would graduate and become Canada's first woman stonemason. She now owns a company in Bass River, NS, called Raspberry Bay Stone.