"Happy surgery" is how Dr. David S. Precious refers to his team's work. For the past 16 years, Dr. Precious - professor of oral and maxillofacial surgery and Dean Emeritus of Dalhousie University's faculty of dentistry - and his volunteer cleft lip and cleft palate surgery team from Dalhousie University have been joining forces with a Japanese team to provide free cleft lip and cleft palate surgery for children in India, Brazil, Vietnam and Tunisia.
Children with cleft lip and cleft palate have an opening between the nose and the mouth caused by a failure of the lip or the palate (or both) to fuse during prenatal development. "These babies have problems breathing, eating and, ultimately, speaking, among other things," says Dr. Precious.

The team treats approximately 50 children during each mission. They also train surgeons in the host country; the ultimate goal is to put themselves out of work by giving local surgeons the skills to deliver the service to their own people - an outcome that has already been realized in a number of locations since the program began.
Birth of a mission
Dr. Precious' surgical missions began shortly after he met a dynamic Japanese surgeon, Dr. Nagato Natsume, who is executive director of the Japanese Cleft Palate Foundation. "He was interested in the way we were changing the treatment methods for children, which differed from the standard practice of the day. Up to this time, the correction had been viewed more as a geometric exercise in skin - making triangles and trying to fit the pieces of skin together to look like a normal lip."

Instead, Dr. Precious uses a technique learned from Dr. Jean Delaire of Nantes, France. "We say muscle surgery is more important than skin surgery. The best results come from surgery that restores function and dynamic elements to the lip. It has to work properly as well as look good," says Dr. Precious. "If you try to reconstruct the face anatomically and physiologically, you will get a good result functionally and you will also get the best cosmetic result."
He also points out that the technique has the advantage of allowing the child to breathe through both nostrils, which doesn't happen with the conventional method. And because this method means the child can't damage the surgical site, it's not necessary to use arm restraints after the surgery. "It is a much happier and smoother recovery," he says.

Dr. Natsume asked Dr. Precious to join his team on a mission to the remote province of Ben Tre in South Vietnam. During that mission, Dr. Precious was asked to explain this approach and techniques to the Japanese surgeons on the team. After the mission, Dr. Precious was pleased, but realized that he wanted to do more - to include more surgeons from Halifax so they could handle more patients, and to begin teaching the surgical techniques to the host-country surgeons. He organized a team of surgeons from the QEII Health Sciences Centre and the IWK Health Centre to join the Japanese team on what are now yearly missions; their most recent mission was to Tunisia in February, 2012. The team includes four surgeons from Halifax: Dr. Reginald Goodday, Dr. Ben Davis, Dr. Curtis Gregoire and Dr. Precious; three surgeons from Japan; one or two anaesthetists from Japan; a surgeon from the University of Western Ontario, Dr. Mike Shimizu, who is a graduate of Dalhousie; and one Tunisian surgeon, Dr. Slim Bouchoucha, who has been part of Dalhousie's initiative right from the start.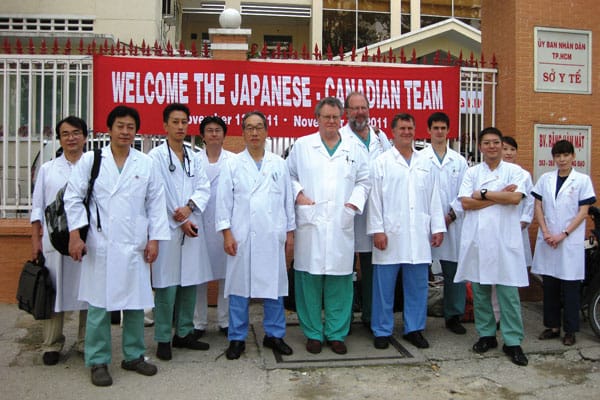 Logistical challenges
Dr. Precious structures these missions with the same precision and attention to detail he gives to the surgeries themselves. "This is a totally voluntary charity," he says. "The surgeons who provide the treatment pay for their travel and donate their time, money and expertise."

Dr. Precious says it is important for the team members to appreciate the culture of the host countries. In Vietnam, for example, a key decision maker for the family, in terms of whether a baby will have the surgery or not, is often the maternal grandmother. The surgeons respect that reality and do not go against a grandmother's wishes. "My experience has been that they make good decisions," says Dr. Precious.

While the surgery itself is very precise, it is not high-tech and does not require that the doctors carry heavy equipment on the missions. "All we basically require is a healthy baby, a good anaesthetist, an experienced surgeon and the same instruments we use here."

The team's latest initiative involves advocating for patients with local health authorities, encouraging them to use existing resources in the most effective way for patient treatment. Transportation, for example, can be a major problem for patients living far from treatment centres. In Vietnam, the team helped address the issue of providing local transportation for patients to the hospital.
Treating kids
"Our goal is to provide treatment, usually in two or three operations only, in the first six and a half years of life," he says. The surgeries are performed when the child is six months old, 12 months old and six years old. Host-country surgeons are responsible for follow-up care, an essential component of the treatment; children need to be seen immediately after surgery, then at six months after surgery, and once again by the visiting team surgeon when he or she returns the following year.

The timing for this surgery is structured to enable each child to participate fully at school. The post-surgical result levels the educational playing field for children who may not have been called upon in the past by teachers who did not want to draw attention to the child's differences.

"After these surgeries, the child is in their peer group. They no longer have a cleft lip or cleft palate, so they are like other six-and-a-half-year-old children."
Making a difference
Dr. Precious has received prestigious awards - including the Order of Canada - for his humanitarian work over the years, but he says it is knowing that he and his team are making a difference in the lives of these children that makes him happy.

Last Christmas, Dr. Precious received an e-mail from a patient he had treated in Vietnam in 1998 and again 1999. The patient, now a young man, had moved to British Columbia with his family and was happy to tell his surgeon that he was now attending university. He didn't remember much about his surgery, but he wanted to thank his doctor.

Patients like that young man tell Dr. Precious the surgery has been life-changing, but the doctor says the experience is life-changing for the surgeons as well. "Giving children something they wouldn't otherwise have is a special opportunity and a privilege," he says. "And seeing the local surgeons and professionals as they become able to treat their own people is very satisfying."