Fighting superbugs
By Peter Moreira
Drug designer and businessman Christopher Barden, of Halifax, recently met a woman who'd been suffering with a toe infection for three years. The infection was resistant to all antibiotics, and the woman was worried that her toe would have to be amputated. The case spoke to Barden, whose company, DeNovaMed, aims to help people who are suffering from such afflictions.

It's been several decades since anyone has developed a new drug to fight superbugs—bacteria that have become resistant to antibiotics—and in that time, superbugs have become a menace, particularly in hospitals. Methicillin-resistant Staphylococcus aureus (MRSA) and vancomycin-resistant Enterococcus (VRE) affect patients in many hospitals and community health facilities, producing systemic infections that cannot always be safely treated with the therapies that currently exist.

This is where Barden comes into the picture. Over the past five years, he and his three business partners—a physician, a chemist and a biologist—have been busy developing a new class of compounds with the potential to treat such antibiotic-resistant infections. The company recently won an important provincial competition for new technology-focused companies.

"Places all over in North America, and the world, really, have had issues with antibiotic-resistant infections," says Barden, the company's chief operating officer. "If we are successful, which I believe we will be, we ought to be able to supply a new antibiotic therapy that will improve the lives of Nova Scotians—and people elsewhere."

The four partners are experts in both bacterial lipid metabolism and computer-aided drug design. The drug-discovery company is now testing its compounds and hopes to be ready for phase 1 clinical trials—designed to establish that the compounds are safe for human consumption—sometime in 2013.
Inspiring active seniors
By Nadia Bøbak
Both Jesse Robson and Kayla Mallery are dancers who possess bachelor's degrees specializing in neuroscience. (Robson's degree is from McGill and Mallery's is from Dalhousie University.) The two have dedicated themselves to helping seniors get active through a series of innovative workshops they've developed in dance, circus arts, magic, music, language arts and visual arts.

The pair, who operate as a society known as Happily Ever Active, are currently running three sets of projects—some for older inpatients who are in post-surgical geriatric restorative care at the QEII Health Sciences Centre in Halifax; others for people in long-term care at a Halifax nursing home who have moderate to severe dementia; and some in the community, for those who have recently left the hospital, and for other interested people.

Robson says some of the programs are designed to help seniors who are recovering from surgery gain confidence by combining physical, cognitive and social stimulation. The duo also aims to teach new skills and adaptations to participants who might have new or existing mobility limitations.

Research indicates that creative social engagement later in life can also have protective qualities against dementia, notes Robson. She says the programs strive to engage older adults who have mobility challenges, and those who are suffering with other issues, such as Alzheimer's, Parkinson's, depression and hearing impairment. Robson and Mallery encourage anyone with any kind of disability or health issue to join them.

The classes have attracted so many participants that the team has developed a 20-week summer arts camp. The longer program is designed to help the team form more sustained relationships with attendees, and to help them keep those seniors active on an ongoing basis.

All of their programs are free to the public. They include a weekly dance class called "Movement Orchestra," which encourages participants to interpret music through movement, and a class called "Restorative Care Magical Movement," which combines theatre, mime, circus arts and magic tricks. Robson says many participants tell them that the programs feel more like fun than exercise. Find out more at happilyeveractivehalifax.blogspot.ca.
Navigating the mental health maze
By Nadia Bøbak
For people who are newly diagnosed with a mental illness, it may be a frightening and confusing time. One of the many challenges they face is finding the appropriate community resources.

A not-for-profit enterprise in Halifax called Healthy Minds Cooperative is helping people navigate through the resources available via designated mental health navigators—people with an intimate knowledge of the resources that are available within their communities.

"Patient navigators support people on their journeys to living healthy, meaningful lives in the community by helping new patients and their families or circles of support connect with services available in the community—support based groups, programs and workshops, as well as referral services, advocacy and web-based resources," says navigator Laurel Walker.

However, new patients are not the only ones who have difficulty weaving the maze of available services and resources. Walker says she has encountered many patients who have been in the mental health system for years, but had no idea that certain services were available to them. Patient navigators can assist patients in accessing the resources that are best suited to each unique situation.

The cooperative also provides a variety of mental health programs and services. The organization is member-owned, and shareholders are welcome to use the cooperative's Internet café to meet with friends or brush up on their computer skills. Many of those involved with the co-op have personal experience with mental health issues, and can offer advice drawn from their own perspectives. Find out more at healthyminds.ca.
Mindful kids cope better with pain
By Nadia Bøbak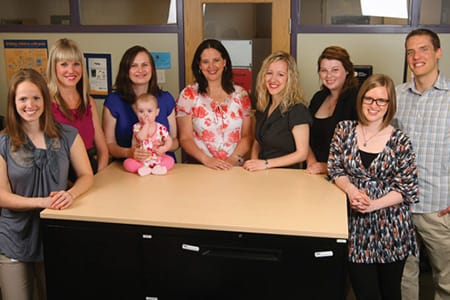 About one third of adolescents deal with recurrent pain, but only a small percentage of those kids experience significant interference in their daily functioning as a result.

Researchers at the Centre for Pediatric Pain Research at the IWK Health Centre in Halifax recently conducted a study around mindfulness and pain in teenagers. Mindfulness, says lead researcher Mark Petter, involves paying attention to the present moment, on purpose and without judgment.

The research team recruited 198 adolescents from across Nova Scotia; roughly a quarter of the participants had experience with meditation (about 38 of them would be considered regular meditators, in that they meditate at least once a week and have been doing so for more than three months), but most of the kids had never meditated before. Those who did meditate on a regular basis possessed higher levels of what's referred to as "trait mindfulness," meaning that they tend to be mindful in their day-to-day lives.

The study found that kids who have higher trait mindfulness appear to cope better with pain in a number of different situations than those with lower trait mindfulness. "Kids who are more mindful in their daily lives are better across the board in terms of how pain impacts them," says Petter. "They are less likely to have recurrent pain, they are less anxious about pain, which is a big predictor of whether they'll end up having pain, and pain interferes in their lives less."

Petter says his study is significant because it is the first study to show that mindfulness plays an important role in how young people deal with pain. He says he is excited about what this means for the future for youth who deal with pain. "My hope is to use these findings …to develop clinical interventions that help enhance mindfulness among youth dealing with pain—and, ultimately, to help kids who experience pain."
Advanced radiation treatment
By Sarah Metherall
When a new radiation treatment clinic officially opens its doors at the QEII Health Sciences Centre in Halifax this fall, cancer patients will receive the most advanced radiation treatment in the world.

Attached to the Nova Scotia Cancer Centre, the recently constructed clinic will include new radiation equipment and upgrades that will contribute to shorter wait times. "We'll be able to treat 60 new patients a day, which means we can ensure that wait times from consultation to treatment don't exceed the national standard of four weeks," explains Dr. Tetteh Ago, chief of Radiation Oncology at the QEII.

The clinic is jointly funded by the provincial and federal governments and the QEII Foundation, which has committed to raising $4 million for the purchase of life-saving equipment. So far, donors to the QEII Foundation have contributed $2.75 million.

To support the Cancer Never Waits campaign, please contact Julie MacKean at (902) 473-1778 or This email address is being protected from spambots. You need JavaScript enabled to view it..