Ready, set…launch!
Five years ago, the South West Nova and Annapolis Valley chapter of Cystic Fibrosis Canada set out to "squash" cystic fibrosis. On November 5, beginning at 11am at the Kingston Arena Ball Field, they'll be at it again, firing pumpkins from a slingshot to raise money for Cystic Fibrosis Canada.
"What's more fun than watching or flinging real pumpkins through the air with a 14-foot slingshot, knowing that someday we'll squash CF for real? Absolutely nothing!" says organizer Tim Vallillee.
The more pumpkins people launch, the more money goes to CF research.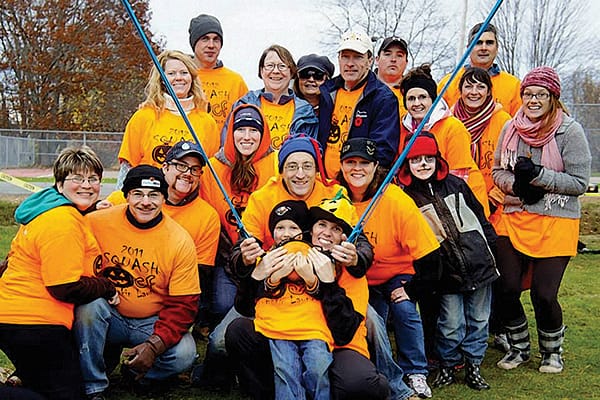 Cystic fibrosis is the most common fatal genetic disease affecting Canadian children and young adults. Cystic fibrosis causes a build-up of thick mucus in the lungs leading to severe respiratory problems. Mucus and protein clogs the digestive tract resulting in severe difficulty digesting and absorbing nutrients from food. The severity of CF differs, however the effects of the disease are most devastating to lung function.
For more information visit squashcf.org or contact Tim Vallillee at This email address is being protected from spambots. You need JavaScript enabled to view it.
New therapy pool
The QEII Health Sciences Centre's Nova Scotia Rehabilitation and Arthritis Centre opened this past summer.
With a gift of $1‐million, the Hansen MacDonald family—Colin MacDonald and Carol Hansen‐MacDonald, along with sons Nicholas and Luke—led the Revitalizing Rehab campaign, launched to refurbish the old therapeutic pool, as well as constructing two daily living suites. In total, $2.6‐million was raised.
The pool was named The Grace Hansen Therapeutic Pool in honour of Carol's mother. "My mother Grace always taught us to focus on the positives in our lives and to be thankful for each and every day," she says. "We are thrilled that she will be celebrated...through the healing waters of the pool, bringing hope and healing to those who need it most." ~ QEII Foundation