Chez NICU Home Solution
Dalhousie University faculty and students are leading an IWK Health Centre initiative to bring the neonatal intensive care unit closer to parents through technology.
The recently announced Chez NICU Home Solution project will provide parents and families of infants in the NICU with the tools and resources they need to become more fully integrated in their baby's care. Research has shown that NICU babies do better when parents are present and more actively involved in care. The goal of Chez NICU Home is to improve parents' stay in hospital with their baby through the creation of a secure, online, interactive learning platform. The Chez NICU Home project will also provide a way for parents to be virtually connected to health care providers and peers in hospital, as well as with their families and friends at home.
The project was announced in March by the Government of Canada and received $3.0 million from the Atlantic Innovation Fund. The scientific lead, Dr. Marsha Campbell-Yeo, is an associate professor at the Dal School of Nursing and a neonatal nurse practitioner and clinician scientist at the IWK. Dr. Campbell-Yeo hopes to see their first prototype by the end of this year and to test the technology in the NICU in 2018.
"This project is timely and extremely responsive to the changing needs of neonatal care," she says. "Not only will it improve the outcomes of our tiniest and most vulnerable patients and their families, it will strengthen relationships and partnerships across academia, business sectors, government, and clinical arenas. We have the opportunity to set an example not only in Canada but worldwide."
For parents and families with babies in the NICU, it can often be a scary and lonely experience. These emotions are compounded when parents are separated from each other, their families or friends and further heightened if parents need to be separated from their babies.
"It is hard to describe how mentally and emotionally difficult it is to have your children in the NICU," says Denyne Park, who is the mother of premature twin boys born at 27 weeks. "When we were home we were always thinking about our babies, wondering and worrying about how they were doing."
Park, who now has two healthy 23-month-old sons who are meeting their physical and developmental milestones, believes the Chez NICU Home project would have relieved a lot of anxiety within her family. She's grateful she could participate in daily NICU rounds with her children's health care team.
Community Veterinary Outreach Clinic
Community Veterinary Outreach (CVO) Halifax held a pilot Clinic on August 26, 2017, where preventative health exams, vaccinations, parasite treatments, and micro chipping were provided to 26 pets free of charge to 17 individuals and families who are homeless, at a high-risk of homelessness, or are vulnerably/transitionally housed.
The mobile clinic was hosted by Veith House in North End Halifax and staffed by a volunteer inter-professional, inter-disciplinary team of veterinarians, social workers, vet techs, and social work and nursing students in accordance with the principles of the One Health initiative.
CVO is a registered Canadian charity that aims to improve the health of socially marginalized people and their pets by providing pro bono veterinary services as well as access to human health and welfare providers on hand to provide a range of supports and services to pet owners.
At the heart of the One Health paradigm is the idea that the health and welfare of pet owners can be directly impacted by the health and welfare of their pets. By focusing on the health of companion animals and supporting the human animal bond, CVO hopes to increase engagement and uptake of human social services by the marginalized individuals and families it serves.
CVO Halifax is led by a local inter-professional team of veterinarians and Dr. Cassandra Hanrahan from the Dalhousie School of Social Work, in conjunction with five community partners including Veith House, Stepping Stone, Phoenix Youth Programs, and the Dalhousie School of Social Work Community Clinic. It is the first of its kind in Atlantic Canada.
Community Veterinary Outreach is entirely driven by volunteers and community partners and now has clinics across Canada in Ottawa, Toronto, Guelph, Hamilton, Kitchener-Waterloo and York Region in ON, Winnipeg, MB, and Vancouver, BC; in partnership with Paws For Hope Animal Foundation.
They also hope to establish a sustainable program in Halifax, NS.
Robot Helper For Blood Collection Clinic
There's a shiny new volunteer employee at the IWK Health Centre.
Researchers with the Centre for Pediatric Pain Research have launched a new study into how a humanoid robot can help to reduce procedural pain and distress for children during procedures at the blood collection clinic.
"The robot has been used in a couple different children's hospitals in North America so far and has been studied in published articles and journals showing that he is effective in reducing pain and distress," said Dr. Christine Chambers, Canada Research Chair in children's pain.
Chambers said they were able to purchase the robot with funding from the Canada Foundation for Innovation. "This is a really good example of how we need to take research to the front lines," Chambers said.
The robot can be programmed to interact with children in a clinical setting, distracting them from needles and blood-taking. It has a wide variety of capabilities, ranging from calming breathing exercises to playing a game of "rock-paper-scissors."
"[The robot] is there to play with the kids, interact with the kids," said LeAnne Revell, a research in medicine student from Dalhousie University. "Distraction has been well researched and there's plenty of evidence to suggest that it's a great way to reduce anxiety, distress and pain with pediatric patients."
If all goes well, the robot will be available for children to interact with at the blood collection clinic later this year.
The Centre is also looking for the public's input in naming the robot and recently launched a naming contest on Facebook.
Managing Children's Pain
Social media continues to play an ever-increasing role in our lives, and an IWK researcher is investigating how it can play in role in managing children's pain.
Dr. Christine Chambers, a children's pain expert at the Centre for Pediatric Pain Research, is lead investigator of a project, "It Doesn't Have to Hurt."
"As a researcher, I assumed all the research I was doing was making a difference in children's lives but as a parent, I realized that a lot of research that gets published in academic journals just ends up staying in the journals," she said.
Chambers, who is on social media herself, said more parents are turning to social media for help. Her lab at the IWK will provide parent blogging site yummymummyclub.ca with content every month for a year. The content will be disseminated through Facebook, Twitter and Youtube; the project uses the hashtag #itdoesnthavetohurt. Topics will range from newborn pain to needles to headaches.
"All children have pain. Even if you have a healthy child who doesn't have a chronic illness. Pain affects all children in all families so our goal with this campaign is to arm parents with all the information they would need to help deal with any type of pain their child might experience," she said.
Chambers said researchers will examine analytics to see how far each piece of content reaches and conduct online and telephone surveys with parents to gauge their awareness and use of pain control strategies.
Holly Gillis has two five-year-old twin daughters, Rori and Georgia, and is a parent advisor to the It Doesn't Have to Hurt project. Gillis said she turns to social media often for advice on children's pain.
"We've had a lot of ear infections, a few bumps and bruises and trips to the emergency room. Just knowing different strategies that you can have in your back pocket to pull out when your child is in pain is really helpful," she said.
Gillis has no plans to get rid of her family doctor but said using social media for information on children's pain is a good supplement.
"You can go to the source. You can find out if that's reliable information. Where is it coming from? Is there any science behind it? You can also look for more information," she said.
"To get more effective strategies out there to help the family, to help kids at the end of the day, social media allows that. Being able to share short videos like what do you do when you're taking your child to get vaccinated [is helpful]."
Chambers said researchers will evaluate the project after the 12-month trial to see whether the partnership should continue, and if so, what changes could be made. The project officially launches September 21.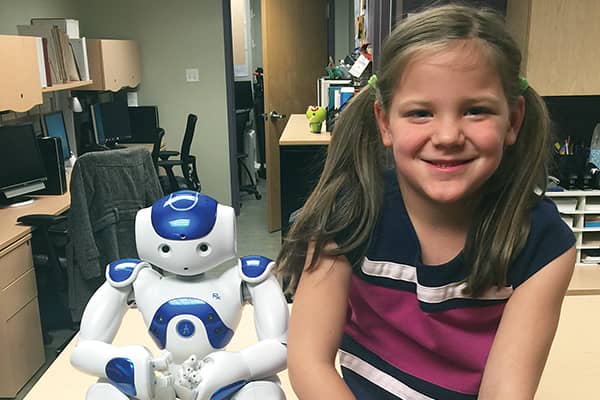 From the Heart Raises More Than $4.5 Million
The most innovative care is reliant on state-of-the-art equipment and technology, which is why a community of donors is ensuring Atlantic Canadians have access to the best available. In just one short year, the QEII Foundation's From the Heart campaign has raised more than $4.5-million to transform cardiac and vascular care at the QEII.
This includes a $1-million gift from the Joseph Shannon family in honour of their late wife, mother and grandmother, Ruth Shannon.
In addition to fueling ground-breaking research, the From the Heart campaign is ensuring that all four cardiac catheterization labs at the QEII can deliver the highest-level diagnostic imaging.
This includes rebuilding and reopening Cardiac Cath Lab D, which was closed last year when its aging equipment became unserviceable. Upcoming fundraising efforts hope to create Atlantic Canada's first hybrid operating room at the QEII.