"There is no health without mental health," says the Newfoundland-born president and CEO of the Mental Health Commission of Canada.
Louise Bradley is a woman driven by a commitment to improving mental health care in Canada. As CEO and president of the Mental Health Commission of Canada (MHCC), she is deeply concerned by the numbers of Canadians who suffer in silence, and the large number who will take their own lives in a single year—approximately 4000, or ten every single day—in part because they couldn't talk about their illness or ask for help.
Bradley knows first-hand the struggles faced by those living with mental health issues. She grew up in St. John's, NL, as a child "bounced around a lot in the foster system" and freely admits having had mental health problems that stemmed from those years. "I didn't have a lot of confidence, as a young girl, so I never imagined I could grow up to be a nurse," she says, thinking she would have to settle for being a nursing assistant. Her first husband put her on the path to training as an RN, as he told her that not trying, letting her insecurity hold her back, would be a bigger failure than flunking out of school. Inspired by his encouragement, she trained as an RN, and "never really stopped learning." A certificate of mental health nursing was next: "I'm a nurse who can't really stomach the sight of blood, so on the one hand, mental health was pretty much my best choice," she says—and she continued with her education, receiving a Bachelor and Masters in nursing, then became a certified health executive. She recently was awarded an honourary Doctor of Science from St. Mary's.
The training and accolades sketch a little of Bradley's passion for mental health, but it's listening to her speak about her own past experiences and commitment to others that really fills in the portrait. Her best friend died by suicide 25 years ago, when Louise was finishing her Masters in nursing. "I was devastated, and the shock and trauma I felt at her death unearthed a whole bunch of unresolved issues from my own childhood," she says candidly. "Through psychotherapy, I resolved a lot of those struggles and moved forward with a greater sense of compassion, not only for others, but for myself."
The MHCC works with the Canadian Mental Health Association (CMHA) and has partnered with CMHA on many initiatives. Rather than provide services, the Commission develops training, conducts research, advises on mental health policy, and creates tools and resources used by agencies like CMHA to bolster advocacy and enhance their ability to provide services to Canadians living with mental health issues.
"I strongly believe that normalizing the mental health conversation at work is crucial," Bradley says. Many people will joke about taking "mental health days" off from work, to relieve us from stress and just relax a little. At the MHCC, staff have two mental health days that they are encouraged to use. "We need to make taking a day off to prioritize mental wellness as unremarkable as taking a day off to recover from a cold," Bradley says. "There shouldn't be an implicit value judgment—that mental health is less real, less worthy, less legitimate than a physical ailment."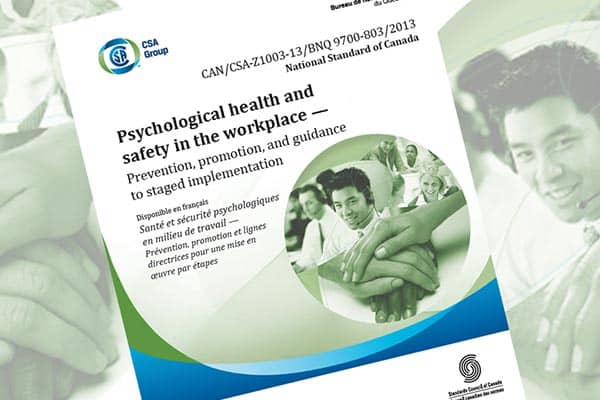 Bradley is particularly concerned about encouraging healthcare providers to look after themselves, and says she has made it her mission to help them help themselves. "The helping professions, first responders, care providers, tend to look after everyone but ourselves." She's been thrilled to see CEOs of health care organizations adopt the National Standard of Canada for Physiological Health and Safety in the Workplace—a set of voluntary guidelines, tools and resources designed to assist organizations in promoting mental health in the workplace—and putting safeguards in place to help health care workers promote and protect their own mental health.
"When mental health becomes part of the conversation at work," she says, "that opens discussions at home."
Despite these gains, there is still much work to be done to help Canadians and their mental health. "We all still need to actively fight stigma," Bradley says. While some people are talking about mental health a lot more, coming forward to employers or medical care staff with a mental illness is still something many find difficult to do. "I feel frustrated that stigma is still preventing people from seeking help. Forty per cent of parents say they wouldn't tell anyone, not even their family doctor, if their child was experiencing a mental health problem!" The MHCC is attempting to address this issue with programs like the HEADSTRONG youth anti-stigma summits, where, "young people get to hear from peers living in recovery from mental health problems, and then go on to become mental wellness champions in their schools."
Mental health is something we all have a responsibility to nurture and cultivate, Bradley says. "There is no health without mental health. As with physical health, mental health problems and illnesses come in a huge range…problems can run the gamut [of seriousness] and need to be better understood. Living with a mental illness doesn't mean that you can't also be mentally well. People are amazingly resilient, and some of the most extraordinary people I have met are living in recovery from mental illness."
As a society, Bradley feels that rather than whisper about a mental health issue, we should celebrate recovery in the same way we rejoice when a person is in remission from cancer. "It's a hard-won fight either way, and it changes people—often for the better."
"We've got some ways to go yet, but I believe we'll get there."