Huge success for Ride for Cancer
The weather was perfect and it was a record-breaking year for the QE2 Foundation's fourth annual Ride for Cancer on September 29th. More than 550 cyclists rode the course locally, and there were an additional 40 virtual riders, says Dianna MacDonald, the Ride for Cancer event manager. "Virtual riders sign up as a participant, raise the funds and do the ride somewhere else," she explains. She adds that this year, the race had a children's component, where the youngest rider was 10—while the oldest rider in the race was 80 years young.
The Ride for Cancer is Atlantic Canada's largest fund-raising cycling event, a title they won last year and held onto this year, having raised a net total of $651,387. Funds from the ride go to the QE2 Health Sciences Centre as well as to the Leukemia and Lymphoma Society of Canada. "We will be purchasing life-saving equipment for cancer patients, which will help double our capacity in the chemotherapy preparation area," MacDonald says. When patients from around Atlantic Canada come to the QE2 for treatment—as is the case for specialized forms of cancer—there will be reduced wait times while individualized chemotherapy treatments are made up for patients. The funds will also help create more clinical trials in treatments, which can lead to saving even more lives.
Foundation funds for the Leukemia and Lymphoma Society are helping to fund research by Dr. Jason Berman, who is studying mutations in a particular leukemia predisposition gene.
MacDonald says plans are already in the works for even bigger and better support for the 2019 Ride for Cancer, with registration open at qe2foundation.akaraisin.com/18129/pledge/registration/start.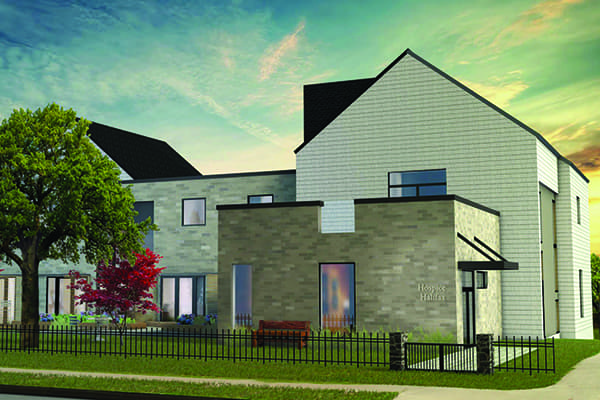 Screening for sickle cell disease (SCD)
Sickle cell disease is an inherited group of disorders that affects hemoglobin, a protein of red blood cells. Hemoglobin delivers oxygen throughout the body via red cells, which are normally round and travel easily throughout the blood system and organs. With SCD, cells become crescent or sickle-shaped and less flexible, meaning they cannot travel smoothly through the body's system. As a result of less oxygen being transported throughout the body, a number of issues can arise, including attacks of severe pain which can last hours or even days and weeks, delayed growth, susceptibility to infections, and, if SCD is left untreated, can result in permanent damage to organs and joints throughout the body. Sickle cells also don't live as long as normal blood cells, and the body cannot easily make new ones, which can lead to ailments such as anemia, extreme fatigue, and jaundice.
Dr. Victoria Price is a pediatric hematologist and oncologist with the IWK and a professor with Dalhousie University. She says, "a large part of the management of sickle cell disease is focused on prevention of disease-associated complications." This includes assistance and support to maintain a healthy lifestyle, timely management of pain and fever, prevention of serious infections by making sure that all vaccinations are up to date, and for some who live with SCD, regular antibiotics on a prophylaxis basis. Dr. Price says, "The only approved pharmacologic treatment for SCD is hydroxyurea [an oral medicine that has demonstrated effectiveness in reducing or preventing several SCD complications]. Currently, the only cure available for SCD is bone marrow transplant, and great progress is being made in this area." She adds that gene therapy for SCD is also under research and holds another potential cure for this serious disease.
According to data collected over three years, approximately one in every 6,200 babies born in the Maritimes has SCD, and millions of people throughout the world also deal with this group of disorders. In the Maritimes, all newborns have their blood screened for a variety of disorders and diseases, including SCD, through the IWK Health Centre. According to the Maritime Newborn Screen Program brochure, "when the baby is between 24 to 48 hours old, a few drops of blood are taken from the heal and put on a special blotter paper." Many babies appear healthy at birth but may in fact have a serious disease that could remain undetected if not given the screening test.
Screening for SCD has been in place since 2014 for Nova Scotia and New Brunswick, and since 2015 for Prince Edward Island. It is not yet offered in Newfoundland and Labrador. In the event that the screening test shows positive for SCD in your baby, your health care professionals will promptly get in touch to provide treatments that can help prevent complications from sickle cell disease. Dr. Price says, "Newborn screening for sickle cell disease allows for early detection and follow up of those affected, in a comprehensive, multidisciplinary clinic. This ensures optimization of health outcomes through surveillance for and prevention of associated complications."
Making a good death
Two hospices will be opening in Nova Scotia in the next couple of years.
Hospice and palliative care services are crucial to helping patients as they are transitioning into end-of-life situations due to terminal illness. Depending on where in Atlantic Canada you live, there may be a palliative ward at your local hospital, or services available to patients wishing to die at home. Sometimes, however, home is not an option for end of life care, and not everyone wants to end their life's journey in a hospital, even in a dedicated palliative ward.
Is there a difference between hospice care and palliative care? Both are health care services for those living with, or dying from, advanced illnesses including cancer, heart and lung diseases, and other serious illnesses. Palliative care, however, often begins during earlier stages of a diagnosis, providing comfort and dignity for the person and his or her network of supportive family members—family referring to anyone close to the patient, regardless of blood relationship.
Hospice care is generally offered (where possible) during the last few months or weeks of a patient's life, with medical professionals dedicated to relieving suffering plus improving the patient's quality of life as much as possible until their death. Some palliative and health care associations use the two terms interchangeably, while others consider hospice care to be provided in dedicated standalone facilities rather than in a hospital or nursing home—or even at home. Whichever term is used, the ultimate goal is to allow a patient to have a natural death with family and friends in a homelike setting and with professional support staff to manage end-of-life care.
The first residential hospice in Atlantic Canada launched in 2010 in Saint John, NB, with the opening of Bobby's Hope House, where terminally ill patients nearing the end receive 24-hour in-patient palliative care in a serene and home-like facility. Now there are two hospice facilities in the works in Nova Scotia: one in Halifax and the other in the Annapolis Valley.
In Halifax, construction is well underway for the first hospice in the province. Hospice Halifax has provided hospice and bereavement support plus volunteer training for more than 15 years and is building a ten-bedroom hospice on land leased from the Atlantic School of Theology. As of early October of 2018, the building was weather tight so that further construction could continue unimpeded by weather, with plans to have the facility open to receive patients by spring of 2019. Fund-raising continues, and while the building is under construction, Hospice Halifax offers community support through its various bereavement programs including a weekly support group that meets every Saturday morning.
In the Annapolis Valley, the Valley Hospice Foundation has raised all the funds they need for the construction of their 10-bed hospice. Land was purchased and cleared near the Valley Regional Hospital in Kentville, and the official ground-breaking took place in late October. According to the foundation's executive director, Dale Sanford, construction of the building is expected to take no more than 14 months.
To complement the hospice's operation, there is a new Hospice/Palliative care volunteer program being offered in the Valley. The program develops trained volunteers who are able to provide assistance to terminally ill patients at home or in the hospital, and once opened, at the hospice as well.