Joint replacement, or arthroplasty, is one of the few surgical procedures that boasts a large proportion of highly satisfied repeat customers.
Arthur Horne, of Bedford, N.S., is a case in point. He had no reservations about going in to the QEII to have an artificial hip installed in the fall of 2008, because he'd had the other hip done five years previously. The first operation was an unqualified success, so when the familiar symptoms appeared in what was formerly his "good hip," he knew what needed to happen. He also knew what to expect: a relatively simple operation, a speedy recovery, and relief from the pain that was restricting his ability to get around.
"The quality of life has been fantastic," he says.
When Horne retired in his 50s after a 33-year teaching career, he wanted to do as much as possible to help look after his grandchildren. It's a commitment he and his wife Dianne take very seriously, caring for five or six kids in their home most days. As even the most able-bodied parent would attest, that entails considerable physical exertion. After Horne had reached the point where it was painful just to walk, that first hip replacement made it possible for him to return to active duty.
"I've been able to do everything with my grandkids-shovel snow with them, build snow forts with them. That was the purpose of this."
During consultations leading up to his first surgery, he stayed focused on that objective, and did not concern himself with the medical details. "I didn't want to know too much about it. I didn't want to watch the (pre-surgery tutorial) movies or anything."
He chose a general anesthetic instead of an epidural (which would have frozen him from the waist down). For him, it was a case of absolute trust in QEII staff. He recalls that a nurse offered him a mild sedative to help him relax before the operation.
"I said, 'I'm not nervous,' and she took my blood pressure, and it was normal. I was very comfortable. That's how they made me feel. When I woke up it was over, and I never felt any pain, and I was out of bed the next day. I said, 'Let's get this thing going.' My goal is to be out and around and enjoying life."
Horne takes every opportunity to praise the professionalism and attentiveness of his surgeon, Dr. David Amirault, chief of Orthopaedic Surgery at the QEII-especially when talking to anyone who is struggling with the decision whether or not to get an artificial joint.
"It's a scary kind of thing. I try to tell people to get that out of your mind. Just go through with it, and the results are wonderful."
Another of Dr. Amirault's grateful patients is Dartmouth resident Gerald Demings, who had a knee replaced in September, 2008. As in Horne's case, and in about 80 per cent of arthroplasty patients overall, it was osteoarthritis that had destroyed the cartilage in the joint, causing bone-on-bone friction. Retired from Maritime Tel & Tel for 15 years, Demings is active-an avid golfer and a restorer of antique cars. He also likes to help out his son with contracting work, but the pain in his knee was slowing him down prematurely. He was glad the operation only put him out of commission for a short time.
"I was walking with a walker the next day. I was up at nine o'clock the next morning, and from that time on I was up about every 20 minutes walking around the corridor. They said the more you exercise it, within limits, the better. I had the walker in the hospital, I used it home here one day, then the cane for two days, and I haven't used it since. No crutches. I was in to see Dr. Amirault at six weeks and he said, 'Everything's fine, but no jumping.' I went out the next day and golfed, and had no trouble at all."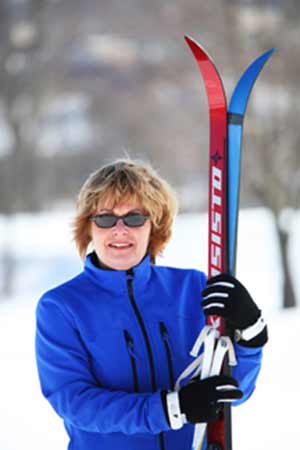 Outdoor recreation is also a high priority for Laurie Kay, who had a hip replaced in July 2008. Though the Hammonds Plains, NS, resident was disappointed about having to give up running at the tender age of 49, worse than that was being unable to support her family's sporting activities due to arthritis pain.
"I have a husband who plays hockey and soccer, and I have kids who are quite athletic. We've always had passes at Martock. There was difficulty in even driving to their games."
Kay is a nurse by training, and works at the QEII as a medical research co-ordinator, yet she admits to having felt a bit nervous about the operation. As it turned out, the procedure went smoothly.
"My pain was totally under control; even in the recovery room I was very comfortable. The following day they had me up. It's quite quick. I was home the fourth day after the surgery."
On  Dr. Amirault's advice she had prepared by working out with a personal trainer, and she believes having good muscle tone hastened her recovery. She returned to her job six weeks after surgery, and started driving a couple weeks after that. She may not be hitting the slopes again, but cross-country skiing is okay. Mostly she is glad the artificial hip has given her the kind of basic mobility she once took for granted.
"I think a lot of people are reluctant to go ahead with it," says Kay. "But I could hardly pull myself up the stairs, and I couldn't take the dog for a walk. So I really had to trust in Dr. Amirault's opinion. He knew the pain I was in. It was the best decision I ever made."
Dr. Amirault says patients are assessed for orthopaedic surgery on the basis of disability and discomfort. "Everybody's different as far as response to pain," he points out.
Generally speaking, demand for hip and knee replacements is increasing in Canada, with the number of procedures more than doubling in the past decade. One reason is the wave of baby boomers reaching the age when joints tend to give out. Another trend is middle-aged people suffering joint problems because they are overweight.
Though today's surgical techniques and prosthesis designs have made this a low-risk procedure with a very high success rate, the decision to operate is not made lightly, Dr. Amirault says, because an artificial joint lasts only 12 to 14 years on average. Each revision is more complex, because there is less of the patient's own bone and tissue for the surgeon to work with.
Funding further arthroplasty research
Striving to support the development of Halifax as a centre for arthroplasty excellence, the QEII Foundation is aiming to fund an endowment to advance Radiostereometric Analysis (RSA-the measurement of micromotion at the prosthesis-bone interface) helping future arthroplasty patients get even longer life from their new joints.
"The need to evaluate new devices and new procedures in joint replacement has never been greater," says Bill Bean, president & CEO of the QEII Foundation. Last year, the Foundation celebrated a $450,000 gift from BMO Financial Group towards the establishment of the arthroplasty research endowment. Made during the QEII Foundation's Working Miracles capital campaign, the BMO Financial Group gift gave the Foundation a healthy start towards the establishment of the endowment.
Ongoing technical progress
Getting more mileage from artificial joints is the particular concern of Dr. Michael Dunbar, head of research in the QEII Orthopaedics Division. He says modern arthroplasty came of age during a period of rapid innovation in the late 60s and the 70s. For some years now, cobalt, chrome, and titanium have been the main metals used in the prostheses, along with plastic and ceramic components. The new developments being made are more subtle, so more sophisticated tools are required to assess them.
One example is electromyogram technology (EMG), which measures the electrical impulses from muscles. "We're one of the few labs in North America to do that," says Dr. Dunbar. "We have one of the world's best RSA x-ray suites. Initially it was set up for research, but it's also used for everyday patients."
Pre-operative assessments help to match the individual patient with the right type of prosthetic joint, he explains, and post-operative assessments can predict the long-term effectiveness of a new design.
"We can expect 90-plus per cent to be good for 10 years, but basically none of the prostheses I'm putting in now has been around for 10 years," says Dr. Dunbar. "We can tell after a year who's going to have a problem after 10 years. Governments are starting to ask these same questions. Europe has mandated this kind of testing. Halifax is one of the few places in North America where this can be done."
Sweden, where Dr. Dunbar completed his PhD studies, remains a world leader in arthroplasty, with extensive data on outcomes-but those results are not entirely transferable to the Canadian system because the patient profile is different. Given the vast potential to improve a person's quality of life through joint replacement, and the cost-effectiveness of these procedures relative to other types of surgery, it's a field where homegrown medical science will pay dividends.
"We're really making big strides in our research," says Dr. Dunbar, "and we're making Halifax a centre of excellence for this work."
As for those on the front lines, Dr. Amirault says it's a rewarding field. "We get letters all the time thanking us for what we've done. There are not many jobs where you get a little old lady giving you a kiss on the cheek telling her that you've changed her life. That's pretty good. It's great job."