The odd food faux pas can't really hurt you (what's a French fry here and there?). It's what we do every day, habitually, that matters-regular morning consumption of coffee and a donut for instance, is to hurt your body daily. Why would you do that?
"Habit" is the operative word. Incorporate good eating habits into your lifestyle and you've done your body a huge favour.
Evidence continues to mount on the link between consumption of colourful berries and living a longer, healthier life. The pigments that give berries their attractive blue and red colour are also good for your health. Daily consumption of berries-now that's a very smart health move.
We focused on blueberries in this column in our last issue, but Atlantic Canadians also have unusual access to cranberries, blackberries, raspberries, strawberries, partridgeberries, bakeapples and several other varieties.
We're also traditional berry people. We love to pick them wild (although mainly for dessert pies) and consume them seasonally.
But modern research has determined berries are more than just a seasonal treat-much more. Low in fat, carbs, and calories, and high in fibre, vitamins, minerals, and antioxidants, berries not only help improve overall health, there is credible evidence of their value in preventing cancer and heart problems. Berries can also slow down the aging process.
A mere cup of sliced strawberries will provide all the vitamin C you need. A cup of blackberries provides manganese. A cup of raspberries will provide cholesterol-lowering niacin. A cup of blueberries and strawberries each provide vitamin E. Blueberries improve memory function. Cranberries contribute to a healthy digestive system. Eating berries regularly also provides antioxidant protection.
The antioxidants present in blueberries such as anthocyanins and chlorogenic acid maintain cell integrity critical for long-term health.
Research is increasingly pointing to berry-eating benefits mitigating against brain aging, cancer, cardiovascular disease and low metabolism.
(Berries contain phytochemicals and flavonoids that may help to prevent some forms of cancer and antioxidants that guard against onset of heart disease.)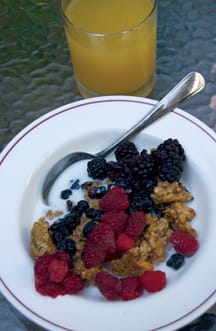 They are a superfood! As follows:
Cranberries
Prevent urinary tract infections caused by bacteria, inhibiting their ability to stick to the cell walls of the uterus     and bladder.
Inhibit bacteria that cause dental plaque.
Provide proanthocyanidin compounds that may exhibit anti-carcinogenic properties.
Provide low density lipoprotein (LDL) oxidation and hence reduce the risk of heart disease.
Are abundant in quinic acid that may help to prevent kidney stones.
Cranberries and blueberries contain a substance that may prevent bladder infections.
Eating a diet rich in blackberries, blueberries, raspberries, cranberries and strawberries may help to reduce your risk of several types of cancers.
Strawberries also offer calcium, magnesium, folate and potassium.
Blueberries and raspberries also contain lutein-contributing to healthy vision.
Elderberry extract can inhibit influenza strains, and may be useful for the treatment of viral influenza infections (see also the story elsewhere on influenza precaut ions).
Bakeapple (or Cloudberry) contains Ellagic acid, a dietary phenolic, offers considerable promise as anticarcinogen, antimutagen and antioxidant.
Partridgeberry is the woman's berry. It is reputed to enhance fertility, relieve menstrual cramps, ease childbirth, and relieve soreness in the breast for nursing mothers. Partridgeberry tea may tone up the ovaries and uterus. It may also mitigate diarrhea and colitis (in both genders).
Every grocery store carries a wide variety of fresh, canned and frozen berries-but some commercially-grown berries, especially strawberries and raspberries tend to contain pesticides, unless they are certified as organic. It's a good idea to check.
Look for ripe firm berries with no sign of mold. Out of season, thawed frozen berries will not be as firm as freshly picked berries, but they are still delicious and still provide precisely the same health benefits.
Farmers' markets, of course, provide the second freshest berries after the wild ones, or u-pick operations.