Compelling reasons why new mothers should breastfeed
"Everybody agrees that breastfeeding is natural," says Darlene Inglis, as she leans forward with a warm smile and a slight shrug. "But walking is natural too, and you don't just get up like a deer and walk. It still has to be learned."
Inglis is a Clinical Nurse Specialist at the IWK Health Centre in Halifax and a certified lactation consultant. As we chat in a tidy office just down the hall from the neonatal intensive care unit, she tells me about the countless women she's met who have struggled with breastfeeding.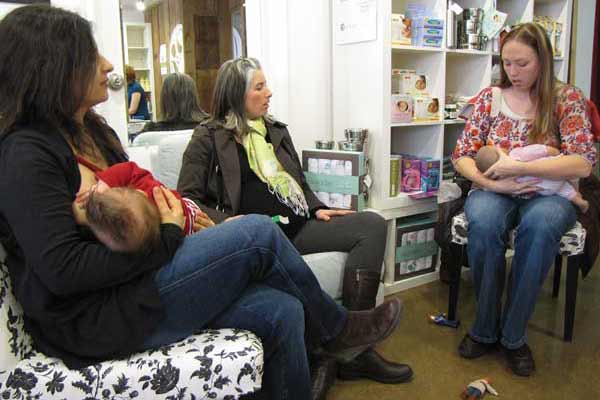 "We have a society which has been formula-fed for quite some time, and we're just now recognizing some of the downfalls of that," she says. "We've lost generations who had that connection between mother, daughter and granddaughter, and who passed down that knowledge."
But Inglis says there's a growing population of women who are re-building those support networks, largely because the evidence for the nutritional, social, psychological, and immunological benefits of breastfeeding has become so compelling.
"The benefits are so numerous, and we seem to keep coming up with more and more as the research is being done," she says. "The evidence at this point is showing that the immune properties of breast milk are second to none, and that breast milk is absolutely the gold standard for babies, because it's so human-specific."
One of the most significant findings in recent years showed that exclusive breastfeeding for six months or more offered babies greatly increased protection against gastro-intestinal infections. Other studies have shown that breastfeeding can reduce a baby's risk of developing childhood asthma and otitis media (earaches) and that breastfeeding for at least four months may have a protective effect against allergies. Breastfeeding also significantly reduces a child's likelihood of developing obesity in adolescence, and Type 2 diabetes.
And if those benefits aren't persuasive enough, here's an interesting fact: breastfed babies appear to be smarter. A New Zealand study showed that breastfeeding was associated with significant increases in IQ at ages 8 and 9, and breastfed preemies from the UK had an average 8.3 point advantage in IQ by the time they turned 8. The studies also showed that the more breast milk the children received, the greater the impact on their IQs.
Babies aren't the only ones who benefit, either. Most new mothers know that breastfeeding can help them get rid of their "baby weight," but mothers who breastfeed also have a lower risk of developing endometrial, ovarian and breast cancers, in addition to osteoporosis and type 2 diabetes. And the longer women breastfeed, the more protection they gain against cardiovascular disease. There's also the cost advantage: three months of formula feeding can cost about as much as a new refrigerator or stove.
So how long should a woman breastfeed in order to take advantage of these benefits? Health Canada's cur-rent guidelines recommend that mothers breastfeed healthy full-term infants exclusively for the first six months of life. "Exclusive" means feeding only breast milk, including expressed breast milk, and some vitamins or medicines. Infants should be introduced to nutrient-rich solid foods at six months, with continued breastfeeding for up to two years and beyond.
But there are a lot of factors that can make it challenging for new mothers to stick to those guidelines. They may have difficulty getting their new baby to latch properly; they may experience breast soreness and painful nipples; they may be unsure whether the baby is getting adequate nutrition; and they may have little social support to encourage them to stick it out through those challenging times. Statistics show that in 2007, although more than 90 per cent of Canadian mothers had initiated breastfeeding, by six months only 14.4 per cent were exclusively breastfeeding, with 53.9  per cent reporting "some" breastfeeding.
Inglis says it's often during the first six weeks that the critical decision to stick with or abandon breastfeed-ing is made, but it can help if mothers know that those challenges are normal. "It takes about six weeks to get a good milk supply, to get mom and baby really comfortable with each other and to really set down a basic framework for successful breastfeeding," she says. She points out that one of the stumbling blocks is often a mother's mistaken belief that babies should be fed on a set schedule-which is a holdover from the culture of formula-feeding. 
"Babies need to feed on cue," she says. "The more baby gets to breast, the more milk you're going to have. Of course, the human body lags by a couple of days, so the baby needs to get to breast often, to build enough milk so that they're somewhat satisfied. And then it gets better." 
Jen Hammond has experienced some of the challenges of breastfeeding firsthand.
She is a mother of five, a certified doula, and the facilitator of a breastfeeding support group in Halifax. She's currently breastfeeding her 14-month-old daughter, and says she's always been fiercely committed to breastfeeding all her children.
"I actually had a horrible experience with my first," she admits. "I ended up with thrush and mastitis and terrible cracks and sores, and it got to the point where I couldn't feed my son on one side, because I was so damaged. I had a lactation consultant take a look at me, and she said she hadn't seen anything that bad in her 35 years' experience."
But it was the strength of her conviction that helped her stick it out. "I knew that since I had done this natural childbirth – I went through 48 hours of labour with him – that surely I could do this thing called 'breastfeeding.' It's nature's way, right? All other animals are fed this way, so why shouldn't my own child?" Hammond endured many difficult days, but by about 13 weeks, she says, "we finally managed to breastfeed like a normal breastfeeding couple."
Hammond says that, thanks to a growing number of support networks like her own group, she can see a day when breastfeeding won't be an issue for most women. "Women need to know that there are people out there who struggle with them, that they're not alone, that this is something that most of us are going through. Some of the moms who have had success in our group have come back to help the others, and I'm so encouraged by that. As we learn and spread our knowledge, hopefully we will come to a day when it becomes a natural and easy process for women."
Darlene Inglis says women should take comfort in the knowledge that, once over the learning curve, most will be able to breastfeed successfully. She offers a few words of advice. "It's going to take some time to work out this process for both mother and baby," she says. "But hang in there for that, because it's extremely empowering to recognize the ability of your own body-and once you're in a real rhythm, the benefits are so huge.
"Breastfeeding is extremely convenient. It's readily available, it's ready to feed at a perfect temperature, and it's perfectly suited for your baby. It's a celebration of a woman's body," she says, sitting back and smiling broadly. "And it's a celebration between mother and baby."
Breastfeeding resources
A key factor in breastfeeding success is support.
A comprehensive list of programs and services in Nova Scotia is available at:

In New Brunswick:

Information from the PEI Breastfeeding Coalition: 
http://www.gov.pe.ca/infopei/index.php3?number=53060&lang=E
The Breastfeeding Coalition of Newfoundland and Labrador:
http://www.babyfriendlynl.ca/