When the defences are down, the quality of the conversation goes up.
As a believer in the notion that we only get one go-around on this big blue marble, I don't want to be lying on my deathbed with a head full of regrets.
More than anything, that fear of regrets is the reason I recently found myself letting it all hang out, naked as a jaybird, in front of a crowd of perfect strangers. Take it from me, folks; there's nothing quite like letting the hot sun beat down on your fanny as you sashay down a tree-lined lane to the pool.
Who knew that Prince Edward Island has a four-star nudist resort called The Oasis? Yup, that's nudist, as in naked, as in the day you were born. I certainly didn't, until a co-worker happened to mention it casually two summers ago. I was sitting at work one day in July during a particularly boring afternoon when the topic turned to nudism, aka naturism, which, as it turns out, is the preferred term used by people who like to live as much of their lives in their birthday suits as possible.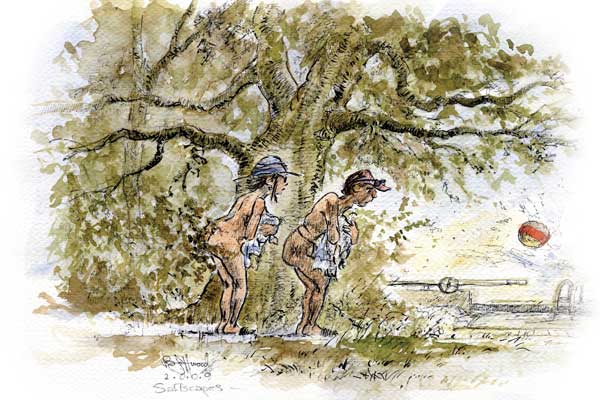 According to the website of the Federation of Canadian Naturists, "Naturism involves the practice of complete nudity in a communal setting. It promotes wholesomeness and stability of the human body, mind and spirit, especially through contact of the body with the natural elements." Wow!
My first thought when I read that was, that sounds so very hippie-esque, while rather healthy and spiritual at the same time. As a slightly chubby middle-aged gal with her fair share of cellulite, who has struggled with body image over the years, I thought that perhaps a visit to this naturist resort could be a very liberating experience, and maybe even make me feel more comfortable in my own skin.
On the other hand, I might find the whole visit excruciatingly uncomfortable. Would I even have the guts to get out of the car when I got there?
(It wasn't hard to convince my husband to go - I think he pictured a pool full of nubile supermodels playing water polo naked. I suspected otherwise, but I kept that to myself.)
As it turns out, my two children were away for a few weeks, so the timing of this little adventure could not have been better. Children and families are certainly welcome at The Oasis, and apparently about 10 per cent of visitors do bring their children, but I did not feel comfortable with the notion of being naked with children present, and that includes my own. That's just my personal hang-up.
And so it was that Bob and I packed up the car with our camping gear, an industrial size jug of sunscreen and a bottle of liquid courage, and headed off to The Oasis for the weekend.
The resort is located just four kilometres outside Cavendish, on a small dirt side road you probably wouldn't notice if you weren't looking for it. The sign at the end of the road simply advertises the name of the resort, giving no hint of what lies beyond.
Inside the yard, a very high solid wooden gate prevents any Nosy Nellies from trying to sneak a peek. In fact, the whole resort is surrounded by a high board fence that not only provides maximum privacy for guests, it also keeps all but the mildest of cool breezes at bay, making it possible to enjoy life au naturel from May to September.
As we waited in the car for one of the owners, Gary or Linda Lowther, to open the gate and check us in, my heart was pound-ing so hard I thought a stroke might be imminent. I was having second thoughts, doubting if I could go through with it. Bob squeezed my hand. "Listen," he said, "if we aren't comfortable we don't have to stay. It's as simple as that." As the gates slid open and we eased our car into the courtyard of the resort, I felt a little calmer.
A large lady strolled by our car wearing nothing but flip-flops and a big smile, heading for the pool. Despite the fact that I knew intellectually that everyone was going to be naked, this first nude encounter was still a shock to me, being a girl who had a very conservative upbringing (and who would sleep in her bra if it were at all good for her.) The next thing I noticed was how neat and tidy everything was. The Oasis offers three fully furnished housekeeping suites, each having kitchen facilities, and a deck and barbecue. Next to those units is a small heated swimming pool surrounded by a spacious wooden deck. We soon learned that the pool area is the focal point of the resort, with plenty of loungers provided and a truly gorgeous wood-panelled washroom conveniently close by.
Since Bob and I were camping, we were directed to the campground on the left to set up our tent. The Oasis has 12 campsites to choose from, all with water, electricity and sewer. Luckily for me-the girl whose palms had not stopped sweating yet-they are more private than most other campgrounds we'd visited. In the middle of the campground is a small building that houses what may be the cleanest bathrooms I've ever encountered while camping, with communal shower heads (because c'mon, you're all naked anyway) and wood-panelled stalls.
Bob and I got busy setting up our tent, still fully clad for the time being. (I don't care what anybody says; crouching to hammer in tent pegs naked is bad naked.) We didn't see any other guests stroll by bare-pole while we set up our campsite, but we knew there was a large gathering over at the pool area-you could hear conversation and laughter drifting on the breeze.
When the tent was up and the sleeping bags unrolled, there was nothing left to do but doff our duds and meet our neighbours. Crunch time had arrived. Bob and I just stood for a moment and looked at each other, wondering which one of us would have the cajones to drop 'em first.
"Oh well," I said to myself, "you only live once!" I don't know where the courage came from, but a few minutes later I was strolling hand in hand with my honey up the path to the pool, my bright white backside exposed to the sun for the first time ever.
Now, I know you're wondering what it was like to walk up on that pool deck and introduce myself to a bunch of naked strangers with my bits and pieces hanging out. Well, I don't mind admitting that the first five minutes were probably the most excruciatingly embarrassing five minutes of my life. (Apparently I hid it well, because another guest told me the next day that she never would have suspected that it was my first visit.) But then something strange began to happen. After the first five minutes and introductions had been made, it somehow stopped being strange that everybody was hanging around in their altogethers. I found myself able to relax, make conversation and work on my tan.
What I found most intriguing about my visit to the resort was how very friendly the other guests were compared to other places I've visited. Bob and I have camped all over Atlantic Canada, and although folks in our neck of the woods are known the world over for their friendliness, nowhere we've visited has rivalled The Oasis for making you feel welcome and accepted. Everyone was interested in meeting us and finding out where we were from. I suspect it has something to do with doffing your pretensions and prejudices along with your pants.
The conversations we had that weekend around the pool were some of the most interesting I've ever had-our souls were bared just as readily as were our bottoms. It felt like a bunch of good friends sitting around laughing in wrinkly, beige jumpsuits. In fact, guests at The Oasis are such a sociable lot that the Lowthers are building a new shelter this year to accommodate group meals, ping-pong, board games and other communal activities.
When Bob and I reluctantly packed up our gear at the end of the weekend and prepared to say goodbye, I felt a little cranky (and more than a little crispy in private places, due to my stinginess with the sunscreen) as I slipped into my duds again for the trip home.
Our first-time experience with naturism is not unique, says Linda. She says almost everyone who visits the resort returns; occupancy has grown steadily since they opened in 2003. Guests come in every occupation, age group, size and shape under the sun, including folks with physical challenges and breast cancer survivors. One of the reasons she and Gary chose to open this type of resort is that the clientele is known to be respectful to nature, to public property and to other people, making them an ideal group to cater to. (The Lowthers also own a traditional vacation destination down the road called Sundance Cottages.)
Would I go back? You bet - I already have, last summer.
More exposure
The Oasis Resort is open from May to September. Check it out online: theoasisresort.com (e-mail This email address is being protected from spambots. You need JavaScript enabled to view it.). For more information about the naturist lifestyle, drop by the Federation of Canadian Naturists' website at fcn.ca.
Other family-oriented naturist opportunities in Atlantic Canada include Simply Naturist Retreat, near Hartland, NB (website geocities.com/simplynaturist; e-mail This email address is being protected from spambots. You need JavaScript enabled to view it.), which has a "Body Acceptance Day" in August. Also: Bluenose Naturist Club, at Nova Scotia's Crystal Crescent Beach Provincial Park (website bluenosenaturists.com e-mail: This email address is being protected from spambots. You need JavaScript enabled to view it.), which has a summer camping weekend July 25-26, and Olympic & BBQ Day August 16.