Seduced by the earthy delights of local farms… the freshest food, the occasional scream.
Ah… the sights, sounds and smells of autumn! Warm days, cool nights and crisp mornings. The time of tasty veggies and ripe fruit. A hint of getting ready for winter-birds departing, spiders weaving webs, wood stoves smoking. Summer duds are packed away. It's time for the feast of the fields - eating, preserving and filling the freezer with local goodies. Don't you love this time of year?
Living in the wilderness and cooking on my wood stove help me live the Slow Food concept naturally (that is, get away from fast food and fast life). I know I won't totally embrace The 100-Mile Diet idea (where people consume only food grown within 100 miles of their abode), but I buy as much local food as I can. Who can pass a farm market, knowing that the farmers have laboured over veggies, which are fresh, and the missus makes bread that might still be warm?
Jaunts to the markets are often road trips with friends, stopping at antique shops and for lunch-at the Evangeline Motel in Grand Pré, NS, for example, to have some of the best pie ever. In fact stops for pie are often both to and from the markets!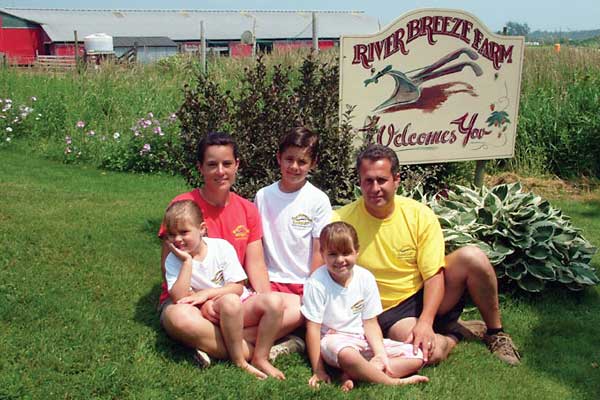 Many communities have one or more farm markets. And we have our favourites - sometimes more than one. I know where to get the sweetest corn and the tastiest cortlands.
One of my very favourite farm markets, River Breeze Market in Onslow, just outside of Truro, NS, is open year round. I discovered River Breeze shortly after I moved to my camp in the woods, not too far from Onslow. That was in the late 90s. The sign advertising locally grown beef without additives attracted me, and venturing inside kept me going back for more-I've never encountered more pleasant staff or more helpful butchers. I'm always greeted warmly, almost like I'm a next-door neighbour. That sort of connection counts in my books!
River Breeze is a family operation. Jim Lorraine and his wife, Tricia, along with other members of their extended family, own and operate the farm that is the backbone of the operation. Nicholas (10), Eryn (6) and Gillian (5) are being groomed to pitch in and help out, experiencing the pleasures of the business, too. Nicholas has his farm chores and the girls already know how to operate the cash and debit machines.
The farm has been in the family since the late 1700s, but open as a public market since 1999. At first it sold beef and strawberries but now includes a variety of food.
The Lorraines are a gutsy crew; like most farmers they've faced severe hardships and have found ways to pull themselves up and at 'em again. Floods, depressed prices, barn roof blowing off during a hurricane-there must have been times when they were tempted to toss in the trowel. They didn't.
I visited Jim and Tricia recently and learned more about their operation, which goes far beyond the farm and its market.
The farm is designed to include children and adults in a range of activities-a petting zoo, games like pig races and laser tag, cow train rides, and a wagon tour of the farm. In season you can visit the U-pick operation for strawberries, pumpkins and sunflowers. Next year there will be a jumping pillow the size of a house, accommodating up to 50 people at a time.
But the big attraction in fall is the haunted corn maze, drawing locals and people from away by the busload-about 35,000 people go through it each year! The amusement employs 100 actors and is open weekends from September 13 to Hallowe'en. Daytime draws kids; the night operation is for teenagers and adults. Jim says that they are not selling corn; they're selling screams and smiles. A two-way radio system helps those who might panic during the two to three hours of activity in the maze, but it's seldom used.
Jim uses unique marketing techniques. His hearse advertising the corn maze is a big attraction wherever he goes. Haligonians are familiar with the guy on the big chicken near a billboard on the north end of Barrington Street-that's Jim letting people know that he now delivers his produce to Halifax. He appeared on his chicken at the Saltscapes Expo, giving people a chance to chat up close with this intriguing individual.
The River Breeze Market is growing by 20 to 25 per cent each year. Soon I'll be able to get most of my groceries there: baked goods, beef, pork, chicken, and veggies and fruit in season. There are two strawberry seasons-the early season in July, then a late crop in September. I've never been a lover of strawberries, but I recently had a pint of River Breeze berries… they were gone by the time I got home, a half-hour later! Maybe the old adage is true-you're never too old to change.
River Breeze Market is pure enjoyment. The pleasures of eating are central to the operation, but the Lorraines make sure that food is combined with education: where it comes from, nature, and plenty of amusement. The market is growing in the best possible way… quality food is its heart, and families are its loyal customers.
For more information about River Breeze Market go to riverbreeze.info/ or call (902) 895-5138.