Food and water mix well. Here are a few simple tips for a floating smorgasbord.
My 12-foot aluminum boat still has crumbs below the deck boards from my last fishing trip on the Nerepis River, not far from where I live, in New Brunswick. Hot food is great when you're on the water, but if you don't have a stove or barbecue on board, take soups or stews in a wide-mouthed thermal container from home. A couple of plastic bowls, soup spoons, paper towel to wipe up the inevitable spills, and buttered bread or buns will stay you and the crew from mutiny.
Greg Colpitts, his wife, Odette Landry, and their two young children used to spend time on Shediac Bay, NB, on their sailboat without the benefit of a working fridge. His tip? Freeze plastic bottles of water at home, and pack them with the perishables in a cooler.
"Then, as the bottles thaw, you have a supply of fresh water," Greg says. They still take frozen bottles of water for drinking even though their new, bigger boat has a working fridge.
Just like in a kitchen at home, the couple has a system for preparing meals: while Odette cooks vegetables on the stove down below, Greg grills meat on the barbecue on deck.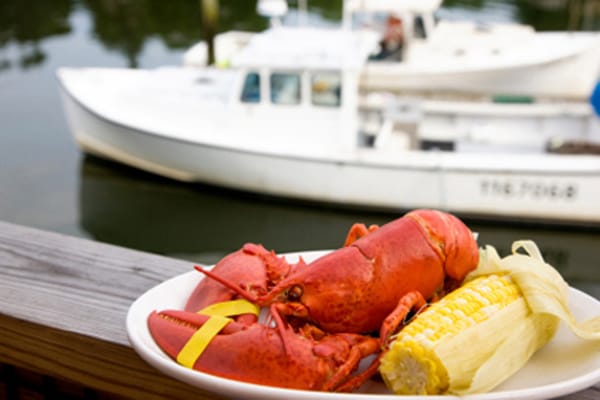 Susan Keddy, an accomplished sailor in Nova Scotia, says she and her 14-pound dog, Bumper, enjoy hot biscuits after a wet or cold day on the water.
"I wouldn't be without Bisquick (baking mix), a staple on my boat," says Susan, who has plied the waters of St. Margaret's Bay, near Halifax, for the past 30 years.
"If you have an oven on board there is nothing better or easier to make than fresh, hot biscuits for breakfast or supper."
This handy mix can also be used to coat fish for frying and, with the addition of eggs and milk, makes great pancakes.
In addition, Susan cuts pieces of beef, such as chuck steak, and seals them with a marinade in a plastic bag. When it's time to eat, she skewers the marinated beef with chunks of onions and peppers, and they're ready for the barbecue.
Boaters typically prepare food ahead as much as possible, storing it in baggies, but my wife, Willa, actually uses re-sealable zipper storage bags as a cooking utensil.
She pours a beaten egg into a zip-locking bag, with a choice of, say, diced ham, grated cheese and chopped onions and peppers; she tightly seals it and immerses it into a large pot of boiling water. In 15 minutes, she carefully removes the baggie, and slips the contents onto a waiting plate. Voila, omelette.
"Keep the hot water from cooking to use for washing the dishes," Willa adds.
The rough and cold waters of the North Atlantic provide both challenge and opportunity for food on board. Timothy LeGrow, of Long Pond, NL, has no refrigerator on his boat. When moored, he suggests hanging perishables in a weighted container over the side until needed.
"A net holding tins of beverages in the cold waters keeps them ready to slake a sailor's thirst," he says.
He also has a "no bottles or glass" rule. "It's impossible to remove broken glass shards from a fibreglass or anti-skid deck," he says.
Another Newfoundlander, Alasdair Black, suggests that sailors take a pressure cooker on board, along with a ham and some root vegetables - and stew away. "My stove is self-levelling and has a rail to keep things in place when the boat heels.
"Also, have a plastic bottle of rum to take the taste away from meals that turn out just a bit too weird."
Alasdair's last piece of advice: "If food stocks are low, tie up near a fish plant and look hungry. In fact, tie up anywhere (in Newfoundland) and look hungry and someone will undoubtedly offer you something." Newfoundlanders like visitors, he says, and if you come on a sailboat? Even better.