Marshall Button, comedian, actor, writer, director and founder of Moncton's HubCap Comedy Festival, is perhaps best known for his stand-up comedy alter ego, the blue-collar philosopher Lucien. He has entertained across Canada, the US and even in Afghanistan.
In 2008, he received both the Order of New Brunswick and an honourary degree from St. Thomas University in Fredericton. Saltscapes spoke with Marshall Button about working in the mill, skewering politicians, and the roots of East Coast humour.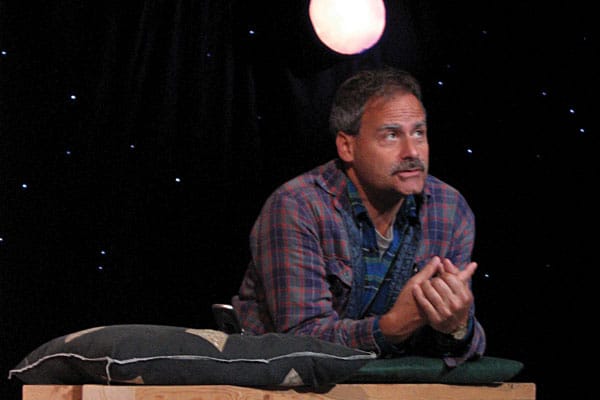 Q Tell me about growing up in Dalhousie.
A My dad grew up in this English-speaking Newfoundland family and my mother was from the Gaspé. When I was a kid, I was the subject of jokes about both French-speakers and Newfoundlanders.
Q What about school?
A I went to a public school that had grades 1 to 12. We grew up speaking our own dialect. We'd speak a whole sentence in French and a whole sentence in English. I thought the whole country was bilingual.
Q Do you remember your first time on stage?
A When I was in Grade 5, the teacher was directing a play with the Grade 12 students. I was showing off, so he asked me if I wanted to be in the play. I ended up playing the lead role. The embrace of the audience's laughter is something I never got out of my system. Not two weeks after I finished school, I had my first professional job.
Q You worked at the Dalhousie pulp mill as a young man. What role did that play in creating your character, Lucien?
A I became a bit of the psychologist on the shift—these guys would confide in me. They all said how much they despised the place.
Q Your comedy often has a political edge.
A All the mill guys had opinions. They weren't always reasonable or well thought out, but they followed what was going on in Fredericton and Ottawa. With what they took off our cheques, we workers were paying the politicians. It made sense for my character to comment on politics.
Q You're known as New Brunswick's North Shore ambassador.
A When I got the call that I was getting the Order of New Brunswick, there was no question I would be there to represent the town of Dalhousie. When I tour the country, within one hour, I'll meet someone who is from within one hour of where I'm from.
Q How is your material received on the North Shore?
A My mother-in-law was watching my show. A fellow right in front of her who worked in the mill was having such a good time that she asked him to quiet down. He turned around and said, "Leave me alone. That's me I'm laughing at up there."
Q What kind of jokes did you take to Afghanistan?
A I didn't get too local on the politics. There were troops from all over the world, so I stuck to (a routine about) a guy who worked in the mill, going on about society. I had great reactions from the Canadians, but the best reaction by far was from the Brits, because they recognized that what I was doing was theatre.
Q What single quality do you share with your character, Lucien?
A He's someone who tries to see the humour in everything. A lot of my family were Newfoundlanders. They like to have a good time at their own— and others'—expense.
Q What single quality makes you different from Lucien?
A He's absolutely sure of things he knows nothing about.