---
Tips to help you find that relative in a haystack.
If you were a betting person, would you put your money on a horse with one leg?
That seems like a dumb question—yet that's what inexperienced history-hunters do when they travel off in search of ancestors without all the information they need to track them down.
You have to start somewhere. Perhaps an 1878 newspaper imparted the gem that your forebear, Roderick Brown, was born in Scotland. Then, from the 1871 census, you learn that Roderick was reputedly 76—so an estimated birth date would be about 1794-1796.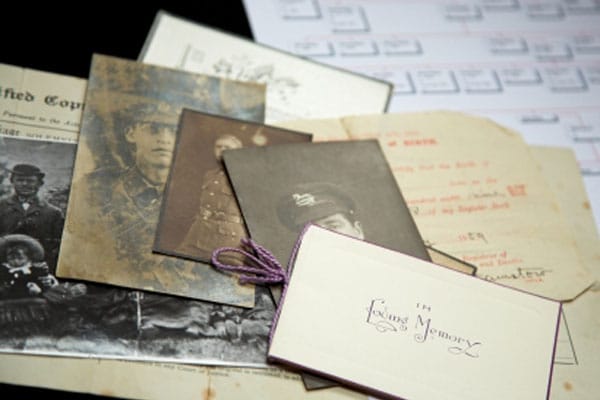 That seems fair enough, until you find his headstone, which says that Roderick was 90 when he died in 1878—so he may have been born 1787-1788. Then the newspaper obituary gives the man's age as 80—so, born about 1798.
You return to the grave to see if you misread the "8" as a "9" and discover your eyes haven't deceived you. In stone, it does read "90."
Then, you plan to go to Scotland to "trace your family tree." You have a man named Roderick Brown, born in 1787/88, 1794/96 or 1798, somewhere in Scotland.
Shall I say the unspeakable? Your quest is likely to be useless in terms of hard facts, even if the scenery delights you and the people could not be more helpful. The truth is that you do not yet have sufficient detail to go on.
There are three specifics that you have to nail down as precisely as possible before thinking about going overseas to seek further information.
The first is the person's name in its variant spellings, if any, as well as any nicknames or diminutives. For instance, our Roderick might turn up somewhere as Rory or as Roddy. As for Brown(e), it's only fair to mention that it is the most common surname in Scotland. Any Maritimer who bets that MacDonald beats Brown in Scotland's numbers game will lose the wager.
The second detail you need is dates. When you have the array of dates that we found for Roderick, the best you can say, at this stage, is that he was born sometime between 1787 and 1798. Oh, but wait… Roderick had a son born in 1811, which means Roderick would have been 13 if the newspaper obituary was right about his age. It might even be a bit of a stretch to accept the 1871 census version of his age as 76, since that puts him at just 16 when his son was born. It is possible, but quite unlikely—so that narrows down the probable birth date, allowing a margin of error, to between 1787 and 1790.
Your third particular—having the place of birth as narrowed down as possible—is not much help in this instance, because Scotland, while it is a small country compared to Canada, offers considerable room within which to lose someone named Brown.
Here's where you should look at the names of anyone associated with Roderick as wife, in-law or relative. Get together a list of their surnames and check to see if there are places in Scotland where those names tend to be congregated.
By following this system, you should be able to limit the likely places of origin to fewer than four shires in Scotland.
If you learn that Roderick's wider family circle included people named Grierson, Halliday and Kirkpatrick, I'd suggest that you start your search within the area of the Lowlands formed by Kirkcudbrightshire, Dumfriesshire and Lanarkshire, as those family names are well established thereabouts and—what's more—there were Browns in all three shires.
I call this practice "juxtaposition." It is a dandy way to help focus your search.
There is no guarantee that this method is foolproof, by the way—I'm one of the fools I can offer as proof of that. I can only say that it does improve the odds.