Rural nurses in Newfoundland & Labrador travelled long distances in every kind of weather to tend to patients and perform occasionally grim tasks....But they got good medicine in return: laughter.
Shortly after beginning her career as a public health nurse in rural Labrador in 1947, Olivera (Burke) Bowering was called on to deliver a baby. When she was confident both mother and newborn were doing well, Olivera started to tidy the big feather bed full of quilts in which the birth had just taken place. Down near the bottom, she encountered a lump.
"Oh, that's only Garg, never mind he, he could sleep trew anyting," her patient said, introducing the man of the house.
This story of unconventional circumstances is typical of many recounted by rural nurses of Newfoundland and Labrador. They travelled long distances by boat, horse, dog sled and on foot, day and night, in every kind of weather to reach their patients. They delivered babies, extracted teeth, sutured wounds, treated burns, tuberculosis, diphtheria and typhoid, and prepared the bodies of patients they couldn't save for burial.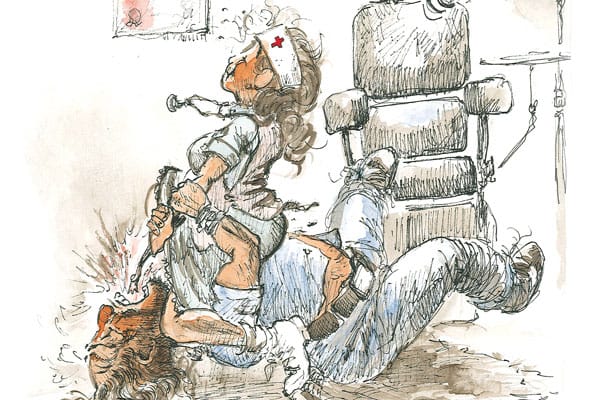 They were asked to administer care to animals or check the quality of well water. But throughout it all they had the therapeutic benefits of humour to sustain them.
Undeterred by the husband in the birthing bed incident, Olivera continued working as a public health nurse for about 30 more years, into the late 1970s.
In those days, mothers of newborns were advised to stay in bed for at least 10 days after the delivery. On entering a home where the lady of the house had recently given birth, Olivera heard the woman yelling from her upstairs bedroom, "Bring me a piece a baloney!"
Olivera hurried upstairs and spoke to the woman about the importance of avoiding fatty foods. She began to suggest healthy options but the woman, unimpressed by the young nurse's wisdom in maternity matters, didn't let her finish.
"Do you see he over dere?" she said pointing to one of her other children. "When I had he, I sat up in bed and played 'The Banks of Newfoundland' on da acardine (accordion)."
Olivera assumed this meant her dietary advice would be disregarded.
Undeterred—or perhaps inspired—by her mother's adventures, Olivera's daughter, Betty (Bowering) Flynn, decided to go into nursing as well.
"I was always interested in the type of work my mother did," she says. "Shortly after I graduated as an RN, I went to work in Forteau, on the southern coast of Labrador, met my husband-to-be and settled there. By that time (1977/78) the role of the public health nurse was evolving, and I was never asked to deliver babies or pull teeth.
"There weren't many resource people in such small communities. People would often call a public health nurse to examine their house for mould and vaccinate their pets. If an animal became sick or injured, I would sometimes be asked to visit and assess the situation—there were no vets in the area.
"One of my first experiences with an animal involved a young bull. During the late 1970s, cattle were allowed to roam free. This bull wandered onto the main road. It was hit by a truck and severely injured around one of its horns.
"The owner called and asked if I would take a look at the animal. Two other nurses at the clinic came out to the homestead with me.
"The animal was bleeding profusely, its horn hanging from its head. The wound needed immediate suturing if the poor creature was to survive. We returned to the clinic, gathered all the necessary supplies and went back to attempt to help. The owner got the bull laid down and tied his legs.
"I administered local anesthesia and pain killers while another nurse held the horn in its proper place on the head. The third nurse straddled the bull's midsection and sutured the horn and surrounding skin back in place.
"We saved the young bull. It lived for a few months until the owner killed it for meat. Sad, but I guess in the long run, the animal served its purpose."
Inspired by such stories, fellow Newfoundlander and nurse Marilyn Marsh conducted a series of interviews in the mid-1980s with nurses who had served in the outposts and cottage hospitals during the 1920s, 30s, and 40s. She discovered women who often worked grueling hours at grim tasks, with immense dedication to duty —exhibiting the kind of grace under pressure that defines the term heroine.
Charlotte Somerton Pomeroy, who graduated as an RN in 1932, recalled that medication consisted mainly of aspirin, cod oil, and for pneumonia, a mustard plaster. She recounted one instance when a doctor advised a mother to apply a mustard plaster (a pasty mixture of flour, mustard powder and warm water laid on the chest over a clean flour sack towel) on her sick baby.
When he asked if she knew how to make one, she said she did.
On passing the house on his way home a few hours later, he decided to check on the prescribed treatment. To his dismay, he discovered the mother had slathered the child with prepared mustard.
Astounded, he could only quip that the mother might want to bundle the baby between two slices of bread and make a sandwich.
Ethel Williams, who became a nurse in 1935, served for 40 years as public health nurse in the isolated communities around Placentia Bay. Delivering babies was one of her various duties, and she delivered more than 300 of them.
Pregnant women, she recounted to Marilyn, were commonly referred to as "being in a family way." On one occasion Ethel decided to take a woman she thought was pregnant to a doctor to confirm her diagnosis. When the physician told Ethel's patient he believed she was pregnant, the woman became highly indignant. She definitely wasn't "pregent" she declared, she was Church of England.
British nurse Gwen Thomas immigrated to Newfoundland in 1949 after she answered an ad for nurses. Before being posted to La Scie, at the head of the Baie Verte Peninsula, she had to learn how to pull teeth under instruction from a dentist in St. John's. This aspect of her job soon proved a much greater challenge than she had anticipated.
"The mail came by dog sled to La Scie in winter," she recalled. "On one memorable occasion one of the drivers came into the clinic declaring he had a terrible tooth and that I must extract it. I sat him in a chair, gave him an injection (for freezing), waited for it to take effect, then latched onto that tooth.
"I pulled and pulled but it just wouldn't budge. I finally told him he'd have to go to Twillingate (376 kilometres away), but he said he couldn't bear the pain that long, and declared that he'd help me. So I set to work once again and pulled and pulled until I'd pulled him right out of the chair and down onto the floor. In desperation I straddled him, he put his hands over mine, and together we extracted that tooth!"
Gwen also recounted a harrowing experience when travelling to an emergency by dog sled. On the top of a steep hill, the team hit ice. Driver and dogs lost control, and Gwen went hurtling down the slope, right through the community and out onto the frozen harbour before the animals could come to a stop.
Nurses like Gwen serving in outpost positions did not have private lives. While she was stationed at La Scie, Gwen met the love of her life, and they decided to get married. The ceremony was held at 8 pm, after which she and her groom headed back to her boarding house in anticipation of a blissful wedding night.
Such was not to be the case. Shortly after, a man came pounding on the door to tell her a woman was about to have her first baby.
"My husband didn't say a word," she recalled. "I climbed out of bed and off I went. I delivered a healthy baby boy, made sure mother and child were doing well, then walked back to the boarding house."
Unfortunately, Gwen's stories and all the others that Marilyn had collected would have to wait for transcription. Due to illness, Marilyn was unable to commit her interviews to manuscript form at that time.
In 2005, nurses Jeanette Walsh and Marilyn Beaton decided to lend a helping hand. They took on the task of transcribing Marilyn Marsh's interviews. The result was a book published in 2008 by Breakwater Books called A Life of Caring. It's an appropriate title. Through a mixture of innovation, common sense, hard work, unfailing dedication, cleverness and intuition, the rural nurses of Newfoundland and Labrador exemplified the phrase.
Along the way, they also heeded the biblical adage saying that to be effective, a physician—or nurse—must first attend to their own health. With laughter as their best medicine, they did so.
This is the first in a two-part series about rural nursing in Atlantic Canada.