How I met an East Coast idol.
Atlantic Canada has a range of eclectic music and musicians—classical, country, opera, Celtic, jazz, blues and more—to suit the moods du jour. My collection of local artists includes an all-time favourite, Matt Andersen. His CDs, full of contemporary and blues, wear well with me.
In fact, if I were invited to have a dream fulfilled, I'd say, "Matt Andersen playing on my deck at the river."
Here's the diary of my dream.
January 23
It's a sweet and sour day today. Matt Andersen has just won Best Solo/Duet Artist at the International Blues Challenge, held in Memphis. There were competitors from 11 countries on five continents—and 39 states of the USA alone. Part of me is happy to know that a lad from New Brunswick is the Best Darn Blues Artist of the World; the other part of me is sad because now he'll be big time. He'll be lured away—my dream is getting more distant!
January 26
Had lunch with Saltscapes' editor, Heather. Talked about the big win, and the potential loss to our region. Commented facetiously about now having to drop my dream.
February 15
O happy day! Heather called to say that Matt's manager, Jeff Liberty, thinks that it might be possible to meet with Matt at my home on the Stewiacke River. Can't wait! I believe he's still out West doing some post-Olympic gigs, or perhaps he's already on tour in Ontario. Hope the downhome guy comes back to native soil soon.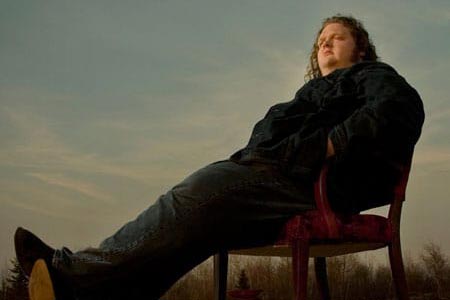 March 16
Ah patience! I wish I had some! How I have tried over the years to develop that greatest of all virtues but have not been successful. I'm beginning to wonder if I will ever get to meet Matt. Good things come to those who wait, so wait I will, but I want it to happen NOW!
April 29
This is the second anniversary of my first encounter with Matt, at the 2008 Saltscapes Expo. He was one of a few performers on the NB Culture Stage sponsored by New Brunswick Tourism. I was captivated! Not only was he good, he so enjoyed what he was doing—he seemed to perform for himself, but was happy to share with an audience. When jamming with fellow musician Ross Neilsen, he gave the impression that he didn't want the half-hour spots to stop. Nor did we, the trying-to-sit-still audience.
May 17
I take every opportunity to be part of a Matt audience: outdoors at an event in Sackville, NB, a few places on his Vinyl Cafe tour with Stuart McLean, at the 2009 Stanfest in Canso, NS. His website shows where he's playing—I know I can make it to some of the events. I suspect there will be lineups though. There's no question, Matt is a professional when it comes to performing. It doesn't matter if it's at an international venue or a church hall. When, oh when, am I going to meet with him?
June 13
Whoopee! I'm driving to Sydney, Cape Breton, to meet with Matt at a friend's house tomorrow afternoon—he can't make it to the mainland to play on my deck. My dictionary defines anticipation as "being enthusiastic, an emotion involving pleasure (and sometimes anxiety) when considering some expected or longed-for good event, or irritation at having to wait." I'm all of those! I'm fearful, too. Will he be relaxed with me? Will he share much about who he is? Will I be able to reach the guy behind the guitar? Will I be tongue-tied in his presence? I can't think of anything other than meeting him.
June 15
It happened! I'm in love again, this time with a 29-year-old musician! Matt is a larger-than-life kinda guy: his bigness is in his presence, talent, voice, his sincerity and his personality.
He stems on his dad's side from Danish settlers who migrated to Victoria County, NB, in the late 1800s (said to be the earliest permanent Scandinavian settlement in Canada), hence the spelling of his name.
Matt travels and performs all over the globe, but downhome is where his heart remains. He is proud of his heritage as a Maritimer. His original home is Bairdsville, but he went to school in Perth-Andover. His anchor is a patch of acres in Bairdsville, on the St. John River, and his current home is in Cape Breton—his long-time girlfriend, Sue, works at the Sydney hospital.
Matt says he prefers to live where there aren't too many neighbours, so I guess that rules out moving to Upper Canada!
Despite success, Matt is shy, modest and humble. His hobbies are music and cooking. He pores over cookbooks, but when he needs ideas or a recipe, he calls his mom. He doesn't blow his own horn; instead he talks about the great people he jams with.
He didn't aspire to be a performer when he was younger; he says it just happened. Music was always part of his world—he sang in church, he played in the school band, and he jammed with friends and relatives at kitchen parties.
His first instrument was the tuba—he jokingly says he was the only guy big enough to hold it. His mom played the piano, his grandfather played the fiddle.
He's a big guy who loves small things: small towns, small local markets, and small intimate venues in which to perform.
He worked at McCain Foods to pay off student loans but he grabbed every chance to play music and sing. Eventually the music part of him took over, but he doesn't consider it a job—it's all pleasure. His performances these days include mostly his own songs—he has written more than 30—and he has produced seven CDs! I won't rant on about his music: listen for yourself at www.stubbyfingers.ca.
We talked about his awards, in particular his title of best blues artist. Interestingly, Matt is not competitive: he says he went to Memphis just to hang out—to be surrounded by music, jam with others—and to make business contacts. He was surprised but pleased when he was selected the winner, especially with some of the perks like a Caribbean Cruise in January and a visit to France in the fall.
I still have the dream of Matt visiting me at my wilderness home overlooking the river, but I'm thrilled with having had the opportunity to spend time with him in Sydney. I'd like more. Not only is he a great musician, he's a delightful, self-effacing, huggable honey with a captivating smile and laugh. The kind of chap who is one of us. I hope he doesn't mind having a granny groupie.
This is the first in a series of Katharine's salons, where she invites people to her riverside abode for an informal chinwag. Who would you like to see her meet with and write about? Please write to This email address is being protected from spambots. You need JavaScript enabled to view it..