At 77, PEI's Catherine Hennessey is still going strong with her mantra: Know It, Love It, Protect It.
I have known Catherine Hennessey since she was a skinny teenager named Catherine Smith, who outraged the nuns at Notre Dame Convent by dating red-headed protestant Charlie Hine, going with him to the Friday night dances at the Brighton Club in Charlottetown. That tells you something about the early independent streak in the woman celebrated last spring as "PEI's Heritage Lady" at a dinner initiated by Charlottetown's mayor, Clifford Lee—a self-confessed convert to the heritage cause—and attended by more than 500 Islanders.
The dinner was also the occasion to launch the Catherine G. Hennessey Endowment Fund, raising more than $35,000 to instill greater awareness of local heritage in the public consciousness.
It was a fitting honour for this energetic woman of some 77 years—often an irritant to developers, politicians and bureaucrats whose notions of progress can seem embedded in a wrecking ball. In typical fashion, Catherine agreed to the tribute dinner only because the fund in her name will carry her work into succeeding generations.
She was born and baptized Catherine Gertrude Smith, the oldest of four sisters born to Isadora and Linus Smith, her father a family doctor. Despite a 25-year age difference, her parents remained deeply in love throughout their marriage.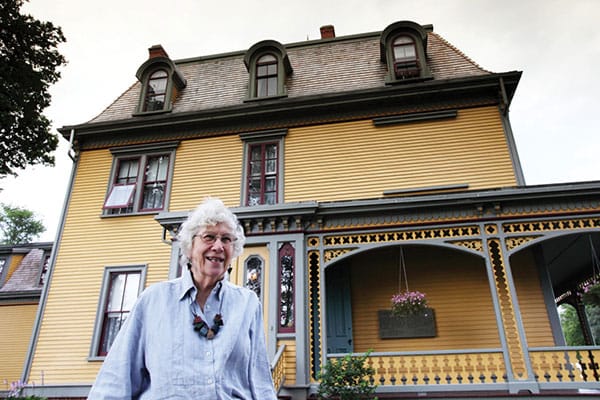 "My mother loved my father, and we children were a nuisance to her," she recalls. "They went hunting and fishing together almost every day after office hours. They would never take us. That was their time together. We grew up with that."
The Smith girls were pretty much brought up by Ruby Gill, a Presbyterian country girl, with the help of Holy Water.
"Mother was deathly afraid of lightning, so she always had Holy Water in the house to ward it off, " Catherine says. "If she was out of the house and there was any lightning about, Ruby would go for the Holy Water and sprinkle us kids. It became Presbyterian Holy Water."
Ruby also had to answer the profound theological questions sometimes posed by kids.
"I remember once we asked her what the difference was between Catholics and Protestants," Catherine says. "She thought about it for a minute and then said, 'It doesn't matter. You just have to be a good person.'"
Which may be why Catherine Smith thought nothing of the religious differences between her and her beau, Charlie Hine.
But Charlie went away and became a Mountie, returning to the Island throughout the years only occasionally for brief vacations. Catherine, after a sojourn in Hamilton, Ont, went to work for Alfred Hennessey.
Alfred was an architect, which is what Catherine had childhood aspirations to become. However she was deterred by her mother—who passed on word from a friend—that architecture was not a field fit for a woman. So instead, Catherine trained as a dental hygienist.
But if Catherine couldn't become an architect, she could at least work for one, and as things turned out, marry one. So that's what she did.
The marriage came apart after 17 years, but Catherine and Alfred, who had no children, are still friends. As we talked, Catherine excused herself and went to the kitchen of her tiny house in downtown Charlottetown to remove four loaves of brown bread from the oven. Then she telephoned Alfred to tell him she had a fresh loaf for him.
Catherine's house is like an oversized dollhouse perched next to the sidewalk on Sydney Street, in Charlottetown's East End—what used to be the tough part of the city. The East End is somewhat more gentrified nowadays, holding not nearly the same number of bootleg establishments it once did. Those that remain are raided every so often by the police. (Recently one such bootlegger, 85 years old, said plaintively to the judge in his defense: "Jeez your Honour, I was just trying to make an honest living.")
As far as we know, Catherine's house, built around 1800, was never used for such nefarious purposes. It was, however, a wreck with the roof falling in when she bought it in 1998. Now it is restored and furnished with cherished relics of Island-made furniture, and cluttered with her unending research into buildings, streetscapes and landscapes that embody the character of her city and her province.
These things are the stuff of life to Catherine Hennessey. Just as her own domain is representative of what she is, they are what Prince Edward Islanders are, and they are precious. Once gone it can't be replaced; history disappears in the dusty detritus of square nails and broken brick.
Even a single tree can be cause for Catherine to answer the call.
One winter's day in 2004 she heard that a huge tree of indeterminate species in downtown Charlottetown was scheduled for the chainsaw. Catherine raced to the scene, parking her car next to the tree, thereby blocking the city work crew assigned to remove it.
"I think we in the city… should know when a tree of this importance is coming down," she told the Guardian newspaper reporter she had called to the scene. What she really wanted was a city policy to determine which trees should come down before the chainsaws fire up.
Then there was the yellow balloon incident.
The year was 1981; a developer was seeking permission from city council to erect a 14-storey hotel in downtown Charlottetown. The proposed hotel would be nine storeys higher than the tallest existing structure at the time, and it would dominate the cityscape.
Catherine did not approve, but she had a problem. It was difficult for Charlottetownians to visualize just how high 14 storeys would be.
That's where the yellow balloon came into the picture or, more accurately, rose aloft the proposed site to the equivalent of 14 storeys, with a diameter of five feet, dancing about in the breeze.
Charlottetownians got the picture, and the message. They informed the city's planning committee of their feelings. The hotel was eventually built to a comfortable height of five storeys.
Such creative capers do not exactly amuse developers like Tim Banks, with whom Catherine has done battle over the years.
Apart from pursuing his development projects, Tim writes a blog, often using the space to excoriate his perceived enemies. He can be brutal, recently suing two women for $1.2 million because they opposed his demolishing an historic building in their neighbourhood.
In a blog post a year ago, he referenced "Catherine and Rent A Crowd."
"Just call a public planning meeting in the downtown and somewhere you'll find Catherine and her band of merry nimby's who I more commonly refer to as part of the 'don't get ahead gang,'" he wrote.
To his credit, Tim was one of the speakers at the tribute dinner the City of Charlottetown threw for Catherine.
Such occasional outbursts from disappointed developers, exasperated bureaucrats and politicians bother Catherine not a whit nor a tittle; nor do they divert her an iota from her intended purpose in life.
The latest developmental travesty to fluff up her skirt is the 50 (or so) foot long tunnel that Homburg Investments, of Halifax, is digging under Grafton Street, in the busiest part of downtown Charlottetown. It will connect guests staying in the hotel Homburg is constructing to the Confederation Centre of the Arts, where Richard Homburg is on the board of directors, and where the former Mainstage Theatre now bears his name.
"I really do believe it's time we looked at our city in a different way, and enriched the ambience of downtown and stopped hiding in tunnels," she said.
The tunnel got city council approval, and is scheduled for completion this autumn.
Win some, lose some. Catherine Hennessey has pursued her vocation with a rare degree of passion that has fuelled her seemingly inexhaustible energy. And she has no intention of quitting. Not while there is research to be done, causes to champion, history and heritage to preserve.
It's a life that has brought her the respect and love of Islanders, national recognition and many honours, including the Order of Canada, in 2001. She is satisfied that the cause has been worthwhile; that she will leave a unique imprint on her city and her province.
As we ended our conversation, she darted out to the kitchen once again, returning with a loaf of that famous brown bread for me to take home.
When I got out the bread knife at home, the loaf was still warm and crusty, and inside full with textured oatmeal goodness—remarkable, like the lady who made it.