Getting to know Alan Syliboy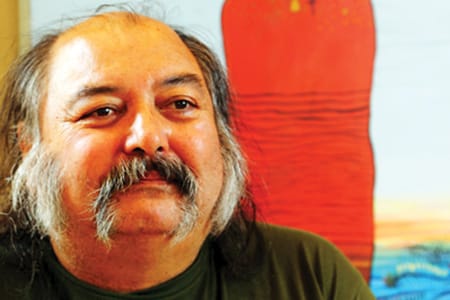 For more than 30 years, Mi'kmaq artist Alan Syliboy has been shaping the legends of his people into art. His paintings can be found in public and private collections from Switzerland to Australia, and across North America; he's Artist in Residence at Dalhousie University, in Halifax. As a member of the group LoneCloud—along with his son, Evan—Alan is an ECMA-nominated recording artist. Saltscapes spoke to him from his studio in Truro, NS, about his school years, his grandmother and rock engravings, also called petroglyphs.
Q How did you know you wanted to be an artist?
A I remember wanting to draw. My first fans were my classmates. It was a Catholic school in Truro. We didn't have art, so I was an underground artist.
Q Did your school discourage creativity?
A I'd get punished if I got caught. I didn't have materials. I wrote on my books and my desks. I scrubbed a lot of desks.
Q When did you leave school?
A Grade nine. I'd failed three or four times along the way, so I was a foot taller than anybody else…. School was something to endure.
Q There must have been some adult acknowledgment of your talent?
A My biggest fan was my grandmother, Rachael Marshall. When New Brunswick artist Shirley Bear came to the Millbrook Reserve in 1969, recruiting for an art program in New England, my grandmother said, "You gotta see my grandson."
Q Your grandmother was the first female band chief on a Canadian First Nations Reserve.
A Yes. And Shirley gave me my first painting lesson. We trained for three months in New Hampshire. That was the first time I left Nova Scotia. We were taught by some of the finest artists in New England.
Q The influence of petroglyphs created by your ancestors in places like Kejimkujik National Park is obvious in your work.
A They have an edge to them; they aren't romantic. They are meant to be life symbols, like the fern. The fern is closed up and as life goes on, it opens up. As you gain knowledge, experience and wisdom, your life unfolds.
Q You've been quite successful marketing your work.
A It started with relatives of course. It was a gradual thing. There's no history of a native art market here in the Maritimes—everything had to be invented. Out West, you're born into that market.
Q What was it like to present one of your paintings to the Queen in Halifax this past June?
A It was a surreal experience. I was originally asked to just meet the Queen. Then I suggested doing a commemorative painting of Membertou—given the 400th anniversary of the Mi'kmaq chief's baptism—to present to her (shown above). Everyone liked the idea. It's symbolic, not a representation.