As a child I resented Uncle Johnny, but as an adult I am indebted to him.
Christmas would fall on Friday. Relief flooded through my eight-year-old veins as I perused the month of December on the kitchen calendar. That meant Uncle Johnny wouldn't be at our house for either Christmas Eve supper or dinner the following day.
I resented Uncle Johnny. He had watery, red-rimmed eyes, sagging jowls and trembling hands. He shuffled at a snail's pace with the aid of a battered black cane.
At my mother's insistence, my father picked up Uncle Johnny on his way home from work each Wednesday evening, to have supper with us. He always wore an old fashioned, shiny-with-age, three-piece suit, snow-white shirt, a tie bearing some sort of insignia, and down-at-heel black shoes polished to a military gloss. A fob crossing his vest terminated at the breast pocket, holding his gold watch.
My resentment rose at the thought of the title she insisted on giving him. He wasn't even her uncle, only a second cousin of my paternal grandfather's who was alone in old age. Nevertheless, welcoming this type of family connection was typical of my mother.
Later in life when I read the words in the Book of Ruth, "Your people shall be my people," I realized my mother had lived by that philosophy. My father's family had become hers the day they'd married, and would remain as such all her life. Our home was open to some people even my father himself might not have welcomed.
Uncle Johnny lived in a once-genteel, now shabby boarding house beside the town's newspaper office. His proximity to this print shop facilitated the neatly bound typeset copies of his poems and essays he never failed to bring as gifts to my mother.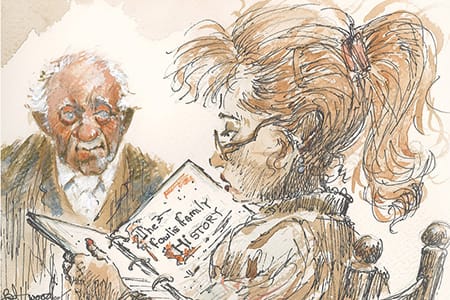 He'd present one of the six- by six-inch pale blue binders to her each Wednesday as we sat down to supper. My mother's meal would grow cold on her plate as she read. Uncle Johnny, with shaking hands, dribbled food down the napkin he'd tucked under his chin as he cast not-so-furtive glances in her direction while awaiting reaction.
I tried to keep my eyes focused on my own meal and ignore Uncle Johnny's efforts to get food and drink successfully to his mouth.
My mother would finish reading, clutch the small binder to her chest, and smile.
"Lovely, Uncle Johnny, absolutely lovely," she'd breathe. "I'll treasure it."
He'd cast her an adoring, watery smile as he patted his mouth with a corner of his napkin.
"Thank you, my dear," he'd reply, casting a gentle nod of appreciation in her direction. "You're too kind."
On Wednesday of Christmas week that year, aglow with hope and plans for the Yuletide, I viewed Uncle Johnny's weekly dinner visit in a kinder light: he wouldn't be around to spoil any of the Christmas feasts.
Then my mother shattered my anticipation.
"I've asked Uncle Johnny to come on Friday," I overheard her telling my father. "Last week when I asked about his plans for Christmas, I discovered he hadn't any. Oh, he tried to say cousin George had mentioned something back in the summer but I have a feeling he was fibbing.
"He didn't want us to invite him out of pity. I said he'd be doing us a favour by helping us to eat that big turkey you bought."
Startling my parents, I burst into the kitchen. "No! No! No! He'll spoil everything with his shaking and drooling and dribbling! And he smells funny…like someone threw flowers over something stale!"
My mother was hurt and dismayed. "Gail, how can you say such dreadful things! Uncle Johnny is a dear, old gentleman. He's kind and clever and…."
"I hate him, I hate him!" I yelled. "If he's here for Christmas, I won't come to the table!"
I stormed up to my room and slammed the door.
A half hour or so later my father came up. I knew from his expression that I was in trouble.
"You've hurt your mother's feelings," he said, his face grim. "I want you to apologize to her." He turned to leave, then paused.
"If you refuse to share Christmas dinner with Uncle Johnny, Santa definitely won't be pleased."
On Christmas Day I was seated in my usual place, across from Uncle Johnny. As my mother placed the steaming, golden brown turkey on the table, he drew a small, awkwardly wrapped package from inside his suit coat. With a shaking hand he extended it toward me.
"Your mother tells me you enjoy reading and hope to be a writer some day," he said, his thin voice quavering. "I thought you might enjoy this."
I stared down at the crumpled wrapping.
"Open it, Gail," my mother said, beaming.
Gingerly I untied the ribbon and spread wide the paper. Inside was a book: Emily of New Moon, by L.M. Montgomery.
"It's about a young lady about your age who, much like you, loves animals and aspires to be a writer," Uncle Johnny explained, a tremulous smile on his moist lips.
"How thoughtful, Uncle Johnny." My mother put an arm around the shoulders of his worn jacket and hugged him. "Gail, wasn't that thoughtful of Uncle Johnny?"
"Yes," I replied, turning the book slowly over in my hands. It was used, and I liked fresh, new books. But Uncle Johnny did say it was about a girl who loved animals and wanted to write….
"Thank you, Uncle Johnny."
"You're most welcome, my dear. I hope it will inspire you."
He handed my mother a parcel he'd placed on the corner of the table before sitting down. It was double the size of his usual blue binder offerings, and much thicker. "For you," he said. "And Gordon." He glanced at my father.
My mother unwrapped it carefully. Inside lay a black, three-ringed binder from a stationery store. For a moment she stared down at it, smiling but with a furrowed forehead.
"Open it," Uncle Johnny urged, his sagging eyes bright. "I…I hope you like it. It's my magnum opus."
My mother did as he'd requested. I heard her catch her breath and saw her eyes widen as she stared at the first page.
"The Fowlie Family History from 1500 to the Present," she read aloud, then looked up at Uncle Johnny, her eyes glowing.
"Oh, Uncle Johnny, how wonderful! Is this what you've been working on for so many years? Gordon, just look—our family's history. What an absolute treasure!"
"Thank you, my dear, thank you." Uncle Johnny, suddenly shy under her billowing praise, drew his watch from his breast pocket and peered down at it. "Now perhaps we'd best set upon this lovely dinner you've prepared before it becomes cold."
Uncle Johnny passed away that spring, alone in his room at the boarding house. Few people attended his funeral. In his poverty and isolation, he'd been largely forgotten.
I stood by his grave clutching my mother's hand and Emily of New Moon, the book I'd come to cherish and whose author would have a major influence on my life as a writer.
In later years that family history Uncle Johnny had so painstakingly compiled—and tediously typed using multiple sheets of carbon paper—would become the basis of a number of my most successful stories.
"He spent his life working as an accountant for an insurance company," my mother told me.
"He'd graduated from one of the most prestigious universities in this country. Remember the insignia on that old tie he always wore? Sadly a degree in history and philosophy doesn't bode well for employment, so there he sat, year after year, making a living, his creative mind moldering away in a stack of business ledgers, when he longed to do historical research and write poetry.
"It was only in his final years…." Her voice broke and she looked down at me, tears swimming in her eyes.
"But he was always a scholar and a gentleman."
This story is adapted from a collection of Christmas tales called Yuletide Yarns, written by Gail MacMillan; DreamCatcher Publishing, 2009. Gail MacMillan lives in Bathurst, NB.