Former Swiss banker Hanspeter Stutz brought his son and daughter to Grand Pré, NS, for a fresh start. More than a decade later their roots run deep—across 34, well fertilized acres.
It's early morning in late August, and the temperature is already creeping toward 26°C as Hanspeter Stutz arrives at Grand Pré National Historic Site. He's wearing green track pants, black cross trainers and a faded grey golf shirt with a Harley Davidson insignia.It takes more than a heat wave to deter the patriarch of Domaine de Grand Pré from his morning walk on the dykes.
Like the Acadians who reclaimed this land and the Planters who followed, Hanspeter brought his family to Grand Pré for a fresh start. As a banking executive in Switzerland, he had dreamed of opening a winery in the Annapolis Valley after visiting Nova Scotia on behalf of a client.
In 1992 he lost his wife to cancer, and decided to make the move.
"Now we do something together," Hanspeter told his then 19-year-old daughter, Beatrice, and 20-year-old son, Jürg. "Here is a new world where we can be creative. There will be no time to think about anything else."
Jürg had been planning to follow in his father's footsteps as an investment banker, but a career as a winemaker sounded promising. "And my father needed to do something new," he says.
Beatrice had completed an apprenticeship as a pharmacist, and had just returned from a three-month stint as a waitress in San Diego. She agreed to move to Canada and go into the winery business with her father and brother on the condition that she could return to Switzerland after two years if she didn't like it.
With this commitment from his children, Hanspeter bought a neglected winery in Grand Pré from a bank in 1993, after it was auctioned off. Wine-making pioneer Roger Dial had opened it in the 1970s as the first farm winery in Nova Scotia, but since Dial's ownership it had fallen upon hard times.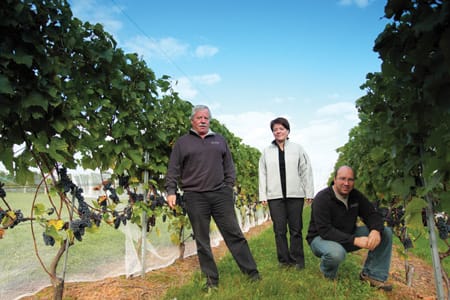 "The vines had not been well tended," Hanspeter says. "They were past repair."
In the five years that it took Hantspeter to replant the vineyard and renovate a ramshackle farmhouse and outbuildings, Beatrice honed her management skills supervising a pharmacy and also worked at a high-end restaurant, while Jürg went to wine school in Zurich, getting a degree in oenology.
In 1999 Jürg joined his father in Nova Scotia in time to harvest the new vines, and Beatrice followed a few months later. Opening in June 2000, the business began to unfold according to plan—including establishing a restaurant on the property—yet while Jürg's education prepared him well for his role as head winemaker and vineyard manager, his sister had a harder time. "I knew nothing about running a restaurant," says Beatrice. "It would have been so much easier if I had known then what I know today."
With Le Caveau now firmly established and a slew of awards, like last year's Restaurant of the Year award from Taste of Nova Scotia, Beatrice can look back at her old menus and laugh. "We made a lot of mistakes—we were far too expensive. It's a miracle we're still in business."
Hanspeter adds his perspective. "We are talking here about two different phases in our restaurant. Alex Jurt, the former chef, brought a very solid base to this restaurant. His knowledge and attitude was more or less new for the region. Jason [Lynch, the current executive chef] brought us to the next level."
When Jason Lynch—Beatrice's partner—arrived at Le Caveau seven years ago he had a strong local following from working down the road, at Acton's in Wolfville. He also had first-hand knowledge of what locals and tourists liked to eat, and what they were willing to pay.
"I dropped the menu prices by 30 per cent," he says. "I'd rather see my regulars twice a month than once."
Regulars have become a mainstay of Le Caveau's business, although in summer they tend to avoid Saturdays, when weddings are typically booked. "We do 18 to 25 weddings between May and October. It's a lot of work but it's guaranteed income," says Beatrice.She had been at the winery for only a month when a visitor asked if she could do a wedding. "Sure," she said. The first one worked out well so she did a few more and before long, the bride business was booming.
"Beatrice and her team have built a top wedding business," says Hanspeter. "Couples once chose us because we have a lovely location for pictures; now they choose us because of the food—and, of course, because of the wine."
From early offerings of regional favourites, like L'Acadie Blanc, Seyval Blanc and Marechal Foch, the wine line-up at Domaine de Grand Pré has expanded to include six whites, seven reds, ice wine, dessert wine, sparkling wine and Champlain, a traditional sparkling wine with a name that combines a tongue-in-cheek reference to champagne, with a tribute to a 17th century French explorer.
The Nova Scotia Liquor Corporation (NSLC) and the province's four private wine stores carry some Grand Pré products; Hanspeter's partner, Anna Weig, organizes involvement at farm markets; and all of the wines are sold from Domaine de Grand Pré's retail shop, managed by Jürg's wife, Cäcilia.
"We all work hard," says Beatrice.
The current level of wine production requires 50 tons of grapes that come from 34 acres of vineyards owned by Domaine de Grand Pré, and 35 to 50 tons bought from local growers.  "We don't set any benchmarks," says Hanspeter. "We just keep growing."
Often this growth is the predictable result of an increased presence in stores and restaurants, new wine products, like ice wine and Cuvée Vidal, or specialty restaurant offerings like Martini Nights, and walking dinners in the vineyard. However, an unexpected business spurt occurred in 2002 when Hanspeter introduced Stutz Cider, designed to give vodka coolers a run for their money. When the demand for this product outgrew the winery's capacity its production moved to Berwick, where Stutz Cider is now made and marketed under the name The Cider House Company.
Hanspeter didn't set out to bestow his family name on a product marketed as delightfully refined and slightly rebellious, but "Stutz" worked well with a branding strategy that depicts a tattooed apple wearing a half-zipped black leather motorcycle jacket. "That's me," says Hanspeter, his cultured Swiss accent belying the connection. "The graphic designer knows me—knows I have a bike."
Despite Hanspeter's enthusiastic account of picking mushrooms in 30°C heat while wearing his motorcycle leathers, he doesn't seem that tough. He certainly doesn't seem as tough as his cider's leather-clad apple mascot, but at the core he is a rebel—especially when it came to dealing with the provincial liquor board.
"We have nothing like that in Switzerland," he says. "My biggest mistake was not doing my homework regarding the rules and regulations around the sale of alcohol in Nova Scotia. It's bad enough to have barriers to business that are caused by international currency markets; it's even worse when the barriers are caused by provincial restrictions."
In his role as rebel, Hanspeter has been an outspoken critic of wine business impediments.
"Since January 2008 we have had a better mark-up for 100 per cent Nova Scotia-content wines," Hanspeter says. "NSLC changed their mark-up system for local wineries and with this better price structure, they support the local wineries—there is a much better relationship with the producers. "
Says Jürg: "We've fought a good fight... We've come a long way in the past decade."
It bodes well for new wineries. When Domaine de Grand Pré opened 10 years ago, it was the only winery in the area. "Now there are six," says Hanspeter, "and within a few years there will be 10." He maintains that there's always room for more winemakers—especially those who have what he describes as the right attitude. "Pete Luckett will show you what I mean," he says, referring to Nova Scotia's celebrity green grocer and the 100-acre farm on nearby Melanson Mountain, which he is presently developing as a winery.
At the foot of Pete's mountain lies Domaine de Grand Pré, where Jürg is preparing to bottle last year's vintage, and Beatrice is gearing up for the season's final Martini Night.
"I could never have done this alone," says Hanspeter. "It is a good feeling to work as a family. We have established new roots in Grand Pré. We are not British—not Acadian—but our hearts are here now. This is our home."