An artist taught herself to capture images in drops of 
water—and, in the process, got her life back
"I found myself in a drop of water," says Connie Publicover.
The photographer, who specializes in close-up water drop photography, is referring to her work, but she could be speaking metaphorically. When she faced the dual diagnosis of a brain aneurysm and multiple sclerosis in the late 1990s, her life—as she knew it—was lost for several years.
Before that time, she had been a contented wife, mother and hairdresser with her own shop in her East Quoddy, NS, home. She liked her work and her life. All that changed when she became ill. In addition to her aneurysm, which required brain surgery in 2000, and her MS diagnosis, she suffered five years of environmental sensitivities so extreme that she had to wear oxygen at home. She couldn't be around people because of their overwhelming scents, so she was isolated and unable to work.
Publicover, always a creative and industrious person, began to look for some way to fill her days. She enrolled in an online digital photography class and soon her new world came into focus. An assignment called for her to shoot a dripping icicle.
"When I opened the image on my computer there was a dark spot in my water drop. I was a little annoyed with it, not knowing what it was, so I blew it up—and lo and behold, it was [a reflection of] my backyard," she says.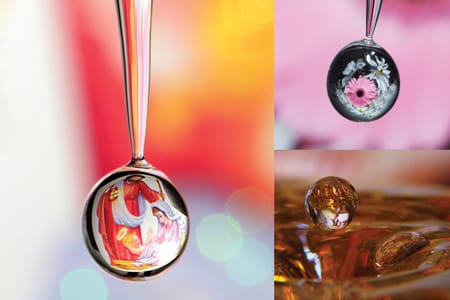 She became intrigued with the idea of miniature worlds captured in a drop of water—she had to figure out how to recreate the phenomenon, and how to perfectly capture clear and beautiful images. She worked steadily for four years, taking countless photos and working to improve the focus. She confesses that many of those early images weren't pretty.
"I wasn't totally satisfied until I had my first picture in Times Square," she says. She had entered Seashell Drop in a contest sponsored by Kodak, and on July 10, 2008, it was selected to be displayed on its electronic billboard in Times Square, New York City. She has since had several others displayed there, including Great Speckled Drop. In that shot, vibrant colours radiate from a single drop; the composition is enthralling.
Publicover says many photographers capture images in still water drops but her work is unusual because she also captures images in falling water. "Capturing it in a hair-split of a second is quite hard to do."
She won't give away her complete technique, but she says she shot Seashell Drop with a little Kodak Z650, a six megapixel camera. She used a piece of carnival glass—a type of glass that has an iridescent shimmer—as a background, and simply used a seashell and some falling water in her kitchen sink to capture the spectacular image. "It's amazing how the light and the water work together," she says.
These days, her equipment is a lot more sophisticated. She shoots with a Canon EOS 5D Mark II that's capable of capturing images at a resolution of 21 megapixels. She uses a macro lens and adds three extensions to get the best focus at the closest range. She also uses photos she has taken of lighthouses and other images to re-shoot through falling water drops at home. All of Publicover's images are accomplished in the camera—something she insists on, rather than relying on photo editing software later on.
Lighthouses are a favourite subject; she also enjoys butterflies, birds and flowers. "Nature—and the purity of water—are very near and dear to my heart," she says. "It's hard to explain how much water means to me. I can't imagine not living close to water."
She believes her good eye comes from her former work as a hairdresser. She says styling hair takes a good eye for composition. "I've learned that there are a lot of retired hairdressers involved in one form or other of the arts."
She recently acquired a US agent who approached her to market her work. Michael Woodward has worked in the art licensing and publishing industry in the UK and the US for more than 25 years. He regularly turns away photographers seeking his representation, so Publicover considers herself lucky that he chose her work. Just three weeks after signing with Woodward's agency, she received an order from a company that produces computer screensavers (you can see and order those images at 2nd.stores.yahoo.net/shandspbycop.html), and one for wall murals.
"Every step has been a major learning curve," Connie says. She can't drive long distances because she has short-term memory problems, so her husband, Murray, often drives her to shoots, to take care of the marketing side of things and to attend shows.
If she didn't know before, she knows now that she's got a supportive husband. In fact he spends so much time driving her places, their friends have started calling him "Hoke," a reference to Driving Miss Daisy.
He doesn't mind a bit.
Connie Publicover's work is currently on exhibit in galleries and gift shops in Nova Scotia, PEI and Newfoundland. See more of her work at snapsdrops.com.