How one woman addressed her competing loves: plants and dogs
THERE'S A cacophony of barking when I knock on the door of Linda Lusby's home on a quiet cul-de-sac in Wolfville, NS. She comes to the door of her mudroom, welcomes me, and says with a mischievous grin, "Are you ready?" She opens the door leading into the main part of the house.
I'm greeted by what can only be described as a flood of happy dogs—they're wriggling with tails wagging, noses inquisitive. There are half a dozen black, yellow and chocolate Labrador retrievers, half a dozen greyhounds, and one husky. Linda offers introductions and quick biographies: "That's the Supreme Goddess, Rachel, the husky cross, she's 13 years old now. Lil' Tyke is the baby of the household, a two-year-old Lab. Tweenie and Baby are three-year-old greyhound littermates. Webber is the official greeter, and I'm never sure if it's because he considers himself my chief protector or if he hopes it will be someone with a pizza…."
Linda and the gang—she calls them the Dale Street Gang—usher me in to the back garden, which the canines can access via a generous-size doggy door. The Labs take off, chasing each other, looking for sticks and balls and other toys to share with the humans in hopes of a game of fetch. A few of the greyhounds lope around briefly then opt to join the rest of the greyhounds basking in sunshine on big dog beds on the manufactured-stone deck. There are doggie paths, two ponds for hot dogs to dip into, with waterfalls and a connecting stream, and shrubs and trees that are pet-friendly.
They have their owner well trained.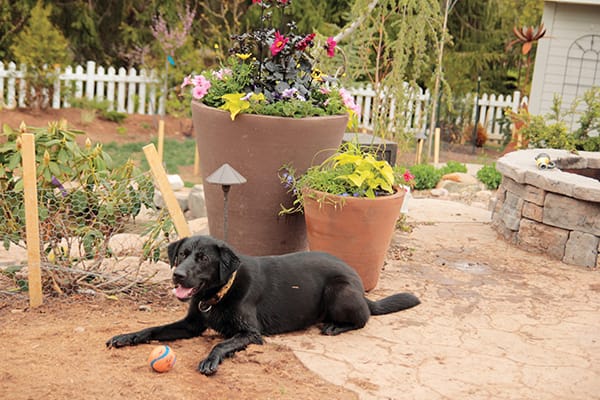 Linda Lusby recently retired from teaching in the environmental science department at Acadia University. But she also has a second career—or a calling—as a dog rescuer. One day, about 12 years ago, she and her late husband, Peter Smith, were asked by a local rescue group to take in a dog "just for the night." That was Rachel the husky cross, who promptly charmed her way into becoming the permanent boss of the household, which included two Labs. Several years later the couple adopted a dog from NS Labrador rescue. After Peter died in 2009, Linda "had a big hole to fill, so started adopting dogs from Lab Rescue—usually older ones, or pairs, or someone with a special need."
Last year she thought she'd try a greyhound, and now has six of them as well. It's pretty much a full-time job, looking after the dogs. But, as Linda points out, "Since I'm retired, I have more time and have found that working with rescued dogs and the organizations that rescue them brings me a great deal of satisfaction."
The large backyard of Linda's spacious home was unfinished when she bought it in February 2009, so she had a blank slate to make dog-friendly over a period of several years, as the number of canine family members grew. The first job was to fence the whole thing in so the dogs could just go out the back door and play, sunbathe, or answer the call of nature.
For the first summer she owned the house, Linda spent a lot of her outdoor time puttering and watching the changes of the seasons, and the effect of weather on her yard. " I got a sense of where the sun was at different times of the day, where the water lay after a heavy rain, and what was already in place for plant material," she says.
Linda loves plants, and has a fascination for acquiring "anything different," so she has some lovely specimen trees as well as a variety of native plants, and types that attract butterflies and birds. But despite her passion for plants, Linda is pragmatic about what she can plant in the "dog" garden.
"I love gardening," she says. "But not more than I love my dogs."
She has a front garden, where the dogs don't go, and also a raised bed on the side of the house, where she grows berries and rhubarb.
In the back garden, favourite shrubs are installed in large planters, or tucked into areas of the yard that are off the beaten track. Whimsical garden art adds to the personality of the property. Some shrubs and perennials in high-traffic areas have fences around them to help give them a chance to get established, and may—Linda emphasizes the word "may"—encourage the dogs to take alternate routes around the garden.
The backyard slopes quite steeply; Linda worked with Trevor Blair, of Mountain Top Landscaping, who installed terrace boxes and steps made of wood. Those worked well initially, but she wanted to add rock in the yard for aesthetic purposes, as well as to shore the sloped areas against robust activity by the increasing number of carousing dogs.
She engaged Kari Hjelkrem, of Down to Earth, to create the structured, dog-friendly and beautiful back yard that she and her canine friends now enjoy. Kari also loves dogs, so the process of creating the yard was a happenstance of shared passions.
"As the project developed, we all (including Kari's staff) watched the dogs to see what patterns they were developing, where they ran, sunbathed, dug, etc." She says she learned a great deal about dog behaviour over the course of the project—which was not without its challenges, including the overall cost.
"I'm not rich, and have far less money now," she says, being quick to add that she doesn't have to worry about the dogs while they are running, playing or resting. "I started out knowing that just like the dogs, this is my forever home," she says. "I wanted to get the structure right and in place and solid, because I'm not doing it again.
"And the happy eyes and tails tell me every minute of every day that I'm doing something right, and making a difference."
Creating a dog-friendly landscape
Linda Lusby did a lot of research before landscaping her backyard to accommodate dog activity, and she continues to change some of her plantings through experience as well as through talking with other dog owners. Here's some of her advice.
Know your priorities and your loves. "My dogs are more important to me than my plants, so I adjust one to fit the other,"

Linda says. If you have specimen plants such as trees or special perennials that you want to preserve, consider planting them in containers, or don't let the dogs loose in that area.
Watch what your pets do—where they go, favourite spots, how they behave in the garden. Linda planted a rose three times in a location where Lulu, one of the senior Labs, likes to lay. She finally took the hint that Lulu didn't want it there and wasn't going to leave it alone. The rose went elsewhere.
Establish a budget before meeting with a landscaper. Services, materials and plants can add up. You may need to break your project into several smaller projects that you can add on to as budget permits.
Don't use pesticides of any sort. This may seem like a no-brainer, even with the more strict pesticide bylaws in many Atlantic Canadian communities, but it bears repeating. Animals may be more sensitive to pesticides than people are, even to the so-called organically approved types. If you must use a chemical treatment on your property, keep your cat or dog from that area for a few days to make sure the product is no longer apt to affect your friend.
Keep some grass. Companion animals enjoy playing in grass, eating it to improve their digestive health, or merely flopping in a shady grassy spot to have a nap.
Know if any of your garden plants are toxic. In all the years I've had gardens, houseplants and a multiplicity of cats, I've never had to have one treated for plant poisoning. It does happen, but as Melanie Haverstock, office manager for a local veterinarian and animal shelter in Wolfville, told me, "usually they have to eat quite a lot of a plant for it to be serious." Still, it's better to err on the side of caution. If you have pets that are inclined to chew plants, avoid castor bean, rhododendron, lily of the valley, foxglove, and morning glory in areas that cats or dogs enjoy. Cats in particular are susceptible to poisoning by lilies and their relatives. For more information, check out the Pet Poison Helpline, petpoisonhelpline.com; in an emergency, phone your local veterinarian.