How a not-so-secret, 66-year-old society fosters PEI's characteristic 
pride of place
Driving through the Prince Edward Island countryside is delightfully confusing. You see a breathtaking scene in one area and decide it's the most gorgeous you've ever seen. Then you drive on and change your mind: another area is even more gorgeous.
On it goes, all along the rural landscape… which is to say that it's impossible to decide on the most marvellous spot of all.
If you ask new Islanders why they chose to move there, they often explain that they went on holiday and fell in love with the look of the place. Then they ate the lobster and were wooed into moving there, forever—much like the lotos-eaters in Alfred Lord Tennyson's poem of the same name, describing a group of mariners who, upon eating the native lotos flower on an island stop for water, were bewitched into staying on the enchanted island rather than returning home.
Even long-time residents have a hard time fixing on one place as the most beautiful.
The natural beauty of the countryside, however, is complemented by immaculately maintained private properties with meticulously cared-for buildings and exceptional landscaping—and that's no accident of nature.
For the love of the Island
For more than 60 years, PEI's renowned natural beauty and charming country communities have been nurtured by the dedicated work of the PEI Rural Beautification Society (RBS). The idea of enhancing the pastoral landscape grew from the generosity of an Island visionary, who had returned to his Island home—said to be in a sad state of disrepair—after the Second World War.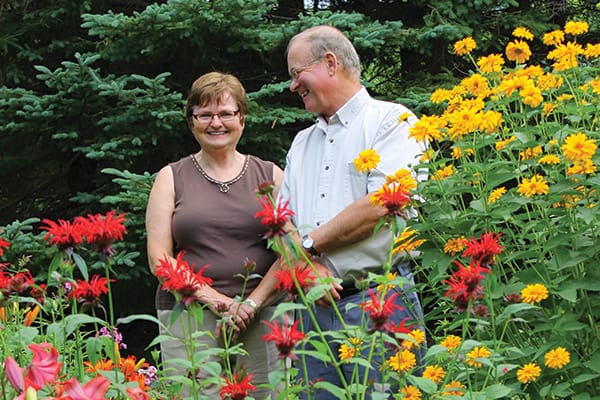 In 1946, Lt.-Col. E.W. Johnstone began a small volunteer organization called the Prince Edward Island Rural Beautification Society. The crux of the program was to provide incentive for property improvement and thus raise the general level of social, cultural and intellectual development of residents; and to promote tourism by making the Island a province of beauty and general attractiveness. Sixty-six years later, that vision is still going strong.
Joyce MacKenzie, of Harrington, PEI, is the current secretary/treasurer of the RBS and one of the Society's most dedicated members. For 16 years, she has been instrumental in organizing the entries to its many competitions, such as Farm Home Improvement, New Home Completion, Family Vegetable Garden and Best Window Box, and in overseeing the awards from the annual fund of $20,000 in prizes.
She says she understands why people of all ages get involved in this Island culture. "It's because we love this place. It's our legacy, our immortality," she says, although she admits that it is a lot of work. "But it's good for the soul to see beautiful gardens and buildings all fixed up and painted; to see how places transform from dull or dilapidated into attractive. It brings our communities together."
She adds that the process helps carry on many of the traditions of the Island's farm culture. "People just starting out are shown the time-honoured customs."
The how-to of beautification
Each year, the RBS organizes garden workshops in communities across the island. These sessions feature volunteer guest experts who demonstrate gardening, property maintenance and landscaping techniques. People discuss questions and problems with the experts at these meetings, and leave with a new-found zeal to get at the work back home.
One chilly March session, for example, featured Marie Dow of Hunter River. She spoke to a half-full church there on how to entice butterflies into gardens.
"According to my online research, there are 292 kinds of butterflies in PEI," she said. "They are the second biggest pollinators, next to bumblebees, and they love asters, peonies and roses.
"Put out a pot of water for them in a sunny, warm place, and just watch them beautify your gardens."
Island communities, companies, organizations and individuals all come together to help with the work of beautification. The Women's Institutes in many rural communities also help the RBS with projects, particularly with cleanup of highways and byways.
Neighbours and friends
Val and Milo Moucha are originally from Prague, Czech Republic. After living in Ontario for 25 years, they arrived on the Island as tourists and "ate the lotos"—or perhaps it was the lobster.
"We came here on holiday and fell in love with the beauty of this Island. It is the most beautiful place I've ever seen," says Val. "We had to make it our home. It had us bewitched."
She says something led them to a cosy country bungalow on the Britain Shore Road, Brackley Beach, where they found an instant connection with the community. "By magic, we have so much in common with neighbours Betty and Kim Aitken. Betty is a laboratory technologist; so am I. She and her husband, Kim, are passionate gardeners, like Milo and me."
Last year, Val and Milo entered their gardens in the RBS Awards, and tied for third prize in the flower garden category for their county.
Betty and Kim, meanwhile, live on a ten-acre garden paradise nearby. The couple has been RBS participants for several years, and their property has won two awards. Says Kim: "When we bought it, years ago, it was just a piece of good land. But we've put a lot of time and enjoyment into planning and planting."
It delights the senses with lilac, maple, birch, fir, oak, and fruit trees, fragrant bushes, and vegetable and flower gardens. Kim has devised a trenched irrigation system to ensure that plants are well watered.
Islanders born and bred, the Aitkens also nurture acres of paddy green lawns that roll back to a forest.
"It's not only the natural beauty of the place," says Kim. "It's the environment that we are so passionate about nurturing."
Renovation destinations
Each summer, three RBS judges travel around the Island to judge the properties competing in 16 categories. Winners are honoured at the annual awards banquet, which displays "before and after" pictures of the properties on a big screen.
Some of the winning properties become sought-out tourism destinations. Carolyn and Andrew Aiken, for example, have created gorgeous gardens and buildings beside their 90-year-old farmstead in Warren Grove. Known as Aiken House and Gardens, the secluded Shangri-La attracts visitors, including many Japanese tourists, in spring, summer and fall.
"Although we love our private family times, we also love showing what we have worked hard to create," says Carolyn.
Decorative fences, built by Andrew, define the some of the property's spaces and borders. Among the gardens and grasses stand cement and faux alabaster statues. The grounds also feature clematis-covered arbours, trellises trailing wisteria, floral archways, rustic birdhouses, a vine-covered gazebo, and a Victorian cottage which is decorated in white and furnished with thrift-shop finds.
Down from the perfect lawn is a shining pond, a spot for stopovers by ducks and geese, created from swampland with the help of Ducks Unlimited. A rowboat sits ready for a gentle slide across the water.
Carolyn says part of her motivation is to carry on the love of gardening that her father had, noting that her father's memory is kept alive through the dozens of plants he left for them.
"Dad loved peonies," she says. "We have 40 to 50 varieties of white, pink and fuchsia shades—plus other plants that were his favourites, and hundreds of other varieties of flowers."
She says the couple found the property 37 years ago through a sort of strange synchronicity. "It almost seemed to be pre-determined," says Carolyn. "We had been living away from the Island for almost a year and missed it terribly," adding that they are both native Islanders.
"One week, we came back home on holiday to visit our families, and we saw this real estate ad for 'an older house by a lake.' Something about it intrigued us. We came to see it, and fell in love.
"We bought it, even though we had no job on the Island! We just had two girls then; the other five children came along after," she adds.
She says there was no garden at all when they bought the property, "just a few old apple trees and the odd shrub or two." They learned a bit about the history of the house and added an extension.
Then they moved on to the landscaping. "Andrew and my father planted trees, and eventually Andrew started building fences and arbours. My father encouraged me to do a flower bed by the road one year, and that worked out really well," says Carolyn, noting that they now garden on about two and a half acres of their 10-acre property. The couple's children and grandchildren now delight in this special place; the younger grandchildren love to dress up for high tea and play with the dollhouse in the garden cottage.
Aiken House and Gardens now has a popular blog (warrengrovegarden.blogspot.ca) where news, gardening tips and pictures of the gardens are posted. "We chat with people from all over the world," says Carolyn. "I have 80,000 pictures of our home and gardens on my computer. Each has a story to tell and a special memory for us to share with our guests, near and far."
But Carolyn and Andrew work hard on their property for reasons that go beyond attracting and interacting with visitors. Says Carolyn: "The joy of creating something beautiful is what inspires us."