She went to Grand Manan for the summer, and ended up making her life there
Bessie Bass was head nurse at the Grand Manan hospital on and off for more than 30 years. She went to the island from mainland New Brunswick in 1951, intending to stay for the summer. But more than 60 years later, Bessie still lives in the tidy North Head house she and her husband, the late George Bass, purchased in 1955.
The oldest of eight children, Bessie initially studied teaching, because her family could afford only one year of post-secondary education—how long it took to get a teaching certificate. In 1943 she joined the Women's Royal Canadian Naval Service, and after the war decided to follow her dreams and study nursing instead of going back to the classroom. Both her children would follow her into medical fields. Daughter Hallie is a nurse practitioner, while son Michael is a pharmacist.
Now 93, Bessie gets in a couple of rounds of bridge each week, and is the organist at her local Anglican Church, where she selects each Sunday's hymns. And she tries to make it down to the wharf at North Head every day, "because that's where the action is."
WHEN I WAS a little kid, my sister had pneumonia. We had a special duty nurse come and look after her—and I was quite impressed with this lady, with her uniform, cap, and her fur coat, too. That's what first made me want to go into nursing.
After I did my training at Saint John General, I did special duty nursing for awhile. Then, in 1951, my sister Joyce—who was a Home Ec teacher—got a summer job on Grand Manan, working for Sir Herbert and Lady Ames. You don't come across titled people anymore, but you did then. They hired a cook and chauffeur in the summertime, and Joyce took the job of cook. I hadn't seen her for a few years, and I saw that the Red Cross needed nurses for the Grand Manan hospital. I went into the office in Saint John, and within a week I was down here.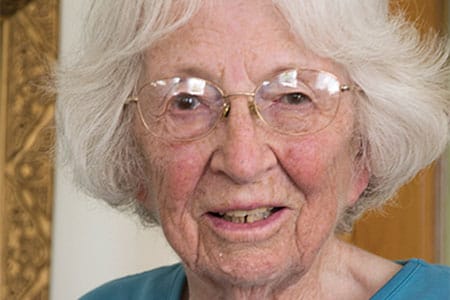 I was going to work at the hospital here for the summer, and then perhaps move on. I didn't have any special plans. Joyce went back to Saint John to teach after the summer was over, but I stayed. After about nine months, the matron left—they called the head nurse the matron—and her job was kind of dumped in my lap.
The hospital still did some surgery when I came here, but mostly it was accidents and babies. There were a lot of car wrecks, and fellows were always getting hurt on their boats. Sprains and cuts and things. Broken bones. We didn't have an ambulance back then—as a matter of fact, on a couple of occasions the hearse was used as an ambulance.
After I'd been here about a year and a half, I went to Montreal and took an obstetrics course. Babies on the island were all born here, unless there were complications, and we had about 70 a year. The doctors don't like to hang around and wait, so the trick was to get the doctor and the baby to arrive together, with a little time to spare.
The first winter I was here, there was a big snowstorm and we had a woman in labour. There was lots of time, and we called the doctor. The baby arrived, but still no Dr. Ritchie. It turned out he was stuck in a snowbank down in Woodward's Cove. When the plow came out in the morning, it bumped into the rear of his car. Then they came around to pull him out of the snow and backed into the front of his car. When Dr. Ritchie arrived at the hospital, he came in a grey Dodge with the front and back both bumped in.
Of course, I also had a boyfriend. George. Dear old George. We'd been hanging out together for a couple of years, and I thought it was time to either get married or forget about it. So we decided to get married in September 1954. When I came back from my vacation up in Ontario, George and I were married on the mainland, in the church in Renforth. A quick wedding—we just had my sister and one of my brothers there, and then we came back to Grand Manan.
George worked with twine to make the nets they used on the seiners. He knew the dimensions of about every weir in Grand Manan. Sometimes the boats would come in with their nets all torn and the fishermen would spread them out at the old airport, near where the campground is now. He would help piece them together.
At one time there were two twine shops on the island: one up here at North Head and one at Grand Harbour. They had big lofts where people could bring their nets to be mended in the wintertime. Putting the nets together was complicated, with all the ropes and loops, but George was good at math. He could do all that stuff in his head.
When we were first married we didn't have any place to live, so we lived up on the top floor of the hospital that winter. There were rooms and a bathroom up there. It wasn't too big, but it was all we needed. It was very handy: when a woman was having a baby, the girls would just come to the bottom of the stairs and call up.
One of the challenges we had was transferring patients to the mainland when they needed it. When I first came here, there was a pilot over on Deer Island who would come and take patients to the mainland, but we didn't do that very often. The weather had to be just right.
Instead, we used boats—sardine carriers, fishing boats. We took patients on the ferry Grand Manan sometimes, but it made only one trip a day, if that. In the 70s or 80s a fishery patrol boat called the Cumella was usually tied up here at the wharf. If you had to transfer a patient it was faster than the regular boats, and you could take your stretcher right on board. The ambulance would be waiting at Blacks Harbour.
I remember one trip on the Cumella, in wintertime, when it was blowing hard. We'd just got outside Grand Manan when it started to ice up, and they had to slow down. We hadn't gotten very far when I realized this woman—she was a maternity patient—was not going to be able to wait too long. When we got to the mainland they had to chop the ice off the boat, then we got off the boat and into the ambulance. We'd just got out of Blacks Harbour when the ambulance broke down. However, they had a second ambulance and we made it to Saint John with 15 or 20 minutes to spare.
After I had Hallie, there were a few years I worked part-time. In 1965, I was working part-time and the school couldn't get a teacher for Grades 1 and 2. I told them I would teach if they needed me to. I must have had 40 kids. My God it was hard work. I was glad to get back to nursing.
Being the matron—later they changed the name to director of nursing—was a lot of work. You were in charge of the hospital. You had to get nurses to come, assign jobs to whoever was on duty, hire the cook, make sure the housekeeping was done, and the outside work, and that the maintenance man was doing his job. Sometimes I planned meals, too.
We had a few very rich families on the island, and some that were very poor. Before medicare, if there was a family who couldn't afford their hospital stay, I would sometimes send the bill to the county—or I'd just write it up and then forget about it. We had an annual hospital fair to raise money, and that could help cover those bills.
The last time I took the job as director of nursing was in 1972, I think. A couple of years after that, the job of administrator came up and I applied for it along with my other duties—since I was doing most of it anyways. So I was the director of nursing and the administrator. And I did that until 1985.
In the 60s and 70s it was quite hard getting nurses to come here. Then more of the local girls took nursing, and it became fairly easy. And also the Licensed Practical Nurses got their qualifications, so we would have Registered Nurses and LPNs too. All the nurses do so much.