The recipe for success for Van Dyk's wild blueberry juice? A singular focus, and scrubby abandoned fields—lots of them
BY THE TIME farmer-turned-innovator-entrepreneur Casey van Dyk came of age in the 1950s, the Netherlands was already too small for him. The second oldest of nine children in a farming family, he'd grown up believing his future was in agriculture. But the Netherlands couldn't offer Casey, who would go on to found Caledonia, NS-based Van Dyk's Health Juice Products, what he needed most: enough wide open space to realize his dream.
The Second World War had pummeled the Netherlands. Many towns, houses and factories had been bombed; the economy was depressed. Meanwhile, the tiny country was bursting at the seams. The population was growing, and farms were being gobbled up by urban sprawl. Polls at the time suggested one out of every three Dutch men and women wanted to build their lives elsewhere. So when 21-year-old Casey and his young wife, Henrica, arrived at Halifax's Pier 21 in 1954, they were just two among thousands of their countrymen who sought their fortunes in Canada, with a crate full of furniture and 500 Dutch gilder in their pockets.
But while Casey would ultimately make good on his aspirations, this isn't a story about overnight entrepreneurial success. It's a story about patience, perseverance, practicality and Casey van Dyk's willingness to do what all would-be entrepreneurs aspire to achieve, but few accomplish: to create a niche and to own it.
Wild blueberries—sweet
Today, Van Dyk's, which employs eight people full-time, is in a state-of-the-art 12,000-square-foot facility (there are plans to expand it next year) tucked among the stupendously gorgeous forest and lake lands of south-central Nova Scotia. Kejimkujik National Park is 15 minutes away; Halifax is a two-hour drive. It's a small, close-knit community that, like so much of rural Canada, has been getting smaller for decades. And that's what made it a perfect location for Casey: what the area may lack in high-rises, subdivisions and cafes, it more than makes up for forest or scrub land, as well as abandoned farm land, with sandy, acid soils—and native lowbush blueberries already growing there.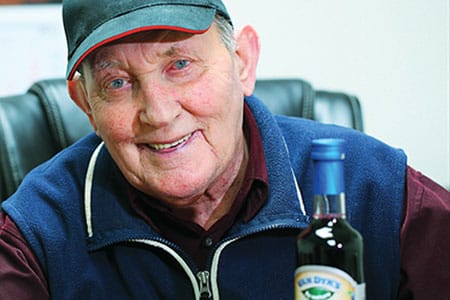 Wild or low bush blueberries are small, hardy and firm, and as their legions of fans will argue, sweeter than their high bush cousins—which in turn are fatter, heavier and hold twice as much water. Wild blueberries freeze well and bleed less during cooking. Atlantic Canada produces about 150 million pounds of wild blueberries per year, accounting for approximately 65 per cent of North America's total production.
The trouble is, you can't plant wild blueberries; you can only manage their wild environment in such a way that conditions are optimum for them to spread—by reducing competition from weeds, for example. As plants go, they're stubborn. They take years to grow and produce fruit, and propagate by rhizomes, or underground runners, on their own terms, thank you very much.
But as luck would have it, the very landscape wild blueberries love the most was the very land that Casey would discover when he first settled in Caledonia 60 years ago.
Early years a struggle
Many of the Dutch families that immigrated to Canada in the post-war wave came under the Netherlands Farm Families Movement, or the Netherlands-Canada Settlement Scheme. The deal was that a Canadian farmer sponsored the immigrant for a year or two before he or she bought land. Casey and Henrica settled in Caledonia where they worked for a local farmer until, two years later, they had saved enough money to put a $2,500 down-payment on a 110-acre mixed farm. They started their family and went on to have nine children.
Over the next 15 years, they toiled on their farm and slowly began buying up additional farmland that had been abandoned by folks who moved on to urban centres. On weekends, Casey sometimes went touring in the Annapolis Valley, observing the farms of his fellow Dutchmen, all the while figuring out where to focus his energy.
"It was hard to make money on a mixed farm," he says. "Our first 20 years were a struggle."
Throughout the 1970s, as he and his children worked at clearing land on the farms he had acquired, he took more and more notice of wild blueberry thickets growing in abandoned fields and on forest floors. For years he picked them and studied them, even read up on them in scientific and agricultural journals. (He'd long been a lover of learning, and while a lack of money had kept him from getting a university degree, it didn't prevent him from cycling 10 miles round trip to audit night lectures at a Holland university before he left.)
In the 1980s, once he felt confident he knew the ins and outs of commercial wild blueberry harvesting, and once he'd amassed and managed enough land to assure a steady crop, he began harvesting and selling wild blueberries to markets and grocery stores throughout Nova Scotia.
He saw an opportunity
From the beginning, he was meticulous about quality. Wild blueberries had to be consumed fresh, he told people at major grocery chains. He was able to negotiate direct-to-store shipments, which ensured he always had the freshest wild blueberries on display—the blueberries were picked and cleaned one day, and shipped to stores the next. He personally drove the province inspecting displays.
Once Casey saw a store manager had stacked the baskets one on top of the other, pyramid style. "It was crushing the berries, and juice was bleeding on the floor," he recalls indignantly. He told the store manager he was taking the shipment back and would provide a fresh batch of blueberries, free of charge. The caveat was that Casey wanted to be able to unpack and display the berries himself, thereby ensuring not a single blueberry was harmed during the process.
"Quality is always Number One," he says. "That's what people will remember you for." And remember Van Dyk's people did—Casey still recalls the pride he felt one day when, exhausted and unnerved from city driving, shoppers in a Halifax grocery store expressed delight to meet him. "They told me my blueberries were the best," he says. "It was quite a feeling."
There was just one problem with fresh, wild blueberries—the year's entire business was concentrated in a six-week window. Casey wanted a way to turn his seasonal business into something that offered year-round employment, which would help him retain employees, and provide a more stable revenue base. And then, during a trip back to Holland, he had a drink of bilberry juice. Europeans had been drinking it for generations to ward off disease; pregnant women were instructed to drink it for the health of their developing babies.
He saw an opportunity to transform his business into a wild blueberry juice business. But to do so, he'd need some help. In order to maintain the antioxidant health properties of the fruit, and make it shelf stable, research into the correct production procedure was necessary: he partnered with a team of agricultural scientists and the Atlantic Food and Horticulture Research Centre in Kentville, NS. One of his first hires was Randy MacDonald, who would become the company's business manager.
"When Casey got started, the health food movement was in its infancy," he says. "He was years ahead of his time." Randy spent the bulk of his early marketing efforts educating consumers about the health benefits of wild blueberries—not only have they been shown to improve memory and cognitive function, they have one of the highest levels of antioxidants of any fruit.
Today, Randy says, consumers worldwide are well apprised of the power of what he calls "a daily dose of blue." When Van Dyk's Wild Blueberry Juice first hit the Canadian market, it was the only product of its time. And while others have followed suit, Van Dyk's continues to be a dominant player, exporting its product to Taiwan, South Korea, Japan and China.
At 82, Casey has a succession plan in place that will see one of his sons assume control of the juice business, while two other sons and his daughter currently run the related blueberry harvesting business, which employs more than a dozen people during the blueberry harvest. Casey continues to work fulltime, and says he doesn't have a sore joint in his body—something he attributes to drinking a half litre of wild blueberry juice every day for decades.
In truth, he needs his energy. His company has just inked a deal with a Chinese firm that will see sales of Van Dyk's Wild Blueberry Juice soar by a third over the next year.
How harvested?
Fields that are level and rock-free—about 80 per cent of Van Dyk's fields—are harvested mechanically; otherwise, a hand rake is used. It has a dustpan-like shape with a row of narrowly spaced steel prongs on the bottom, and a handle on top. "You slip the prongs under the wild blue clusters, tilt the front of the rake up and pull towards yourself," writes son Leo in a blog on the company's website. "Scoop pull, scoop pull, pour; scoop pull, scoop pull, pour; the experienced raker quickly establishes a careful, steady rhythm…"