Competitors gather in Annapolis Royal every October to play an unusual game involving horse chestnuts, shoestrings and bruised knuckles
Stepping into the Annapolis Royal Historic Gardens, I immediately hear something I haven't heard since I was a child: the sharp clacking of horse chestnuts smashing against one another. I've come to this idyllic town on the Bay of Fundy to rediscover a game I played growing up in England: the game of conkers.
I'm at the North American Conkers Championship, an annual event started in 2012 by a group of British expats living in Annapolis Royal, NS.
Conkers, in case you're wondering, is both the nickname of the glossy, brown nuts that fall from horse chestnut trees and a game of skill and dexterity played by schoolchildren across the UK and Ireland every autumn. The object of the game is to smash your opponent's conker by striking it with your own. Each nut is threaded on a shoelace competitors use to swing their conkers at their opponent's.
"Conkers exist in every temperate climate," explains Simon Bonnington, a British expat and one of the event's organizers, "but it's a game that seems to be peculiarly British. I've got no idea why it should be popular there and nowhere else."
In 2012, the event's inaugural year, there were 17 competitors in the championship. One year on, and the field has swollen to more than 40.
Notably absent is the 2012 champion, Jeff Hafting. He'd arranged to fly in for the 2013 competition but got stuck in Los Angeles in bad weather. I'd love to report that conkers enthusiasts from as far as California fly to Nova Scotia to compete, but Hafting is actually a local who happened to be on a business trip. His now 13-year-old son, Finn, had to defend the family honour.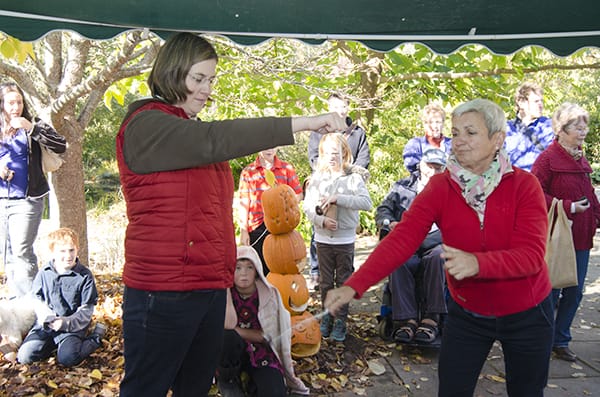 When I arrive, event organizers are collecting the day's arsenal from the ground beneath one of several impressive horse chestnuts growing in the gardens. A volunteer drills a small hole in each nut with an electric drill and uses a nail to help push the knotted shoelace through.
Conkers are hard, fragile and temperamental. Your conker is just as likely to break when you're the attacker as when you're the defender. Even a conker with a sizeable crack in it can survive and shatter a seemingly flawless opponent.
"I look for the ugliest one with no cracks," says Adele MacDonald, an Annapolis Royal local who made it to the semifinals in 2012. "The perfect ones are just too perfect. Everything beautiful dies young."
I choose a large, smooth one for my first bout. It's lovely and glossy and almost perfectly spherical.
The competition gets underway mid-morning. It's perfect October weather: cool and crisp and bright. The matches take place under tents set up especially for the event, and a large blackboard shows the tournament bracket. The other side of the blackboard is used as a scoreboard by the local cricket club—another project of the local UK expat community. Annapolis Royal is the site of the oldest permanent European settlements in North America, and the area continues to be a magnet for immigrants, who make up more than 20 per cent of the town's population.
I'm nervous as my name is called for my first match. Other than a few practice bouts, I haven't played since I was a child, and I worry my aim will be gone.
I win the coin flip and elect to go first. My opponent holds his shoelace at arm's length, his conker hanging still. I wind up, holding my own conker between the thumb and forefinger of my left hand with my lace wrapped around the knuckles of my right. I release the conker with a sharp downward flick of my right wrist and it arcs through the air, striking my opponent's conker with a satisfying clack. His string dances with the impact and he steadies his nut in preparation for my next strike. I get to make three swings before we switch roles. We continue alternating like this until one of our conkers is no more.
I'm eliminated in my second match, my conker coming away piece by piece with every impact until I have nothing left to play with. My partner Megan Snow, on the other hand, proves to be a natural. She smashes her opponent's conker in a single shot, making it through to the finals despite having never played the game before. She faces another novice, Krystyna Schulz, who's visiting from Halifax.
Snow and Schulz square off under the main tent as the crowd gathers and Queen Annapolis Royal, Caitlin Bridson-Pateman, stands close by, holding the coveted Crofton Chalice. The chalice, named for Peter Crofton Davies, the tournament's founder and Annapolis Royal's town crier, is actually a dollar-store purchase mounted on the end of a fencepost and painted gold.
Most conkers games last no more than a few minutes, but the nail-biting final is a truly epic match. Both competitors concentrate intensely as they take swing after swing. Sometimes the conkers hit nothing but air; other times the strings tangle in a "snagsies," and have to be untangled before the match can go on. Both competitors score dozens of solid hits, but their conkers stubbornly refuse to break. The crowd gasps as a poorly aimed swing from Snow connects with Schulz's knuckles instead of her conker, but the injury isn't serious and Schulz isn't the type to take a dive.
The final is eventually decided by a sudden-death round. Snow and Schulz get nine swings each and whoever scores the most direct hits is declared the winner.
Schulz's aim is truer, and as the crowd cheers, she's presented with the Crofton Chalice and crowned North American Conker Champion. She laughs and smiles for the cameras, looking delighted and shaking her head in disbelief.
"I've never played in my life before," she tells me. When I ask her about her strategy she just shrugs. "I don't like to fight. The other players just smashed their conkers on mine. I guess I'm a defensive player. But it was really fun to be here."
Schulz is an unlikely victor, having grown up in Germany, where conkers is virtually unknown. "In Germany we make figures from them using toothpicks," she explains. "We dress them in little hats. But we don't smash them against each other like this."
As I leave the Historic Gardens I pick up a few conkers to keep as souvenirs of my own. Suddenly I'm a child again, stuffing my pockets with conkers from the row of horse chestnut trees at the end of the field near by elementary school in Cambridgeshire. Maybe one of these is a future champion.
The 2014 North American Conkers Championship will be held on Saturday, October 18 at 10:30am in the Annapolis Royal Historic Gardens.