One man's recipe for long life
A FRAMED ditty hanging in my entranceway reads, "A friend is not a feller who is taken in by sham; A friend is one who knows our faults and doesn't give a damn."
Friends are life's treasures—some are valued; others are cherished. We tend to put friends in different categories; we have new, old, best, close, just friends, and acquaintances. With best friends there is a level of trust and confidence, an ability to be oneself, to express thoughts and feelings without fear of judgment. Close friends don't enjoy the same degree of sharing, but there is pleasure in being in each other's company. To say, "we're just friends" says more between the lines; that is, there is companionship but no intimacy. Acquaintances are those recognized by a smile, nod, wave, or a quick exchange of niceties periodically.
I have a new friend. We met three years ago quite by serendipity. I was at a fishing lodge on the Gander River in Newfoundland. Hanging on the rod rack was a salmon fly rod with a reel that, for me, was love at first sight. It had a patina and curlicues that appealed to me—so I sought out its owner. He turned out to be as unique as his reel, and it was friendship at first sight!
Dr. Douglas Roy (Doc Doug to me; Dugger to his cohorts) has become special to me. He is almost 90 years of age and has had to accommodate changes to some body parts in recent years. Hips, knees, the muscles of an eye all prevent his dancing to the tunes of his earlier years. But the grey matter keeps on clicking at a good clip! As a man of many passions, he continues his interest in sailing, his participation in fishing and music, his life-long career in cardiology, and is developing a new passion—writing.
His recently published book The River Runs Deep delves deep into his Cape Bretonisms, his philosophies, his soul, and somewhat into his fishing experiences. The book is a perfect example of the principle that we fishermen know: fly-fishing is not all about hooking a fish! In his book, Doc Doug talks about the mysteries of fishing and the mystique of rivers. He covers some history, expounds his philosophy, and injects us with fishing enthusiasm.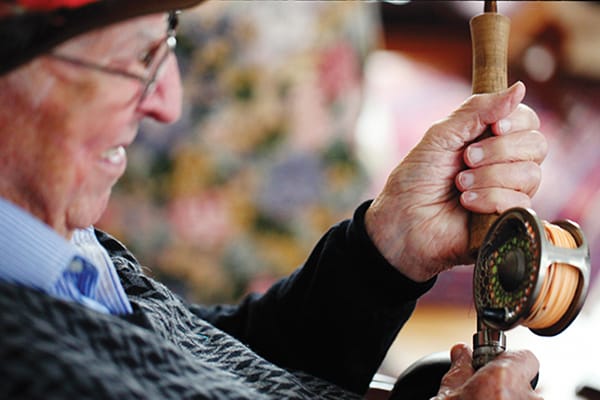 He postulates on the existence of a soul and how it influences our attitudes and behaviour. Doc Doug's passions flow through his book as freely as the rivers he writes about.
There is one chapter written by Caper, a salmon. It is delightfully filled with the cybernetics of fish as they embrace the cycle of life from the North Atlantic to the rivers of their birth. Skipper, Granny, Wimpy and others explain the dangers they face, and how they adapt to changes in their environment.
I must confess that one chapter raises my hackles—it is entitled "Gender and Fishing." He regards females as "an interference" when fishing a river, though he tries to soften the blow by saying nice things about a few women who have fished and written books. Nevertheless my reaction to that chapter was the same as it was when I read a speech given in the New Brunswick Legislature by my own grandfather at the turn of the 20th century—he was adamantly opposed to women being given the right to vote!
And speaking of grandparents, Doc Doug tells us a lot about his family in Cape Breton. Know that Maritime-ism, "Who's your father?" We learn a lot about his daddy and his granddaddy in his book, and how they influenced his love of nature and medicine. His reflections reinforce how grandparents are critically important in the character development of their grandchildren (although I'm glad my own grandfather wasn't around as I developed!)
Doc Doug is a stethoscope-carrying kind of doctor. Cardiology was his chosen career and his curriculum vitae as a specialist in that field is most impressive. Pediatric cardiology was his forté, and he helped develop a Canada-wide database for heart disease in children. His work remains the foundation of pediatric studies being carried out at the IWK Health Centre in Halifax.
Some of his ongoing academic work surrounds the development of a CD to help medical students and other health professionals recognize normal and abnormal heart sounds. He had recorded sounds of various heart conditions throughout his many years as a practising cardiologist, categorized them, and developed the teaching and learning tool. He demonstrated the CD to me. As an educator in an earlier life, I appreciated its value as a self-learning tool. It is in use at the Dalhousie Medical School, and is available to health professionals worldwide.
The Doc's next venture is a book on Captain James Moffatt, United Empire Loyalist, a relative on his mother's side. The book is currently in preparation—he hasn't set a deadline for completion yet.
I wonder what will come after that? Perhaps a book on his days as a competitive sailor and commodore of the Royal Nova Scotia Yacht Squadron. And maybe later there will be a book giving us insights into his days as a saxophone and piano player with a local band.
What Doc Doug is doing now, and whatever he takes on in the future, serve as models for those of us who are advancing in age. He shows us that we can adapt to physical and environmental changes, just like the salmon that make their way from and to the rivers of their birth. And as long as our minds stay active we can explore new interests.
We often seek recipes to prolong life and interest. They abound, and are offered from all parts of the globe—ranging from daily consumption of porridge, wine, herring, vegetables, coffee—you name it! If you consume it regularly and you live long, then you attribute your salvation to that product.
Others suggest living simply, getting plenty of exercise and reducing stress. Still others will suggest avoidance of a substance—sugar, white flour, fat—and the list goes on. Numerous studies support both the pros and cons of some of these guidelines.
My own recipe includes having dogs, getting exercise and having a robust social circle (in addition to regular red wine and dark chocolate, of course!)
I asked Doc Doug for his recipe. He thought for a moment, then said that a tot of whisky, wine with meals, and a desire to do everything well might be the basic ingredients. I can attest that he certainly does two things well—he writes captivatingly, and he returns friendship well.
I hope that the formula that keeps him around will continue to work for a good while yet. As new friends, we aren't taken in by sham, we're getting to know each other's faults and we don't give a damn!