Exploring New Brunswick's St. John River
AH, THE pleasure of waking up after a restful, quiet night on the river to a mid-August dawn. We're anchored in the shelter of Ram Island, with morning mists swirling slowly by our boat, the Kingfisher. We begin cruising downstream as beams of sunlight pierce gossamer wisps of fog rising off the water. A small moving, black object ahead prompts me to halt the boat. A mink takes the right-of-way, proceeding across our bow on a fishing expedition. Underway again, we turn down Gagetown Creek and head to the marina. From there we meet friends for a morning hike in nearby Robinson Conservation Forest. The day held the best of two worlds.
New Brunswick's St. John River is steeped in human history. When Nicholas Denys explored what is now called Digby, NS, in 1633, he wrote about finding either walnut or butternut trees. My guess is that First Nations people, paddling the St. John River, carried nuts collected from butternut trees along the shore across the Bay of Fundy. What a canoe trip! They almost certainly planted the butternut trees Denys found more than 380 years ago. This river has served travelers for centuries, perhaps for millennia.
Flowing from forests in northern Maine and Quebec, the St. John River travels 673 km before it empties into the Bay of Fundy and the Atlantic Ocean. That's only part of it. Maps of central and southern New Brunswick show four long fingers of navigable water feeding that main channel between Fredericton and the city of Saint John. The Salmon River empties into Grand Lake, Washademoak Lake is fed by the Canaan River, Belleisle Bay is next heading downstream and our boat can ply Kennebecasis Bay and River as far upstream as Hampton. These places are catalysts for memorable adventures.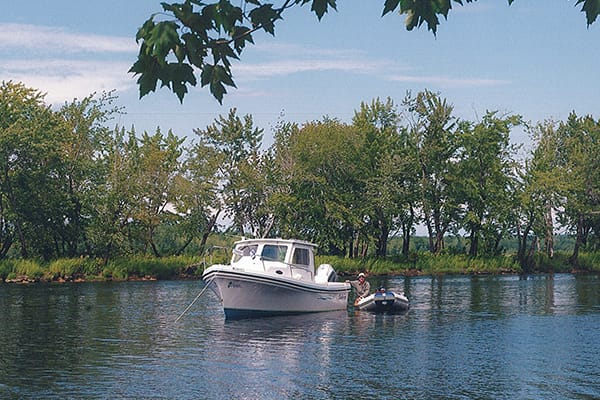 Tides from the Bay of Fundy push upstream towards Fredericton. The St. John River differs from rivers like the Mississippi, whose water-borne sediments settle out and form a delta where it enters the Gulf of Mexico. The St. John River slows long before reaching the Bay of Fundy, depositing soil sediments in high water events upstream, creating rich floodplains. The sediments also build islands that gradually erode on the upstream end, while new sediments are deposited on the downstream end. Islands that migrate slowly downstream!
On the water
My wife, Alice, checked out St. John River facilities on the internet before we decided to trailer our boat to Gagetown. It's a lovely village, humming with summer activities and blessed with an abundance of friendly, helpful citizens. A public boat launch put the Kingfisher in the creek, Gagetown Marina offered a berth on their dock, and the Old Boot Pub and Creekview Restaurant provided healthy meals. One can provision a boat there for extended overnight trips. Local boaters, who pointed out interesting places on navigation charts, quickly adopted us.
Upriver, the Oromocto Boat Club also welcomes visiting boaters. On Grand Lake, boating facilities can be found at Douglas Harbour. Downriver from Gagetown, fuel, docking and overnight onshore accommodations with meals and a pub can be found at Evandale Resort. The Saint John Marina offers the services of a knowledgeable mechanic. The Rothesay Yacht Club and its members have dock space available for newcomers. Resources like these have enabled some boaters to spend 30 to 40 summers on the river. Hundreds of kilometres of shoreline can be explored, with anchorages in secluded coves that offer peace and privacy.
Friends have invited us for weekend rafting adventures. Last year we rafted next to a custom-built, solar powered boat, a 1960s wood-hulled, twin-engine boat in perfect condition and a high-tech Silverton powerboat. The Kingfisher was dwarfed! Small boats vary from canoes and kayaks to personal watercraft, sailboats, converted fishing boats and many recreational watercraft.
Interior continental North American summer heat prevails upriver, supplying ideal air and water temperatures. Winds blow upriver or down, an important sailing consideration. We cool off on hot days by jumping off the Kingfisher's stern. Forget the towel!
Nature lovers can observe an amazing array of wildlife and habitats along the river. On the Gagetown Marina dock alone one can watch purple martins, black terns, black ducks with broods, an active osprey nest, bald eagles perched on trees and once, an America bittern hunting the shoreline. Places like Portobello Creek National Wildlife Area, with its shallow bays and broad floodplain savannas are only accessible by water. A number of local and national conservation organizations, including Ducks Unlimited Canada and the New Brunswick Nature Trust have been working for decades to protect many natural areas.
In the water
As a teenager in Fredericton during the 1960s, my pastimes included fishing and exploring the river in a small dingy. At that time Atlantic salmon were common. Fifty years later Dr. Allen Curry, a professor at the University of New Brunswick, notes that the river is transforming to a warmwater fishery, although coldwater species like trout, salmon and whitefish populations still persist.
The river below Fredericton is freshwater with a tidal influence. Where tides prevail, a recreational fishing licence is unnecessary, according to provincial authorities. Anglers must still respect angling regulations regarding seasons, size and bag limits.
Muskellunge were introduced to a headwater lake in Quebec years back and subsequently swam downstream. New Brunswick fisheries biologist Peter Cronin reported netting a 42-pound (19 kg) female two decades ago below Fredericton. Muskellunge require the use of steel leaders, heavy lines and specialized lures. I brought these along one summer. Eventually a large muskie attacked a heavy spoon I tossed while Alice turned the Kingfisher in a creek.
Monster striped bass also inhabit the St. John River. Attaining weights up to 99 pounds (45 kg), many striped bass on this river weigh in the 22-pound (10 kg) range. Eels and gaspereau are favourite prey.
The presence of Atlantic sturgeon came as a big surprise when we first anchored on Gagetown Creek, upriver from the village. I was casting a small lure to the shoreline edge, while Alice caught some sun. A fish as long as I am tall erupted out of the channel roughly 20 feet (6 m) away from us. Clearing the surface and head high, it crashed back into the creek. Confused about what it was, I had a few questions for local commercial fisherman Mark Henstridge that night at the Old Boot Pub. Mark provided details about the habits of Atlantic sturgeon.
Catching a sturgeon will never be part of my angling agenda. The experience would be like snagging a passing cement truck, and their delicate mouths could be easily hurt by ingesting a baited hook.
Last summer I fished a variety of bass rigs from the zodiac and had a great time catching seven fish species: smallmouth and striped bass, chain pickerel, yellow and white perch, speckled trout, and fallfish. One chain pickerel measured 28 inches (71 cm) in length. Every cast has a "What's next?" aspect on this river.
Beyond the spectacular scenery, the boating and angling fraternities bring a spirit of fun and camaraderie that bolsters the social times. We're glad to be sharing summer on the St. John, a river unlike any other in eastern Canada.