The joy of pickin' through the yard sales of treasures no longer treasured
WE EACH have favourite summer pastimes (fly fishing is tops on my list) but I manage to squeeze in a few other passions. That includes almost anything that involves getting behind the wheel of my car—I love to drive! The things that make me pull over include ice cream stands, fish and chip joints, food of any kind, or just opportunities to chat with strangers.
We have the best of all worlds on the East Coast—our provinces are small enough to get from side to side or top to bottom in a day, leaving plenty of time to explore for unique adventures. How many times have you been a few hundred miles from home and run into an old friend or relative accidentally? Or that stranger you chatted with in a restaurant or outdoor market turned out to be the friend of a friend who lived next door when you were a kidlette?
When these surprising meetings happen we often hear the expression "it's a small world." There is a theory that despite significant geographical distances, social distances are smaller. It's referred to as the Six Degrees of Separation theory; i.e., anyone can be connected to any other person on earth through a chain of no more than five acquaintances. Methinks it is more like Two or Three Degrees of Separation on the East Coast! Perhaps we should have our own Who's Your Daddy Theory! That's what being 'down home' is all about—sharing our own with our own!
Speaking of sharing, a YARD SALE sign can bring me to a screeching halt as I travel the roads. If I don't stop, I begin thinking about that Leonard rod or Bogdan reel (iconic fly-fishing brands that show up every once in a very long while) that I might have passed, so I dart back. Of course I haven't found those treasures yet, but I invariably find something that makes me smile—a useful (or even just fun) gem ends up in my car.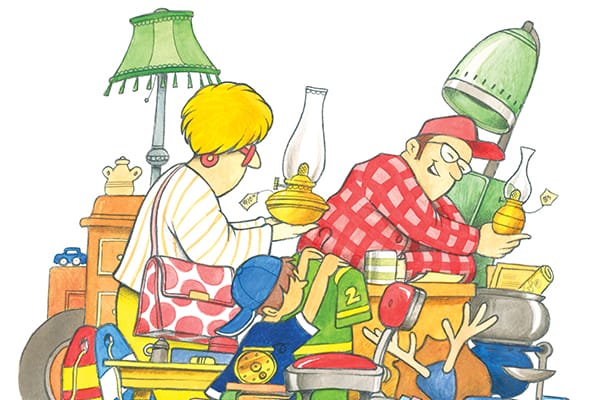 Summertime yard sales can be a weekend pastime for both sellers and shoppers. We live in the oldest part of the country so it is possible that all sorts of collectibles will find their way to the yard sale table. Usually it's old toys, dishes, outgrown clothes, unused exercise equipment—or just junk…
But sometimes items of real historic value can be picked up. Some sellers want get rid of old clutter only to start collecting new paraphernalia—and the game continues!
Treasure hunting goes on year round at Frenchys, auctions, on Kijiji and eBay and some virtual yard sales, but the fun ones are the tables in the yard or garage. That's where you can chat with the sellers or other shoppers. Sometimes neighbourhood children have a lemonade stand—remember when the signs said: Lemonade 5 cents? Now the price ranges from 25 to 50 cents; but if the kids are personable they often get a loonie.
One person's junk is another person's treasure is the essence of yard sales. I recall stopping at one several years ago along with my grandson Nori. I wouldn't give houseroom to any of the stuff, but Nori pounced on a beat up old guitar with a $5 sticker. He offered $2 and got it. I thought that the guitar would end up in my firepit, but he fixed it up, played it, then graduated to bigger and better guitars. It was a pretty sound investment in the genesis of a musical interest that has become serious.
The best yard sales are those driven by the three Ds—death, divorce, downsizing. De-cluttering falls somewhere down the list.
There is a sequence followed in the disposal of property after death. First the heirs take what they have been left or want; after that, items that may bring in significant sums are auctioned; the remainder is offered in the yard. You can often weave the story of a life well lived in the goods offered for sale.
If you come across a "Divorce Yard Sale" you know that you have hit the mother lode! Getting rid of things no longer needed, wanted or cared for can be therapeutic. If the assets are to be divided in the divorce proceeding and the seller considers him/herself to be an injured party, you can pick up treasures for next to nothing! Sometimes you have to listen to tales related to the breakup, but patience and empathy often result in super-duper deals.
Downsizing yard sales may yield family treasures or items of sentimental value. The sellers may be moving from a large house to smaller digs, be empty nesters, or they may simply want to spend money on travel rather than on high heating bills. Whatever the reason, downsize-sellers go through a range of emotional ups and downs as they see their treasures depart in someone else's car. They are usually excited about their new beginnings, but overwhelmed by letting things go.
A new type of yard sale has emerged over the past few years—the X-mile yard sale. Sellers within a certain geographical distance gear up for getting rid of their stuff on a certain day. Front yards, driveways and garages along the route are filled with previously enjoyed belongings looking for new homes. Potential buyers come from much further away to view and purchase new assets. It makes for an exciting atmosphere in the area.
Each year a unique yard sale is held in eastern Kings County, PEI. Six years ago Mildred McCormack of Souris, PEI started it for two reasons: as a fundraiser for a local non-profit organization, and to promote the eastern end of the Island. It was a success from the outset—sellers and buyers now come from the local area, other parts of PEI and neighbouring provinces.
Souris is representative of many East Coast towns—small, rural, with roots dating back more than two centuries. It is a vibrant community filled with people of all ages doing the things they love to do. Residents know and look out for each other; friendships are deep and lasting. It's easy to get volunteers to work on almost any project—community spirit is high, livin' is easy and the yard sale pickin's are good!
There aren't any downsides to the Eastern Kings Giant Yard Sale—it's win/win all round! A different local non-profit organization is picked each year to enjoy the revenue from the registration fees. The contribution grows as the event grows. In the past, an organization for mentally-challenged adults, a recreational facility, a local Special Olympics athlete and the Legion were all recipients.
Private and community organization sellers win by expanding their coffers. Buyers win by picking up that collectible they've dreamed about. Local businesses win by hosting those who swell their town to participate in the event. Advertisers in the 16-page booklet published to promote the event win by spreading awareness of their business or event into a larger community. And the yard sale organizers win partly by having their expenses paid by the advertisers, but most importantly their feeling of satisfaction of doing something useful for their community.
The yard sale was held in June this year, but put this site on your calendar for next year: easternkingsgiantyardsale.com. You may want to arrange your vacation around the event.
Over the years I've picked up so many yard sale things that my house is bulging—I might show up as a seller in Souris next year and see you there!