For almost 30 years Beverly McClare has been making herbal delights from her garden
IT ALWAYS feels like summer at Tangled Garden. Walk into the shop in Grand-Pré, NS, and your senses will go on delighted overload. Jars of jellies glow, gem-like, in windows and on shelves. Bundles of drying flowers and herbs hang from ceiling beams, posts and hooks on the wall; they're stuffed into baskets and vases, formed into wreaths and sculptures. Here, a basket full of stems of lavender gladdens the spirit and pleases the nose. There, two chairs are upholstered in drying chive blossoms, with a chalkboard sign that gleefully proclaims the seating is "reserved for gnomes, elves and fairies." And everywhere, the delectable smells of production—the tang of vinegar, the sweetness of heated sugar and honey and juice, the pungency of herbs—are wafting from the kitchen. It's pretty much irresistible, and the steady streams of visitors to the shop and the four-plus acres of gardens would agree.
One hundred jars a day. Six jars at a time. That's how Tangled Garden's chief cook, bottle washer and gardener, owner Beverly McClare, makes her herb-infused jellies, chutneys and other preserves. She gathers herbs, fresh fruit and vegetables from her sprawling gardens, and takes them to the commercial kitchen behind her shop, where she and her staff chop, slice, strain, boil and bottle their harvests. The majority of products are sold at the shop or at artisan shows in Toronto, Halifax, Ottawa and other large centres; a few shops in Nova Scotia and Toronto carry her products, and she does a booming mail-order for the rest.
Entrepreneurial spirit
Beverly claims she wasn't born a gardener. She wasn't born an artist or a cook or an entrepreneur, either, but those are all part of who she is, and all parts of herself that are expressed in Tangled Garden. A native of Hillsvale, Hants County, Beverly originally considered speech pathology as a career, but credits her father for her entrepreneurial spirit: "He was always self-employed, and I somehow knew I would be, too." She operated a small café in Wolfville for several years after university, then after closing that she purchased a handyman's special of a house and a bit of nondescript land in Grand-Pré, not far from what is now Domaine de Grand Pré winery.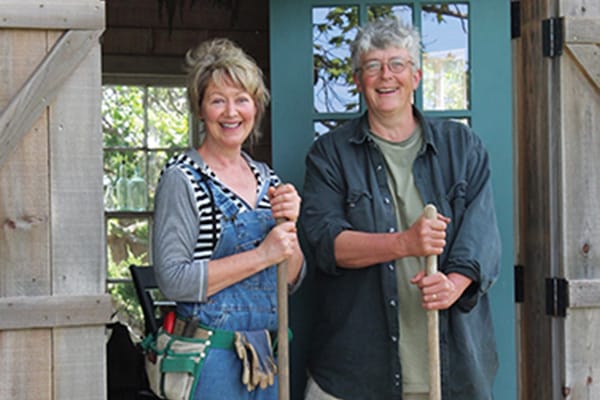 "The original owner of Grand Pré winery, Roger Dial, had me make him 1,000 grapevine wreaths," Beverly says, "and they were madly popular because no one knew how to make them locally. I had a new business, just like that." This first business was called Bloomers and because Victoriana styles and dried flowers were very popular, Beverly began growing many types of plants that would dry well for use in her wreaths. "I learned about unusual flowers like teasel, nigella, oat grass," she says, and she sold her products at craft shows around the province and in Toronto at the huge One of a Kind show and sale. In 1981 Beverly had read an article in Canadian Living magazine about an herb being suspended in a wine jelly, and that idea stayed with her. In 1991, an economic recession struck Nova Scotia, and suddenly Beverly needed to amend her business plans. "People didn't necessarily have the money for my wreaths, which cost anywhere between $45 to $400 at the time," she says, so she revisited the idea of herb-infused products, starting with vinegars and then adding jellies. "Their price point in recession was good, and so we began Tangled Garden."
An "edible landscape"
Today, Tangled Garden has more than 60 products in its inventory: savoury and sweet jellies, vinegars, oils, cordials, mustards, herb-infused honey, syrups, chutneys, salsas and herbal liqueurs. Beverly grows the vast majority of the herbs she uses, although sometimes she has to source more of a particular herb due to a crop failure. Early on, she recognized her passion for gardening was growing as steadily as her business, so she began purchasing adjoining parcels of land and expanding the plantings of what she calls her "edible landscape." Many plants from the gardens are used in the kitchen, including a wide selection of herbs but also edible flowers, berries from sea buckthorn to red currents, and fruit from a century-old quince tree. Others are purely aesthetic, and the whole garden is a delight to visit. The flower labyrinth is a spiral garden bursting with annual flowers; a nearby hillside is awash in sunflowers and ornamental grasses. A dry stream bed is flanked with a riot of colour throughout the year, and even the compost shed sports a living roof. Additionally, there are hardscaping features including rock walls and stone-laden pathways, and many unique pieces of garden art, most made by local artisans.
As the gardens grew, Beverly decided to open them to the public for a small fee as an additional draw; at least 5,000 visitors go through annually. Tangled Garden is a popular spot for wedding photography, and most recently for entire wedding events. "Opening the gardens to the public meant I could sort of justify the money I spend on them," Beverly says with a chuckle. In high gardening season, whenever possible she leaves the kitchen work to staff and takes off with trowel in hand to accompany longtime gardener Charles Harvey and friend and garden designer Nina Newington on planting adventures around the property.
Dedicated staff
What prompts Beverly to develop a new recipe? "We might have a bounty of something," she says. One year her basils produced exceptionally well, and Grape Basil jelly was born. Another year she went to the Calgary Stampede and needed "something to go along with all that beef," so she combined horseradish and apple to make her fiery Horseradish jelly. Sometimes, Beverly admits, serendipity plays in the creativity, as when a staffer misread a recipe and Ginger Lime Thyme jelly was the result.
Her longtime kitchen staff, Debbie McGloin and Jane MacInnis, also come up with ideas and then they all work together to refine a product. The slow food movement has attracted a whole group of enthusiasts who embrace local, organic, and fresh foods, and Tangled Garden products fit the bill nicely. For 22 years, Beverly's right hand in the kitchen has been Jane MacInnis. "She's a great researcher when it comes to methodology, has absolute attention to detail, and so much enthusiasm," Beverly says. She credits Jane for the research in techniques that resulted in their line of herbal liqueurs, which aren't distilled but rather infused with herbs in the same way that the oils, vinegars and other products are flavoured. "Since we had that process pretty much perfected, it was easy to start experimenting with flavours." She's always rolling out new products, and just launched a delightful new Spirited Cuke liqueur, which she describes as being "spicy cucumber with a dash of dill."
Beverly is proud to run her business from her home property. "I could be in an industrial park somewhere and have organic farmers supply me with produce, and manufacture much more of my products and wholesale across Canada, but I wanted to stay close to my roots," she says.
Running a small business is not without its challenges. Keeping a consistent source for Beverly's jars, bottles and lids can be problematic especially when companies aren't interested in selling small amounts to small businesses. Finding and keeping great help, especially for the garden, is difficult because it is seasonal and hard physical work. "I value my staff and want to pay them a living wage, and it's a challenge to do that when margins are so low," she says. "There are monies available from government for hiring students, but I don't have enough time to fill out all the paperwork, and then students go back to school just when we are busiest, September to December."
For years Beverly looked after all aspects of the business but has learned to delegate. "You think you have to be good at everything, and that stretches you thin, so it's best to pay people to do the things you don't have the time to do." Local woodworker Kirk Hazel makes the wooden crates and boxes she uses for some of her gift sets, while Bonny Lea Farm in Chester start her seeds for her every spring. She's considered opening a tea room to complement the shop and the garden but is simply stretched too thin to tackle it. If she could have more of anything, "It would be time. Time to find and fill out funding grants. More time in the garden. Time for photography." Her partner Ralph MacDermott is marvelous in the shop when she wants to escape to the garden or is gone to a trade show, and he also handles all the mail order work.
Beverly says Ralph keeps trying to help her see the future and how she cannot keep growing her business indefinitely. But she says, "Although it's possible I could sell off the culinary side of the business at some point, the gardens will carry on." She describes the garden as being more of a vocation and a living artist's canvas than a business, saying, "As long as I am physically able to garden, I will—the plantings just might become a little more tangled!"