The plucky resourcefulness of Atlantic Canadians kept the holiday spirit alive, despite deprivations
EVEN THE most cursory glance at December issues of newspapers and magazines published in Canada during the Second World War is sufficient to suggest that the festive season was not the sort of celebration that had existed prior to the war, nor was it as we celebrate it today. The print media was heavy with war-related stories, many of them reflecting on the hardships of those serving overseas, as well as those carrying on with their lives at home.
Nonetheless people did not ignore the season and the Christmas spirit prevailed—although preparations were simpler.
There were difficulties getting gasoline, tea and sugar, and turkeys were scarce. Chocolate, toys, sleds and clothing were hard to get, too. Travel was not easy, but if you could travel, the trains were always on time given the military depended on them. Blackouts were widespread, which all but eliminated outdoor decorating, but did not seem to limit community-wide indoor celebrations around huge, well-decorated trees. But many an individual household had an empty place, or even a couple at the table when they sat down to Christmas dinner.
Across the country, on December 24, 1943, the Vancouver Sun commented on "ransacked shelves and counters of stores," specifically mentioning "less liquor and less candy."
The same year, the Winnipeg Free Press noted, "gasoline quality will be lowered," and there was a "new cut made in wine ration."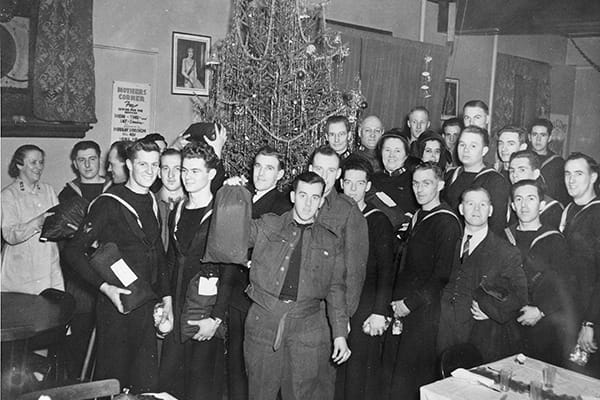 In the Toronto-based Globe and Mail, Neilson's took out an advertisement to apologize to those who couldn't get their favourite Neilson's chocolate bar, noting they could not make enough to fulfill demand until the biggest job, "winning the war," was done.
On a more serious note, an editorial stated, "the joy of Christmas will be marred by the temporary absence of some member of the family." For those lucky enough to have a home, as news columns also noted, "scores of [munitions factory] war workers unable to find adequate living accommodation" were relegated to drafty and ill-heated cabins.
An editorial in the Montreal Star argued that it seemed "inconsistent that we should talk about a merry Christmas" during a period of war, yet, pointed out there were indications that conditions were improving.
Sentiments in Maritime Canada echoed those across the nation. In December 1943 the Maritime Advocate and Busy East ran a poignant sketch of a saluting baby dwarfed by a huge airman's hat, with the words, "Canada Salutes a New Year—One Year Closer to Victory."
The Halifax Herald and The Halifax Mail exceeded the efforts of most periodicals when editorial writer Frank W. Doyle and resident artist Robert W. Chambers combined their talents to produce a 30-page booklet called "Halifax in Wartime," in 1943. Though it does not specifically mention Christmas, it does give an evocative view of conditions in the port city, noting it had taken on an "international aspect shared by few, if any other ports on the continent." At the time, Mayor William E. Donavan estimated that although the latest census had put Halifax at 69,000, more than 100,000 people were now living—or trying "to find a roof over their heads"—in the city.
The Summerside Journal noted there was a "freezing" order on all rubber tires, and that railway employees were prohibited from using their passes during the Christmas period due to the heavy armed forces loads expected.
Though not yet a part of Canada, Newfoundland, being closest to the European front, was experiencing the same deprivations as its Canadian neighbours. An editorial in the Daily News noted there was a "certain cheerlessness" prevailing due to the blackouts, as there were "no coloured lights in the windows… no reflections of cheerful fires… and no multicoloured lights on Christmas trees" in St. John's. Also noted was a widespread sharing of the scaled-down celebrations with service personnel who were invited into the homes of the community, which the editors noted as "the Christmas spirit in its finest form."
Personal memories
Barbara Lordly grew up on Alexander Street in Saint John, NB, and was attending the nearby Vocational School on Douglas Avenue during the war. She recalls patriotic assemblies, war bond drives and making scrapbooks to send overseas.
"We were very much aware of the war effort," she says, adding, "each day as normal classes ended, the steps leading up to the front door of 'Voc' would be lined with military men to go into the school at 4:30 for evening training." Her dad was among the teachers and, as a result, "we got candy bars when no one else could," she says, laughing. Although she doesn't recall a scarcity of most goods at Christmas, she admits that perhaps her parents hid this from her.
"I know turkeys were hard to get," she says, and told of chasing all over town to find one, then bringing it home from uptown on a streetcar. Their tree came from King's Square and to save money, they'd drag it a mile or so home.
"Our tree was lit," she recalls, "but if the blackout warden saw it, he'd knock on the door and let us know our lights were showing."
Another Saint Johner, Ken Bradley, recalls that as a boy of 14 he was paid $5 a week during the war making candy on the third floor of a store on Main Street.
"At Christmas, the store owner somehow got bags of sugar. They were hard to get, but he got them and we made ribbon candy and barley toys. Boy, as soon as they hit the counter of the soda fountain, on the first floor, they were gone," he recalls.
Though now retired in Saint John, Ruby McNeill grew up in Summerside, and was in school when the war began. She went off to Nova Scotia's Acadia University to study, but always went home for Christmas.
"As I recall, there was no sign of Christmas at school," she says. The train trip home was always crowded with military men. But on the positive side, she recalls, "the trains kept to a schedule, unlike pre-war times." Upon arriving home, she was informed that her parents invited a couple of boys from the nearby Commonwealth Air Force Training Base to join the family for Christmas, but had done little preparations for their arrival. That was to be her job.
"I'd have to decorate the tree, go to Holman's and Smallman's stores and shop for gifts, get the food, the whole thing in a day or two. Boy, it was hectic. But everyone was doing it," she noted, adding, "there were probably 3,000 men at the base, and very few places for them to stay off base."
On Christmas Day, Ruby's family would go nine miles by train to Kensington to spend the day with her grandparents, and have a full Christmas dinner. "They owned a store there, so they could get most anything," she says, "and though there was rationing, somehow, they put on a good dinner for us and our men."
There were also church services, carol sings, skating outings and dances. "Some of the gals met men and got married as a result of these Christmas invitations," Ruby says.
Toronto resident Bob Vincent grew up in Digby, NS, and was 11 when the war broke out. "It did not have much effect on us at first," he recalls, adding, "as time went on, it became difficult to get meat, sugar, coffee, tea and butter and we would seldom buy bread, cakes or pies," noting, though, "we made our own at home as did most households."
Being near the Cornwallis Naval base meant blackouts happened quite often, and there would be air raid practices, too. A bonus, Bob recalls, was that sailors coming off the Digby ferry would give his brother "the occasional chocolate bar," which he said were hard to get.
Despite the war effort, Bob says there was always a well-attended Christmas concert at his school, Digby Academy, where students would draw names to exchange gifts. He remembers the singing of the national anthem and "God Save the King" began each day, and, at Christmas, the King's Message, by George V, was broadcast on radio.
On Sunday after church, which was always packed with service men, Bob remembers his mother once invited a sailor at the service to join the family for chicken dinner, which he said was more common that turkey on Christmas day.
Despite the hard times, he adds, "our parents did their best, and we always enjoyed Christmas."