Winning kudos for entrepreneurship and innovation, it's the people and university that give Fredericton its creative edge
ON A BRIGHT September morning, a racing scull sliced through the still water of the Saint John River at Fredericton. The crew rowed past the downtown shops, Beaverbrook Art Gallery, provincial legislature, neo-gothic Anglican cathedral and a neat row of Victorian houses set like jewels along the riverbank. Behind these waterfront treasures, the University of New Brunswick campus sweeps up "the hill," its white trimmed, red brick neo-Georgian buildings cheerful among the still green leaves of the urban forest.
Grand masters and choral voices soaring toward the heavens might seem the perfect portrait of a traditional, old-fashioned university city. But spend time in today's Fredericton and you'll find edgy artist-run galleries, the enormously popular Harvest Jazz and Blues Festival, a diverse population with hundreds of international students and a thriving Korean community. Visit the Boyce Farmers Market on a Saturday morning—named as one of the top ten farmers markets in the country—with hundreds of stalls and outside vendors selling falafel, crepes, sausages, even gluten-free pad Thai.
Maybe something's happening here.
No maybe about it.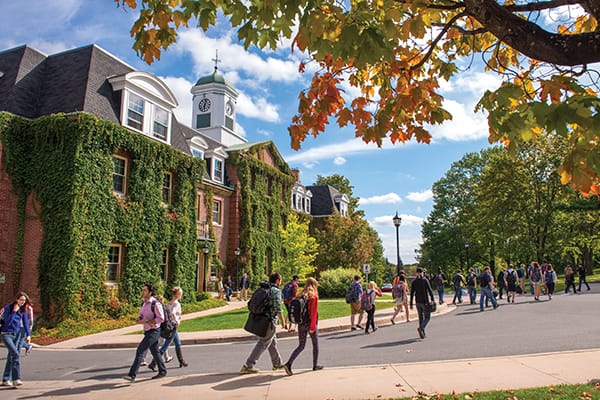 With a population of just a bit more than 56,000, Fredericton is a small but lively centre—a city that punches well above its weight.
Another crisp fall morning saw seven-term mayor Brad Woodside settling in for a long flight to Dubai. He was on his way to share insights into his city's enthusiastic and successful use and development of information technology, and to talk about how Fredericton managed to accrue budget savings without eliminating jobs. Interesting. Big Dubai seeks advice from small, smart Fredericton.
Smart from the start
The Maliseet people spent their summers and grew their corn on a spit of land at a bend in the river they called Woolastook or Beautiful. Approaching enemies had nowhere to hide. The French, English and Loyalists who came later liked it for the same reason. So whether you call it Sitansisk, Pointe-Sainte-Anne, Ste. Anne's Point or Fredericton, this has always been a smart place with smart people.
"About 20 years ago this city, together with our business community and university's, decided to develop our fledgling IT sector,"says Mike O'Brien, city councillor and chair of development, "In 2003 we launched Fred-eZone, a community-wide wifi-network that gives residents, visitors and businesses free mobile broadband access. That really put us on the map and attracted even more business."
Smart people kept coming and the business sector is thriving. That, coupled with stalwart economic pillars like government, university and service industries translates to financial stability, even growth. Construction of a bigger and better performing arts centre is on the horizon and over the last few years two arenas (one with an Olympic size surface) have been built, along with the replacement and renovation of all the city's full-size outdoor pools, a new trade and convention centre and Knowledge Park—a centre for excellence within a cluster of modern buildings at the top of "the hill."
Created by the city and UNB, Knowledge Park is driven by the private sector and populated by high tech entrepreneurs, researchers and Planet Hatch—a business incubator for innovative minds, with mentors to help them develop business models, raise capital and execute their plans.
Entrepreneurial spirit
HotSpot Parking, a smart phone application that allows you to top up the parking meter from your mobile phone, is a recent business startup that came through Planet Hatch. A success in Fredericton, Saint John, Moncton and Charlottetown, it's moving into Toronto and major US markets soon. Other IT success stories include Skillsoft, a pioneer in the field of learning and talent management, and Radian6, builder of social media monitoring tools and now part of the cloud computing giant Salesforce.com.
In 2010, Industry Canada gave UNB top marks for its support of entrepreneurship education and just last year the university earned another entrepreneurial award from StartUp Canada.
UNB president Eddy Campbell is proud of the university's role in encouraging innovation and supporting research initiatives, such as the renowned Institute of Biomedical Engineering, which in 2015 marks its 50th anniversary. The institute is home to a prosthetic clinic focused on upper-limb prosthetics, designing "smart prosthetics with myoelectric controls—like hands that decode information from nerves in the arm so when the brain says 'close the hand,' the hand closes," says Campbell.
Another project, initiated by the faculty of nursing, not only exposes students to a broader base of patients, it's an example of social justice in the entrepreneurial spirit. "They set up a downtown clinic to serve the homeless and addicted… the poor. It more than pays for itself in the saving of health care dollars," says Campbell.
A sense of place
Dr. Dhirendra Shukla, professor of engineering and chair of UNB's J. Hebert Smith Centre for Technology Management and Entrepreneurship, believes much of the innovation coming out of Fredericton is, in part, due to its location. "These things happen because you connect the dots, do interesting work, and do it all without sitting in traffic for an hour on your way home. The UNB campus is like Newton's apple orchard—you can sit under a tree, look at the river and just think."
Students are also drawn by UNB's beautiful surroundings, as well as the university's reputation. Kurtis Layden came from Alberta because the interdisciplinary undergraduate leadership program at Renaissance College is unique in Canada. Alyssa Whelan from Labrador City has high praise for her science and kinesiology program, but the city and campus were a large part of that draw. "Fredericton was the perfect size for me. Everything I need is in close proximity to the university and the UNB campus is absolutely beautiful, especially during the fall."
More than half of UNB's 82,000 living alumni live in New Brunswick, and Fredericton has more than its fair share of them—all contributing to the city's prosperity and culture.
Getting involved is part of the culture here. Canada's oldest independent publishing company, Goose Lane Editions, was founded in 1954 as Fiddlehead Poetry Books by Fred Cogswell, an English professor at UNB and publisher of the university's literary magazine, The Fiddlehead (now in its 70th year). Today the Canada Council for the Arts describes Goose Lane as "one of Canada's most exciting showcases of home-grown literary talent."
The city has a rich literary heritage. In 1947 Fredericton was named Poets' Corner of Canada in recognition of the poetry of Sir Charles G. D. Roberts, Bliss Carman and Francis Joseph Sherman. There is a monument to them on campus, where they all attended, and all three are buried in the Poets' Corner at Forest Hill Cemetery. In 1983 Alden Nowlan, long time New Brunswick journalist, acclaimed poet and writer-in-residence at UNB, was buried there with them.
Poets still live here, of course, and many of them attend Odd Sundays—"Fredericton's longest-running, semi-monthly, perpetually-hyphenated, poetry-and-more reading series"—at Molly's Café on Queen Street. "I go whenever I can," says M. Travis Lane, a Fredericton-based poet recently shortlisted for the Governor General's award for her 15th book of poetry.
Inspiration is all around, from the collections at the Beaverbrook Art Gallery and other art spaces to the New Brunswick College of Craft and Design, Fredericton's full of creativity.
Just ask mayor Woodside. Before his keynote speech in Dubai, he says this: "Fredericton is so cool, if I didn't live here I would have to move here."