If immigration is key to our economic future
Every language and dialect has a word or phrase to describe a "stranger, foreigner, outlander, incomer, newcomer"—and that uniquely quaint American term "alien" (as though non-Americans are some kind of separate species from outer space).
But very few places appear to have actually coined a special word or phrase to describe people who are not from here.
We found a couple, but they're pretty negative. The Japanese word "baijo" is a pejorative special term for strangers.
And for Navajo Indians "belagana" means something like "dumb white person".
But none we found is so colloquially expressive as "come-from-away". It's neither negative nor positive, just descriptive.
So is it meaningful at all?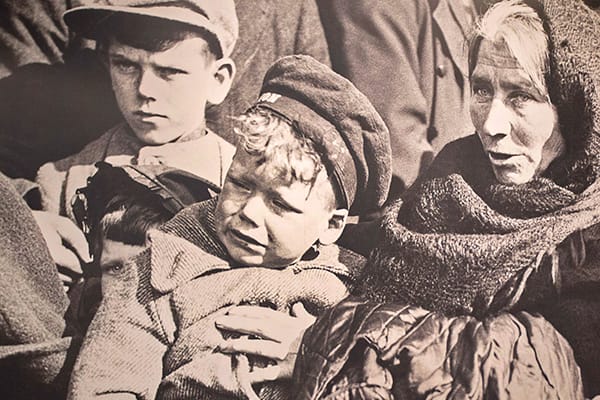 Nobody can claim East Coasters are anything but open and friendly to new faces—at least superficially. Tourists rave about the wonderful warm reception they receive here.
And "Come From Away" is the title of a well received musical show based on the story of the remarkable and heartwarming reception perfect strangers received in Gander, Newfoundland in the days immediately following the September 11, 2001 terrorist attacks in the US. No fewer than 38 grounded airliners and almost 6,600 confused and frightened stranded passengers and crew were comforted, fed, hosted and entertained by a community of give or take 10,000 (including the kids). A documentary film was also made of the event.
Before that we had Nova Scotia's Sikh boat people.
In July 1987, 174 Punjabi Sikhs fleeing violence in their homeland were unceremoniously off-loaded on a beach in Shelburne County on Nova Scotia's South Shore by people smugglers. They had absolutely no idea where they were and simply began wandering along the highway near the fog-shrouded community of Charlesville in the wee hours of the morning.
The local community immediately rallied. People flocked out of their homes to feed, water and comfort the obviously thirsty, hungry, exhausted, and utterly bewildered group.
Those folks have since established themselves mainly in Ontario and British Columbia. Most have been successful with fine homes and good jobs and businesses. At least two are reported to have become millionaires.
But, of course, not all immigrants are refugees. While we respond with immediate compassion to foreign refugees in crisis (currently Syrians), it seems the general response to "foreign" (mainly meaning culturally different, as opposed to European extraction) immigrants is, well, a bit different.
The recent celebrated One Nova Scotia (Ivany Commission) report, for instance, found the following:
"Our telephone survey of Nova Scotians indicated that attitudes on this issue were somewhat more mixed. It found that Nova Scotians appear to be very welcoming to newcomers from other parts of Canada, but appear somewhat less welcoming to immigrants."
And this: "Rural residents appear to be less accepting of immigrants than their urban counterparts…"
(While about 80 per cent of Canadians live in cities, half of Atlantic Canadians are rural dwellers, but it's unclear whether we can make an assumption that overall attitudes are similar in the other three Atlantic Provinces.)
Those who were sufficiently engaged to actually attend the Nova Scotia commission's hearings, however, were overwhelmingly in favour of increased immigration.
But the telephone survey found that while Nova Scotians generally agreed the province's population needs to expand to produce economic stimulation, fewer than half agreed immigration is the way to do that. There is apparently a prevailing fear that immigrants will snap up local jobs.
Which is interesting—because the rapid population and economic growth enjoyed in the Maritimes during the 19th century was almost entirely related to immigration. And immigrants in Nova Scotia, at least, tend to be very successful compared to immigrant populations in other parts of the country—and to locals. Again, the Ivany report:
"Approximately 42 per cent of immigrants residing in the province have a university education, compared to 17 per cent of the non-immigrant population; and, unemployment rates of immigrants in Nova Scotia is 7.4 per cent, compared to 10 per cent for immigrants across Canada."
A prevailing theme threaded right through the One Nova Scotia report is the need for an overall attitude adjustment.
Glynn Williams is the now well-known and downright amazing Toronto Bay Street guy who has effectively adopted the economically hurting (but beautiful) town of Guysborough, NS, and invested his own cash to open a plethora of local businesses—an award-winning inn, a golf resort, a pub, a café, a distillery, a brewery, a coffee company and a bakery—so far. Yet the initial local reception afforded this "come-from-away" as he bought up properties was less than congenial. The detail is not important, but the reality confounds most people.
In 2008, the Nova Scotia Liberal Party debated the following resolution:
"The terms 'CFA' or 'come-from-away' can be hurtful and does not project the welcoming society needed to attract and retain newcomers to Nova Scotia. Be it resolved that the Nova Scotia Liberal party urges members and all Nova Scotians to refrain from using the term 'CFA' to label newcomers to Nova Scotia."
Obviously that initiative went nowhere but, in fairness, it was in the context of an attempt to mitigate the fallout at the time from a failed and crooked immigrant placement program.
The fact is, Canada's carefully constructed points-system immigration policy (compared to the wide open system in the US for instance) has assured the country benefits economically from the arrival of "come-from-aways".
But, the eastern provinces have not been very good of late at attracting and retaining immigrants and, except for PEI, still aren't. Until 2006, Ontario was attracting 54.5 per cent of Canadian immigrants while the Maritime provinces attracted fewer than 1 per cent, even though we constitute more than 5.5 per cent of the national population.
That's improved somewhat. By 2011, almost 3 per cent of all immigrants had settled in the Maritime provinces.
Prince Edward Island has done particularly well with a 600 per cent increase (albeit from a very low starting number) to where it should be statistically—and employment statistics reflect that. Both New Brunswick and Nova Scotia have also expanded immigration compared to a decade ago, but are still nowhere close to where they need to be. Newfoundland and Labrador has doubled its annual immigration numbers in recent years—to 800 or so a year.
Clearly, we have a way to go. Provincial studies have predicted that within five years the working-age population of New Brunswick will have decreased by 30,000, while in Nova Scotia the working-age population will have declined by 100,000 (20 per cent or so) within 20 years. Obviously that's not an economically sustainable scenario.
What's missing in the current and negatively evolving social reality is the hunger, energy, education and entrepreneurism new Canadians almost inevitably bring to the table. We simply do not have enough of them coming here—and even when they do, retention rates are just plumb awful.
Nova Scotia's feted Ivany report recommends a tripling of immigration.
We propose, in coming issues, to profile "come-from-aways"—immigrants as well as those who have come to the Atlantic Provinces from other parts of Canada—as a service to readers who, like most, might be fearful of what the economic future holds for the region.
(Editor's note: Editor-in-Chief Jim Gourlay emigrated to Canada from the UK in 1968 and declares his bias on this subject.)