How Hunter Brothers Corn discovered a future in a field of fun
Florenceville-Bristol, New Brunswick is famous for two things: its historic bridge spanning the Saint John River and potatoes, French fries in particular. But for the past 20 years, Chip and Tom Hunter have been quietly putting it on the map for an entirely different reason. Hunter Brothers Corn has become known around the province for their hydro-cooled sweet corn, their six-acre corn maze and their field of fun fall festival.
Finding The Right Crop
In 1890, Chip and Tom Hunter's great grandfather and grandfather—both of whom were lumbermen—purchased the land the farm now sits on. Four generations of Hunters have farmed and harvested lumber on the picturesque property situated along the Saint John River in the heart of Florenceville-Bristol. The brothers went off to pursue studies and careers, but a few years after their father passed away, the pair were drawn back to farming. At 27 and single, Chip Hunter, the eldest brother, came home to start farming with younger brother Tom, who was reluctant to leave his now widowed mother. They planted their first crops in 1978 and gradually added what equipment was lacking on the farm.
Growing potatoes for McCains for French fry production was a safe option at the time, but would have meant building expensive storage barns, and the loss of independence as farmers, recalls Chip. With several productive hayfields, the brothers chose instead to grow and supply hay to local farmers and the McCain feedlots. They also tried their hand at growing turnips, "It seemed to be the thing to do at the time, as prices were good. But growing turnips meant you had to let the land rest for up to seven years before you could plant them in the same soil, and this just wasn't feasible," Chip Hunter says. The brothers' mutual love of sweet corn gave them a new direction in 1980. "It was hard to find a decent sweet corn at the time and, we thought if you could grow good sweet corn it should sell well." That year they dedicated three acres to growing what would eventually become their trademark product.
A Kernal Of An Idea
The Hunters knew very little about growing or harvesting sweet corn, so they turned to an agricultural pamphlet that advised the cobs should be cooled as soon as harvested. The brothers assumed everyone was chilling their fresh picked cobs, so determined to do the same. Turns out, that's not necessarily the case. Now, Hunter Brothers hydro-cooled, bicolour, so-called "peaches and cream style" corn is a highly sought after local delight.
In the beginning, they marketed through a U-pick. Gradually expanding their corn fields to 60 acres, throughout the 1980s they supplied grocery stores from Fredericton to Saint John, as well as several private markets in southern NB. When supermarket produce managers lost their purchasing autonomy, Hunter Brothers corn was removed from the produce aisles to make room for out-of-province suppliers. The brothers reduced production to 20 acres, and by 2015 left all wholesale business behind. Today Fredericton's Boyce Farmers' Market and the farm stand are the only place to purchase their signature, hydro-cooled, corn.
"When the wholesale business went south on us, we built a market stand right on the farm. The first five years were great, but then we hit another plateau," recalls Chip Hunter. "My wife and I went to New Hampshire on our anniversary, and spotted a farm stand called Chipman's. I told her it was a sign." They chatted with the owner who asked if they had ever been to the North American Direct Farmers Association meetings. "We hadn't, but decided to make the 10-hour drive to New York state that year to see what it was all about." The conference showcased the creativity of farmers struggling to make a living growing food. Many farmers had turned to amusement park style entertainment. The couple were amazed at what people were doing, but much was out of reach for them at the time. "Then someone gave a presentation about growing a corn maze. And I said, 'that's what we're all about, we can do that!''' Chip recollects.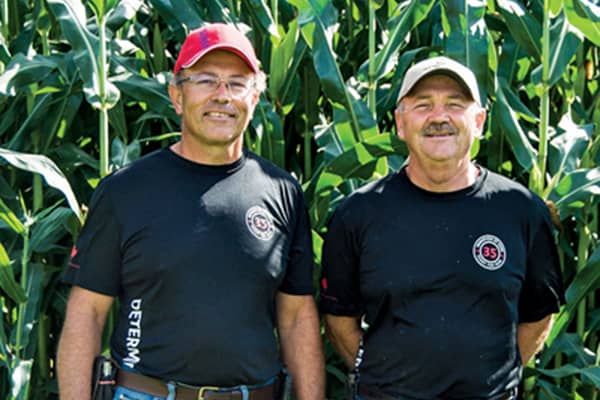 Reaping Rewards
In 1996 they planted an acre of cow corn (high-starch corn used as cattle feed, tall-growing and ideal for a maze), and designed a maze of New Brunswick. The major highways became the paths for people to wander through. It attracted more fall shoppers, and was good for kids. Chip Hunter offered to do a tour with his son's kindergarten teacher. "We gave them hayrides and talked about how to grow corn." Hunter says. "Talk at the time was about reconnecting and reintroducing kids to where their food comes from. Before you knew it, word spread and calls started coming in from other teachers. We began to realize there might be a business in it." Themes for the maze have become a tool to commemorate different events. Over the 20 years since that first map of New Brunswick, designs have included hockey players, the 400th anniversary of the Acadians, The Cat in the Hat and Thomas the Tank Engine. In 2015, a remarkable likeness of Terry Fox celebrated the 35th anniversary of the Terry Fox Run. This year's theme celebrates 40 years of the Blue Jays baseball team.
It became apparent people wanted more to do on their visits to the maze. Now in its sixth year, the Field of Fun Fall Festival takes centre stage for six weekends in September and October. Pumpkins, straw castles, slides, a pig race, a giant pillow for jumping, and peddle go-carts are just a few of the attractions that keep families coming back year after year. The corn cannon helps visitors hone their sharp shooting skills, and a cabin filled with dried corn is a cool retreat for the feet and a place for kids to play. "It's like being on a sandy beach but without the trouble of cleaning sand off your clothes," says Trish Crowley, a mom of two rambunctious boys who simultaneously dump buckets of corn on their mom's head. "We came four years ago and loved it. It's a family affair each year. The kids kept asking how many more sleeps until it was time to come. Seven family members made it out this year, and only two of those are kids!" Adults can have just as much fun as the children, as is evident in a middle-aged couple caught shooting cobs from the corn launcher.
Tom, the less talkative, but equally amiable, brother especially loves to see city folk enjoying the beauty and nature offered, "It's so beautiful here and not everyone gets to experience that."
The Corn Cabin was added in 2015, and plans are in the works to add more refreshment stands, more picnic tables and a shelter to get out of cool weather. "We never thought we'd be as big as some of the operations in the USA, but we're getting there. In another five years we hope to have as many as 10,000 or more people a year," says Chip Hunter. As it stands, the Field of Fun attracts upwards of 5,000 happy adults and children—a big boost to fall tourism—in the brief window of weekends. Hunter Brothers Corn is also a boon for young people in the area looking for employment, "We only hire high school students for the Field of Fun," Chip Hunter explains, "When they grow up they bring their children back and recall working here as the most fun they've had in their lives."
Planning For The Future
Though the brothers look much younger than their chronological ages, they're realistic when considering the years ahead, "Our age means we'll be focusing more and more on the entertainment side," says 66-year-old Chip. "We'll always have corn and other vegetables, but the entertainment side of the business is more profitable and less labour intensive."
Tom, 63, anticipates working it as long as is physically possible, "I'll be here until there is no more future left for me. The Field of Fun is our retirement plan."