Three newly-released books by local authors each take a unique look back at the Halifax Explosion
It's an incident that has been taught in history courses, written about in books and plays, reproduced in miniseries and documentaries and artworks—it even had its own Heritage Minute. On December 6, 1917, two vessels—the Belgian relief vessel Imo and the French munitions-laden Mont-Blanc—collided in the Narrows of Halifax harbour. The collision ignited the French vessel's cargo and there was a tremendous explosion, the largest ever recorded until the nuclear blasts that hit Hiroshima and Nagasaki during WWII. More than 2,000 people lost their lives immediately or in the days following the explosion, and 9,000 were injured seriously. The blast leveled a significant part of the city of Halifax, and aid came from around the province, the region, and beyond. In gratitude to the city of Boston, Halifax sent a huge Christmas tree to in 1918, a tradition that was revived in the early 1970s and continues to this day.
Those are the basic facts of the event that happened a century ago. Now, three new books have been added to the collection of those that tell the tale of the explosion. The three books each take different angles, and are meant for varying ages of readers.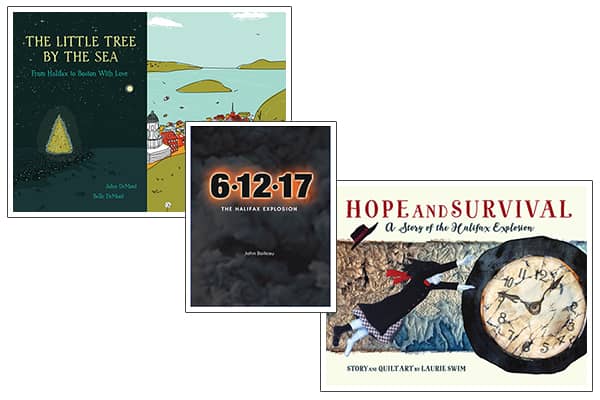 The Books