From fiction to fashion
My inner geek is rejoicing. If this isn't heaven, it must be pretty close. At least for a science fiction nerd.
I'm at the worldwide headquarters of Abbyshot Clothiers—"Where heroes shop!"—in Mount Pearl, NL. Yes, you read that correctly. Abbyshot Clothiers makes screen-accurate clothing based on science-fiction and fantasy movies, video games and television shows. Since 2002, Bonnie Edgecomb and her team have been creating and selling their products to sci-fi fans in more than 50 countries around the world.
Here's the hugely popular Captain Mal Reynolds "browncoat," from the short-lived but cult-favourite series Firefly and the follow-up movie, Serenity. A collection of woollen knitwear—scarves, shawls, fingerless gloves—is spread out on a workbench, destined to join the woollen plaid shawls, ties and caps that are part of the popular Outlander show.
Oh, be still my heart! Here is a collection of coats and accessories from my most favourite series of all time: Doctor Who, in both its original iterations and its reboot from 2005. For more than 50 years, fans of all ages have been following The Doctor and his flying machine, the TARDIS, as he has adventures forward and backward in time throughout the universe. Sadly, you can't buy a TARDIS, which looks like a British police box from the 1960s and is bigger on the inside than it is on the outside. But you can buy replica coats from a number of the various reincarnations of The Doctor. (Plot point: To carry a show through so many years of popularity, the plot device is to have one doctor undergo a reincarnation as a new face. We are currently on incarnation number 12, most ably played by Peter Capaldi.)
It's a very good thing I brought my big suitcase with me on this trip.
Watching my obvious delight at seeing all these treasures is Bonnie Edgecomb, the youthful 61-year-old CEO of Abbyshot, or, as she gleefully calls herself, the "Creator of Exciting Opportunities."
How it all got started
Abbyshot's story begins with Bonnie's home sewing business, which she ran for more than 20 years so she could making a living while raising her daughters. She and her daughter Julia, who continues to work with the company, sewed costumes, formal wear for weddings and outfits for the many choral and dance organizations around Newfoundland and Labrador—and utterly loved doing it. One day, a couple of young guys approached her, wanting to know if she could create a coat like the one worn by the hero Neo in The Matrix movie. "I said I'd give it a try," Bonnie said, "and someone bought it almost immediately. We took the money from that sale and bought enough fabric to make two coats, and before we even had those finished, we had orders for four more! So we made up a web page and started from there."
Hilariously, Bonnie wasn't a science-fiction fan when she started down the road of making replica garments. Someone came to her and said, "You have to make a Doctor Who coat," to which she replied, "A Doctor WHO?" "I truly had no idea what they were talking about!" she says with an infectious laugh, "but we had so many requests for clothing from that show, we soon found out." She began researching the long-running science-fiction series with its many Doctors and learned about the need for licensing from the British Broadcasting Corporation (BBC) to be able to sell gear bearing the Doctor Who logo. But she also realized quite quickly that her own desire for accurate detail and for doing things right would help along the way. "We went the extra mile to get the detail, every single thing as close as possible to the real coat. That's what has helped us become and stay the leaders in what we do, because we pay so much attention to everything, from thread to cloth to buttons!"
Dealing with licensing with such popular and venerable companies as the BBC and BBC America is fraught with challenges, but Bonnie says firmly, "We don't believe that anything is unreachable. We just figure out how to do something." She negotiated to sell a certain number of coats in their first three-year licensing term, and the people at the BBC were very helpful in sharing images of, for example, the Tenth Doctor's coat, the Pantone colours used for colour accuracy, the buttons for each garment and other details to help Bonnie and her team create a garment that was as close as possible to the one seen in the show. Over the years Abbyshot's team has nurtured a very supportive relationship with people in the costuming and marketing departments at the BBC.
The design process
How does the Abbyshot team go about creating a new piece of apparel? Bonnie says, "We capture all kinds of images from our customers, who ask us and beg us and promise us their first-born (we didn't take up that offer!)." If needed, they'll develop focus groups of fans for a particular product who are invaluable in finding samples and swatches of fabric and things like the ever-important buttons. Bonnie continues, "We do a technical sketch with every single detail, send it off to our manufacturers and get them to make a sample. When the sample comes back, if it's not right, we'll send back notes about what needs changing."
Bonnie says her team (she rarely uses the word "I" in a sentence when referring to her company, always "we") are particular about everything from how the buttonholes are done to the colour of the coat lining. Sometimes they'll go back and forth a half a dozen times before they send it to the licensor for final approval. "We're fairly passionate about what we do to make it all perfect for our customers," she says. "We couldn't do what we do without the staff we have."
Not everything that Abbyshot makes is licensed through the BBC. The suede "browncoat" made famous by Nathan Fillion in his role as Captain Mal Reynolds on Firefly is licensed through Twentieth Century Fox, for example. While more than one company can, in theory, be licensed to produce a product, licensors tend to be protective of their licensees like Abbyshot, who are making top-quality wearable clothing, not cheap one-off costumes for this year's Halloween party.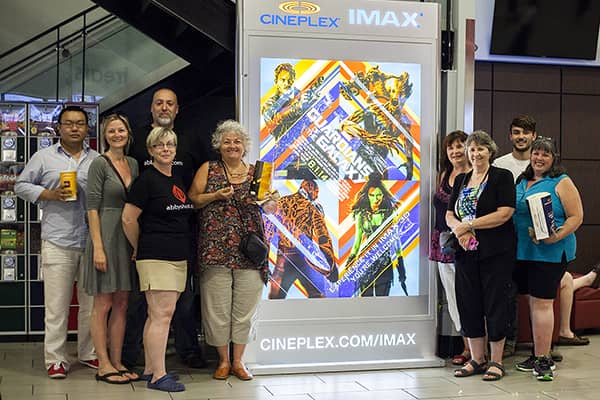 Apparel from Abbyshot isn't cheap—coats, for example, start at $129 USD and go up from there, although many smaller items are much less expensive, and there are great sales announced regularly through social media and the company website. Bonnie says people want quality and the company wants to make garments that will last for years, whether it's a Fraser tartan tie from Outlander or any of the Eleventh Doctor's various jackets. "People in fandoms want what they want," and science-fiction fans are no exception. At a fan expo, "they come running up to us with rolls of bills to buy the item they want, and they're so, so happy! And that makes us happy too."
It's not all warm fuzzies, of course. There are challenges in running a company that has such a specialized market. It became evident six years into the business that they were not going to make any money if they kept sewing all the garments themselves. Abbyshot has warehouses in Northern Ireland and Georgia for international-shipping purposes, and occasionally there are minor glitches in tracking and shipping inventory. The company does a limited number of sci-fi conventions and expos in larger cities in North America and Europe each year and has a thriving mail-order business. By and large, cash flow is the biggest challenge. They have many requests to make new products. Bonnie says they receive many requests from fans and customers, begging them to do a line for the BBC series Sherlock. She has done some background research on fabrics and even has a manufacturer lined up who would produce the gorgeous coat made famous by Benedict Cumberbatch in the lead role. Currently, she isn't willing to explore introducing new products when the economy is sluggish, because of the time and expense of doing so. That being said, she did offer the teaser that Abbyshot has numerous products coming out soon. She told me what some of them are, but I can't tell you on pain of death! You will have to visit the Abbyshot website or Facebook page to find out for yourselves.
Pride of place, pride of team
Bonnie is fiercely proud of being a Newfoundlander with a worldwide business that remains based in her home province. "I want people to know that you don't have to be in a huge city to run a global business. We've figured out how to move product from our suppliers to our warehouses to our customers all over the world. Everyone who works here is excited to come in to work, whether we're dealing with numbers or customers or samples, or going to movies to do research for future products. Tough job, but someone has to do it! It's like Christmas around here when we get a box of samples, and there's nothing limited by where we live."
Having been told by marketing experts, when first starting out with Abbyshot, that "it's not going to work" to sell clothing online, Bonnie took that as a personal challenge. "We've had our moments, of course, but we've made it work. We follow the economic curve all the time, and if times are slow, business is a little more slow, but it comes back up again." She adds, "This is about learning to be a leader in your own life; this isn't about me being the boss of everyone but about everyone taking responsibility and doing the best damn job they can do. Our staff love what they're doing, and they just shine—when you have people that are being accountable and aren't in a blame environment, it's a much more successful and pleasant place to be." She adds, "We believe that what you put out there is what you get back, so when we put these products out for our customers and they're so excited, that's what enables us to move on and put out more products to help them dress like their favourite characters."
To sum it all up, Bonnie says, "Opening Abbyshot has been the biggest learning adventure of my life, aside from motherhood, and I wouldn't take it back for all the world!"
Beamish says staff all have an appreciation. Longtime employees, he marvels, even still stop and say 'Wow, look at the board, that's really beautiful.' There's definitely a pride there. We market them as functional art. They stand above and beyond for their good looks and durability."
As for me? Well, I deliberated a lot before finally buying the Second World War Royal Air Force greatcoat worn by Captain Jack Harkness in Doctor Who and its spinoff, Torchwood, in part because my own father was in the Royal Canadian Air Force... but mostly because Captain Jack, the immortal, time-travelling bon vivant played by John Barrowman, is one of my favourite characters.
And the Sixth Doctor's cat lapel pin.
What's an Abbyshot?
Abby Singer (1917-2014) was a production manager and assistant film director in Hollywood for more than 35 years. He was known for telling production crews that they'd do one more shot, and then one after that, and be done for the day. This helped the crews plan out the rest of the working day, and this second-to-last shot became known in film parlance everywhere as the "Abby Singer Shot."
As explained on Abbyshot's website, "To us, the story of Abby's Shot captures the themes of cleverness and forward thinking that we believe in." And by offering movie and television-inspired clothing to the public, the company gives fans that "one more shot" at experiencing something unique and wonderful from their favourite shows.