Our visits to Hampton by boat always have to end. The return trip downriver is just as much fun. We'll be back!
I first visited the Kennebecasis River years ago, after accepting an invitation to give a wildlife talk in Hampton, New Brunswick. During that weekend the conference organizer took me on a local nature tour. The richness of plant and animal life in the river's marshes was startling.
"Can you get around out there in a boat?" I asked. The answer was yes. I decided that returning for a tour by water would make an exciting adventure.
More than a decade later I piloted our boat, the Kingfisher, off the Saint John River. My wife, Alice, navigated. Cruising through the picturesque Milkish Channel with its cedars, maples and rocky shores, we rounded Kennebecasis Island, crossing behind its ferry before heading into Kennebecasis Bay. To the south, a fog bank enveloped the City of Saint John. Fuel is available at the Saint John Marina and Royal Kennebeccasis (sic) Yacht Club, but we had no need to stop. A fog-free Kennebecasis Bay lay ahead as we turned to port and passed Sandy Point's cable ferry.
The depth sounder showed 62 metres (203 feet) as we approached the head of Barlows Bluff, where the north channel separates from the bay at Long Island. Folks often swim at a beach on the island's southwest tip. Commercial fishing boats pass by on their way to the ocean. Here the bay water is mildly salty. The fish finder usually goes crazy during this leg of the trip, but I've never been able to figure out what species we are seeing.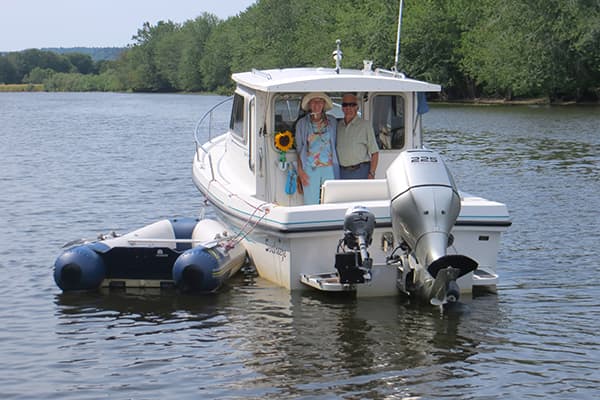 The southeast shoreline is dotted by communities and development, in contrast to the more sparsely inhabited, steeper-sided Kingston Peninsula to the northwest. Passing Long Island to port, we continued up the bay to a visitor docking we'd booked at the friendly Rothesay Yacht Club. On subsequent trips we've anchored overnight at the northeast end of Long Island. Like others who anchor or moor there, we've gone ashore by tender at Ash Point, where you may gain access to the island's hiking trails through a thickly wooded nature preserve held by the Nature Trust of New Brunswick.
One has to be impressed by Long Island's tallest cliff. Festooned with Maritime sunburst lichens, it's called Minister's Face. Visible from Rothesay, at 90 metres (295 feet) in height, this cliff drops directly into deep water. We swam there, but one of us had to stay with the boat. Our anchor line was too short!
Upstream from Long Island and smaller Mather Island, the bay narrows. At Gondola Point, ferries carry vehicles to and from Reed's Point on the north shore. The waterway becomes the Kennebecasis River here.
We usually keep cruising to Forresters Cove to savour its beauty and shelter overnight. Ten other boats were anchored there with ours one Saturday night last August, but there's plenty of room. Waking up and scanning the shore at dawn, it's easy to ascertain that the deer population in this part of New Brunswick is faring well. Nearby Meenans Cove offers boat shelter, and a camping and picnic park with a popular swimming area and launch ramp. It's a busy spot.
Sailboats and power boats requiring deep water can travel only a short distance above Forresters Cove. Though wide, the Kennebecasis becomes very shallow, except for a narrow channel that provides access for smaller motor boats, canoes and kayaks. Nautical charts are a must here. Hundreds of years of erosion accelerated by human activities upstream along the river has carried soils downstream during high water events, depositing them at the head of the bay, where currents slow. Improved urban, forestry and agricultural land use practices along the river are being promoted by the Kennebecasis Watershed Restoration Committee, with help from the Fundy Model Forest, the New Brunswick Environmental Trust Fund, and many other conservation groups.
Red and green buoys mark the initial small channel as one continues upstream. The wider bay transitions to a lush, narrow, tree-lined river flanked by wetlands, shallow ponds and marshes. Ducks line up to dry off and preen on small beaches. The Hammond River enters from the south. Massive elm trees still persist here, often with a watchful eagle perched on a limb. Verdant green in spring, then gold as summer progresses, the grasses shelter many species of wildlife.
The winding river channel meanders through wetlands as we traverse Hampton Marsh. Pickwauket Mountain makes a serene background. At anchor here while the sun set, we've watched muskrats groom each other, a curious beaver inspect the boat and a great blue heron stalk fish. Ospreys and bald eagles wing their way overhead en route to feed hungry youngsters. Don't try overnighting here in July without fly screen protection. Their voracity varies by year and month, but deer flies and mosquitoes abound!
The trip upstream from the open bay to Hampton is about 10 km (6.1) miles. The village has a popular public dock, boat launch and a bridge across the Kennebecasis River. Beside the dock, Rafe Hooper operates Osprey Adventures Kayak/Canoe Rentals & Tours for folks who want to explore the river. He also offers a voyageur canoe experience for history buffs!
Hampton is a great place to anchor your boat on the river, row a tender to the dock and stroll the town, loosening up sea legs. Just up the hill a short distance, the Kozy Korner Restaurant offers hearty meals. Crossing the bridge to Hampton's north side you find Kredl's Corner Market, a well-known indoor/outdoor plant and local produce extravaganza complete with meat shop and restaurant. We arrived on a hot day in August. It was our anniversary. My first purchase was ice cream. My second was an enormous sunflower for Alice. She'd purchased two bags of dulse for me!
Hampton is as far upstream as small craft are advised to travel on the Kennebecasis River—however, a long-time friend living at Wards Creek tells me that local folks launch canoes and kayaks seasonally as far upstream as McCully, which is located above Sussex. Many people paddle the upper portions of the river between Hampton and McCully in May. They fish for speckled trout there in June. During summer visits we've passed many anglers in small watercraft, trolling for striped bass on the river below Hampton. Silver and red maples and the other hardwoods lining the Kennebecasis' shores offer outstanding colours every fall.