Whether it's wool from animals or linen from plants, there's an ever-growing interest in locally-produced fibre
Everyone is looking upstream these days to our watersheds, foodsheds, and now our fibresheds, the landscapes that carry our fibres from farm to closet. With most of our clothes travelling overseas before arriving on our backs, communities are starting to grow their own in ways that are gentle on the land and celebrate the region's materials, farmers, and makers. Enthusiasts across North America are keeping a watch on Atlantic Canada as we explore technologies that transform our plant and animal fibres right here in the region.
Meet the Maritime Gimmers (formerly known as team Sheep Thrills) from the Gaspereau Valley of Nova Scotia. Each year they compete in the annual International Back to Back Wool Competition. The challenge? Shear a sheep and knit a sweater in one day. The clock starts bright and early with the first clip of the sheep's fleece and continues through the evening like a well-oiled machine: spinners turn raw fleece to yarn, knitters knit, and remaining members stitch the pieces together. Marilyn Rand, team coach and longtime fibre artist, reflects on their first attempt, twelve years ago. "At the end we were cleaning dung off the wool to spin it because that's what we had left," she laughs, "you just hope that you get a fairly clean sheep and it's not too stinky." They've cut their time down by almost two hours, earning them a national championship title in 2015, at nine hours, 11 minutes and 49.54 seconds. After twelve years, the Maritime Gimmers are hanging up their shears to begin new traditions. They are hosting a day when they'll invite community members to try their hand at shearing, spinning and other fibre arts. In the meantime, new "fibrations" are also coming our way.
Five years ago Patricia Bishop, co-owner of TapRoot Farms in Port Williams, NS, couldn't shake a feeling: "It dawned on me, this really strong feeling that the farm needs to grow clothes. We're growing veggies for people, we're raising animals for meat for people, and we can grow clothes for people." After exploration with a group of fibre enthusiasts, the dial eventually moved toward growing flax for linen; a resurgence of a practice that ran deep in our province over 200 years ago. "It's really about bringing the flax back to Nova Scotia." And so, TapRoot Fibre Lab was born.
After turning their own flax crop into linen using traditional hand tools, it came time to find small-scale machines that could process and maintain the full length of their plant fibre into what is known as long line linen. "Long line is what makes really, truly, special fabrics and materials; the luster is really beautiful with long line. So we want to make a high end Nova Scotian [plant] fibre yarn," says Patricia. After no luck sourcing machinery, their journey quickly evolved to designing and building their own. Today, all eyes are on TapRoot Fibre Lab as they perfect what will be the only option globally for affordable, small-scale, long line flax-to-linen production equipment. Not to mention, they're building bright purple processing machines, to resemble the striking colour of flax fields in bloom.
When complete, a series of six machines will each replicate a step of processing flax by hand: removing the seeds, separating fibres from the shive or straw casing, combing the fibres, and prepping them to be spun. "There's communities of people who have been trying to take their wishes for local clothes to the next level," says Patricia. "And it's really hard when you're doing all by hand; really hard."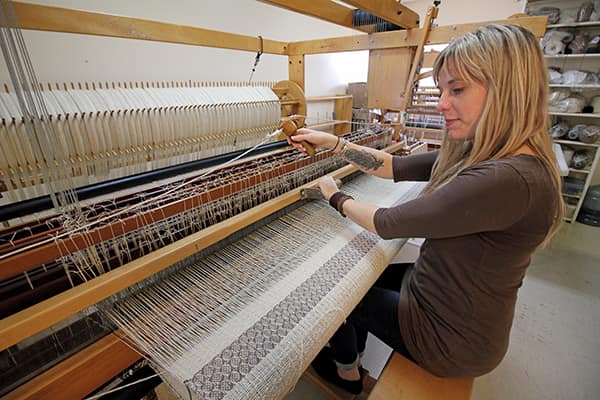 The TapRoot dream? To change the story of how our clothes are made. "Close your eyes and imagine a community where you can go down the street, knock on the door, and you can go in for an appointment to get measured, you can pick a design off the shelf that's in season, and you can get your outfit made," says Patricia. "And you know the name of the person who sewed it for you, the name of the farmers who grew the fibre, and where the mill is who turned it from flax into the yarn. If you can tell the story of your clothes in that kind of personal detail, to me that will be really beautiful and that's what I'm really excited about."
In 2004, Amy Tonning and her sister Alyson Brown embarked on a business plan to combine their weaving and farming-savvy background with living and working in their hometown near Sussex, NB. "We weren't just going to make a living. We were going to make a life," says Amy. With their grandfather's land at their feet they decided to raise alpacas for fibre production. "Aside from the softness there are a lot of other characteristics that alpaca has. For me, the biggest one is that they're hypoallergenic, and I am extremely allergic to wool." Alpaca fibre is also seven times warmer than wool, and the animals are easier on the land when compared to other livestock, as they graze the top of the grass rather than pulling from the roots, which makes re-growth much easier. The problem? Most mills required a minimum of 500 pounds of fibre for processing, which is equivalent to almost 140 alpacas. This wasn't feasible for many small scale farmers at that time, with the Canadian alpaca industry in its infancy, at about twenty years young. Smaller mills that could process less quantity had waitlists of up to two years. Opportunity was knocking, and in 2006 the sisters opened Legacy Lane Fiber Mill.
Legacy Lane began like most successful start-ups: in a basement. "It was tight... We joke about the bum rubbing, because you'd be so close up tight against machines," Amy says. And they weren't just milling around. The sisters each had a baby in the first year, and adopted seventy alpacas soon after. "We were trying to run a mill, and we'd get a call that fifty alpacas are cruising up the dirt road, then we'd have to go round them up and find the hole in the fence, then fix the fence." They could take a hint. Eventually they said goodbye to their four-legged friends to focus solely on the mill, and help other alpaca farmers transform their fibre into value-added products for their niche farm stores.
Five years ago they grew out of their basement and hired an entourage of women to help with the daily running of the mill. Today, Legacy Lane makes and sells their own luxury products such as shawls, throws, and scarves through retail and wholesale. With the industry still growing they source alpaca fibre from wherever they can, from St. Andrews, NB all the way to Alberta. Farmers across North America can now also go beyond the basics of getting their fibres turned to yarn, and have them made into products like shawls and rugs. "When they call us and say I have an idea or I want to do this, we become invested in that idea as well in helping them bring it to life," Amy says, "it's not just their fibre, it's their business and their family and their alpacas."
Just The Flax: A History Of Linen Production In Nova Scotia
During the 18th and 19th century in Nova Scotia it was hard to imagine life without linen. When settlers first arrived, raising sheep for wool was desirable but no easy task. Many sheep had to arrive via ship across the Atlantic, and predators with a taste for sheep made raising a flock an uphill climb. Flax seed was much more portable and could be planted immediately after land was cleared. "They could use it to produce clothing, to produce bedding, to produce sacks, and everything that they needed. And a lot of these European settlers were doing that in Europe, so that skill was known," explains Jennifer Green, local linen expert and consultant with TapRoot Fibre Lab. Although flax was grown primarily for domestic use, there's also strong suspicion that linen must have been used for sails here in the Maritimes.
Flax soon became a household name in Nova Scotia. In 1775, an impressive 34,000 lbs. was reported to have been grown in Pictou County. Processing this amount of flax necessitated a community event, much like a barn-raising. During the flax harvest season in Lunenburg, farmers would travel from field to field for flax-breaking parties that helped with the tedious task of freeing fibre from the shive or straw.
The desire to grow linen dwindled by the mid-to-late 1800s when cotton became widely available. "Linen went from everyone growing it, to no one growing it," Jennifer says. Today, people all around the world are reviving the plant fibres of their region. "I think we're just looking for something unique again, something of our own. Something that has a history and a narrative."
Plants To Dye For
| Colour | Plant | Part Used |
| --- | --- | --- |
| Orange-gold | Marigold | Flower heads |
| Gold | Goldenrod | Stems with flower buds |
| Red | Madder | Roots |
| Blue | Indigo | Leaves |
| Brown | Red Onions | Onion Peels |